SEC Chairman Schapiro to Step Down Next Month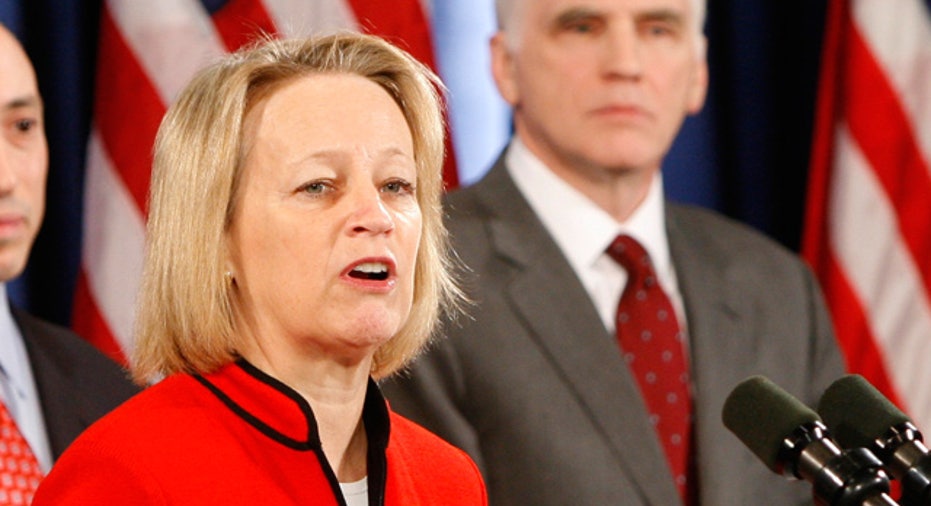 Securities and Exchange Commission chairman Mary Schapiro announced Monday that she will leave the agency on Dec. 14.
Schapiro was appointed by President Barack Obama on Jan. 20, 2009, and was chairman during the 2009 financial meltdown.
"When Mary agreed to serve nearly four years ago, she was fully aware of the difficulties facing the SEC and our economy as a whole. But she accepted the challenge, and today, the SEC is stronger and our financial system is safer and better able to serve the American people – thanks in large part to Mary's hard work," President Obama said in a statement.
Obama tapped SEC Commissioner Elisse Walter to take over in December. A government official told FBN's Peter Barnes that he doesn't expect Schapiro's seat to be permanently filled in the near future, which leaves a 2-2 partisan split on the SEC's board. The source said he expects the president to nominate the next chairman in the spring.
"It has been an incredibly rewarding experience to work with so many dedicated SEC staff who strive every day to protect investors and ensure our markets operate with integrity," Schapiro said in a statement. "Over the past four years we have brought a record number of enforcement actions, engaged in one of the busiest rulemaking periods, and gained greater authority from Congress to better fulfill our mission."
FOX Business's Charlie Gasparino first reported in October that Schapiro would be stepping down following the election.
Schapiro, 57, is one of the longest-serving chairmen of the regulatory agency and served during a period of intense market fluctuations and waning consumer confidence, a stretch that included the bankruptcy of Lehman Brothers and the discovery of Bernie Madoff's massive Ponzi scheme.
In its release, the SEC claims it brought more enforcement action than ever before in each of the past two years, including 735 enforcement actions last year. In her almost-four-year tenure, Schapiro passed more strict enforcement and examination programs and added new restrictions to Wall Street. She also attempted to pass new regulations on money-market mutual funds but was unable to muster enough support from commissioners.
"If you look at her history, the whole overriding consensus is she failed to pass any real regulations. Every time she tried to push substantial reform she was overridden by Wall Street," said Lance Roberts, CEO of Streettalk Advisors."She tried to pass regulation and oversight on Wall Street and she was beaten down at every corner. Eventually you have to say enough is enough."