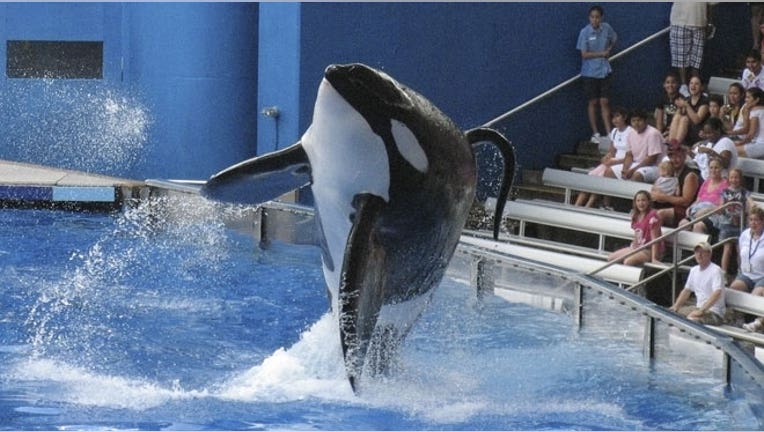 SeaWorld faces a publicity battle as it struggles to bite back against a new critical documentary called "Blackfish" that explores the February 2010 death of trainer Dawn Brancheau and dives into the complexities of holding orcas in captivity.
The Orlando-based theme park operator known for its namesake zoological center fought back ahead of the movie's release on Friday, sending a letter to movie critics prior to their viewing and claiming the film "paints a distorted picture."
"'Blackfish' withholds from viewers key facts about SeaWorld – among them, that SeaWorld is one of the world's most respected zoological institutions, that SeaWorld rescues, rehabilitates and returns to the wild hundreds of wild animals every year, and that SeaWorld commits millions of dollars annually to conservation and scientific research," the company said in a statement.
The movie marks the first major PR black-eye for SeaWorld since its late-April debut on the public markets. In the last three months, SeaWorld's shares have risen close to 15%. They are up about 1% on Friday despite the media swirl.
In the film, which was produced by Magnolia Pictures and directed by Gabriela Cowperthwaite, a deep analysis in conducted on Tilikum, the 8,000-pound adult orca that has been responsible for three trainer deaths, including Brancheau's.
"In our contemporary lore this mighty black-and-white mammal is like a two-faced Janus – beloved as a majestic, friendly giant yet infamous for its capacity to kill viciously," Magnolia says on its website. "'Blackfish' unravels the complicity of this dichotomy," and the filmmakers claim to have "shocking, never-before-seen footage" and "riveting interviews with trainers and experts."
Cowperthwaite says there have been no documented cases of human deaths by orcas in the wild. In the movie, she portrays the capturing and holding of killer whales in a dramatic way intended to shine light on what has been a decades-long battle between SeaWorld and activists.
SeaWorld expressed its disappointment in the film on Friday, saying it failed to mention the theme park's commitment to safety and the care of the welfare of its animals.
SeaWorld declined to appear in the film, saying that it is "much more willing to cooperate" with authors and filmmakers when it feels they are approaching the topic in "good faith."
The company unleashed a long factual rebuttal to the film, which it sent to critics prior to their first viewing of the movie. Among its points is that SeaWorld hasn't collected a killer whale from the wild in more than 35 years, with more an 80% of the orcas now held at SeaWorld being either born there or in other zoological facilities.
Magnolia issued a similar point-by-point rebuttal in defense of the film.