SeaWorld Sinks 5% on Bill to Ban California Orca Shows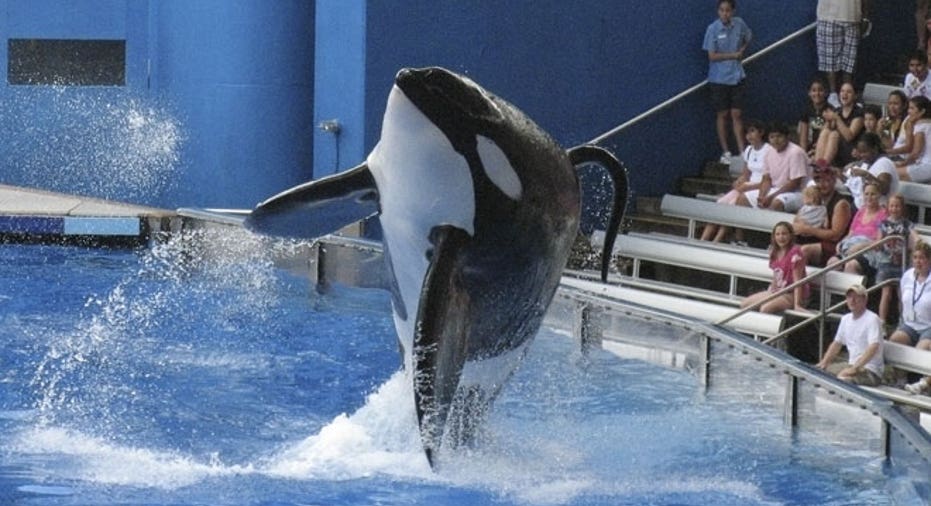 Shares of SeaWorld (NYSE:SEAS) sank as much as 7% on Friday amid concerns about proposed legislation that would prohibit the theme park from using orcas in its San Diego shows.
The proposed law out of California was inspired by the documentary "Blackfish," which raised concerns about unsafe working conditions for trainers working with SeaWorld orcas.
A spokesperson for California State Assemblyman Richard Bloom, D-Santa Monica, confirmed the lawmaker is set to introduce legislation that would make it illegal to "hold in captivity, or use, a wild-caught or captive-bred orca for performance or entertainment purposes."
The proposed legislation would not ban orcas entirely, the Bloom spokesperson said. Published reports indicate the law would allow parks to put orcas on exhibit in aquarium settings, but not for performance or entertainment purposes.
"Assembly member Bloom is introducing legislation that will improve the welfare of captive orcas and ensure trainer and handler safety," the spokesperson said.
The proposed legislation threatens to eat into SeaWorld's California ticket sales.
After closing at $35.11 on Thursday, shares of Orlando-based SeaWorld dropped as low as $32.52 on Friday. SeaWorld closed down 5.67% to $33.12.
SeaWorld said it cannot comment on the proposed legislation until the company reviews it.
However, SeaWorld said Bloom chose to "associate" with "well known extreme animal rights activists" at a press conference, including some activists that partnered with PETA in claiming animals in human care should be considered slaves under the 13th Amendment of the U.S. Constitution.
The proposed legislation "appears to reflect the same sort of out-of-the-mainstream thinking," the company said.
FOX Business has previously reported on the host of problems facing SeaWorld not only with its business model but concerning the company's earnings disclosures as well.
The "Blackfish" documentary showed how people had been killed or injured by SeaWorld's whales, including trainer Dawn Brancheau, who was killed at the company's Orlando park in February 2010.
The Department of Labor's Occupational Safety & Health Administration ordered SeaWorld to keep workers protected from orcas by distance or barriers in the water or on land. SeaWorld is fighting the OSHA ban in court.
SeaWorld has pushed back against "Blackfish," which premiered at the 2013 Sundance Film Festival and more recently aired on Time Warner's (NYSE:TWX) CNN. The company has said the documentary and other attacks are slanted and unfair and also leave out the educational value of its work.
"We are deeply committed to the health and well-being of all of our animals and killer whales are no exception," SeaWorld said. "We engage in business practices that are responsible, sustainable and reflective of the balanced values all Americans share."
SeaWorld was acquired by Blackstone (NYSE:BX) in 2009 and then went public in 2013 for $2.3 billion.
In addition to a park in San Diego, the company owns SeaWorld parks in Florida and Texas. SeaWorld also operates Busch Gardens theme parks in Virginia and Florida.