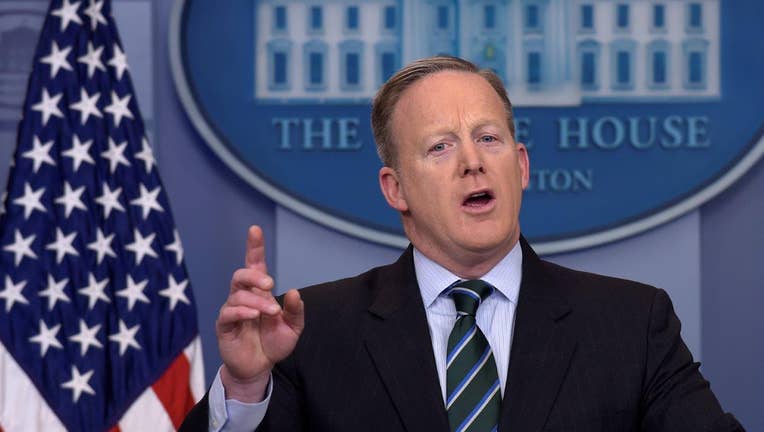 Former White House Press Secretary Sean Spicer has landed a post-White House gig, announcing Tuesday that he is hitting the paid speaking circuit. Spicer, who resigned as President Trump's spokesperson in July, said on Twitter that he has signed with the Worldwide Speakers Group as one of its paid speakers.
According to Politico, Spicer has already signed up for this first paid speaking gig, which is set for Sept. 11 in New York City at the annual conference at the investment bank Rodman & Renshaw.
However, a spokesperson for Worldwide Speakers Group would not confirm to FOX Business on how much Spicer would be paid. But according the company's website, fees range from $10,000-$25,000 to as high as $40,000-$60,000 per speech. Jen Psaki, former White House Communications Director under Obama who is also a listed speaker, makes around $10,000-$15,000.
Other WWSG speakers include former Secretary of the Treasury and former Chairman & CEO of Goldman Sachs Henry M. Paulson, Jr., former World Bank President Robert Zoellick, former Speaker of the House Newt Gingrich, former Chairman of the FDIC Sheila Bair, and former CEO of HP Carly Fiorina. However, speech fees for these speakers were not listed on the company's site.
"We are very proud that, after an extensive vetting process, Sean has selected Worldwide Speakers Group for exclusive representation. Our many customers around the world (multinational corporations, major trade associations, colleges & universities, and public lecture series) seek out thought leaders from politics, industry, the economy and contemporary life. Their audiences seek individuals who have unique experiences and can provide context and insight to the events shaping the news. Sean is uniquely qualified to shed light on the people, policies and philosophies that will impact business and society in the coming months and years," Daniel Sims, Principal at Worldwide Speakers Group (WWSG) told FOX Business.