Scientists Take Steps to Making 'Bionic' Leg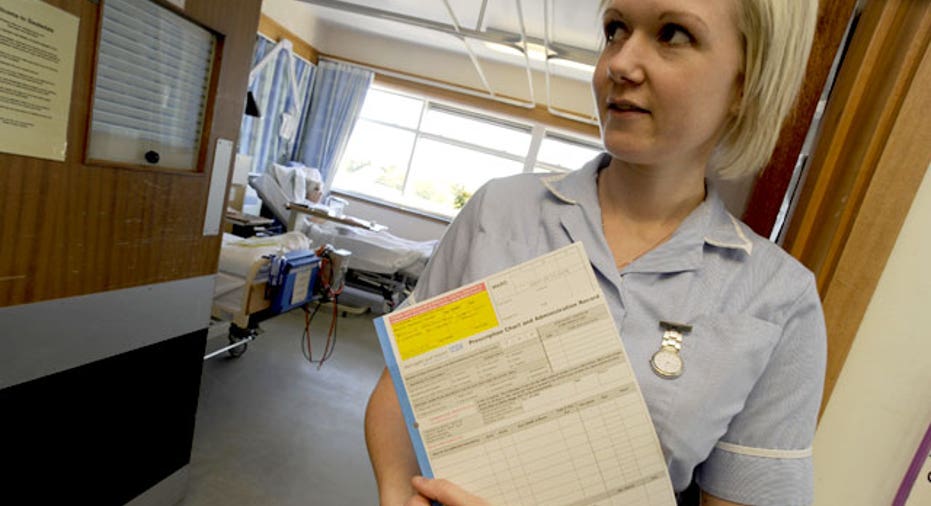 As 20-year-old Hailey Daniswicz flexes muscles in her thigh, electrodes attached to her leg instruct a computer avatar to flex its knee and ankle -- parts of Hailey's leg that have been missing since 2005.
Daniswicz, a sophomore at Northwestern University who lost her lower leg to bone cancer, is training the computer to recognize slight movements in her thigh so she can eventually be fitted with a "bionic" leg -- a robotic prosthesis she would control with her own nerves and muscles."We're really integrating the machine with the person," said Levi Hargrove, a research scientist at the Rehabilitation Institute of Chicago's Center for Bionic Medicine who is leading the project.Daniswicz is part of a clinical trial sponsored by the U.S. Army that is using electromyography -- electrical signals produced by muscles -- and pattern recognition computer software to control a new generation of robotic limbs.
Electrodes attached to nine different muscles in the thigh act as antennas, picking up electrical signals sent from the nerves to the muscles. These signals are fired in a specific pattern depending on how a person intends to move.
With a bit of training, the computer can learn a person's signal pattern for when they want to bend a knee or flex an ankle and it makes the virtual reality avatar move.
"The way most prosthetics work now is you have mechanical sensors. You have to push and interact with them," Hargrove said. "With this, you measure the actual neural intent and have that tell the motor what to do."
Researchers at the institute have already developed prosthetic arms directed by nerve impulses. But a robotic leg would give lower limb amputees a new kind of freedom, allowing them to climb stairs more safely and with more natural motion.
Daniswicz has been training her computer avatar since January and she can now instruct it to bend and straighten its knee, and flex and straighten its ankle, just by making slight movements in her thigh muscles.
"Hailey has taught the computer what to do, and now, whenever she does it, it listens, interprets and makes the leg on the virtual reality avatar move," Hargrove said.
Daniswicz is one of four volunteers in the study trial that set out to determine whether patients would need surgery to implant additional nerve endings -- a technique called targeted muscle reinnervation -- to control the motorized leg.
SURPRISING FINDING
The team had expected patients to be able to operate the knee joint, but were surprised they could control the ankle without needing surgery, Hargrove and colleagues reported this week in the Journal of the American Medical Association.
Since the trial ended, three more volunteers have had similar results.
"The fact that these findings suggest that you might not need surgery makes the population very broad," Hargrove said.
Currently, there are roughly 2 million lower leg amputees in the world, but that figure is expected to double by 2050 as the number of people with diabetes increases, said Michael Goldfarb, a mechanical engineer at Vanderbilt University in Nashville.
Goldfarb's team is developing a fully robotic lower leg for the project that can be controlled by nerve impulses.
He said most lower limb prosthetics are fairly passive.
"They are better than peg legs," Goldfarb said, "but the amputee has to swing it to get the leg to move."
He said advances in robotic technology are making powered legs possible. "It's a much closer approximation to what our own limb does."
Although a few companies are developing powered knees and ankles, no company makes a lower leg prosthetic with both. And none are controlled by the amputee's nerve signals, he said.For Daniswicz, the next step is a powered leg.
"We'll make a socket for Hailey. We'll put the electrodes in the same location and have Hailey repeat this motion to control a knee and an ankle," Hargrove said.
"After that, we'll start working on transitions from chairs, and then we'll move to walking," he said.
By the end of the year, Hargrove expects to have patients walking in the lab, and then they can try more challenging activities such as stair climbing and descent.
Hargrove said it is too early to say how long it would be before a "bionic leg" would be available."It's through research like this that is making it real."