Saving a U.S. Neighborhood, One Beer at a Time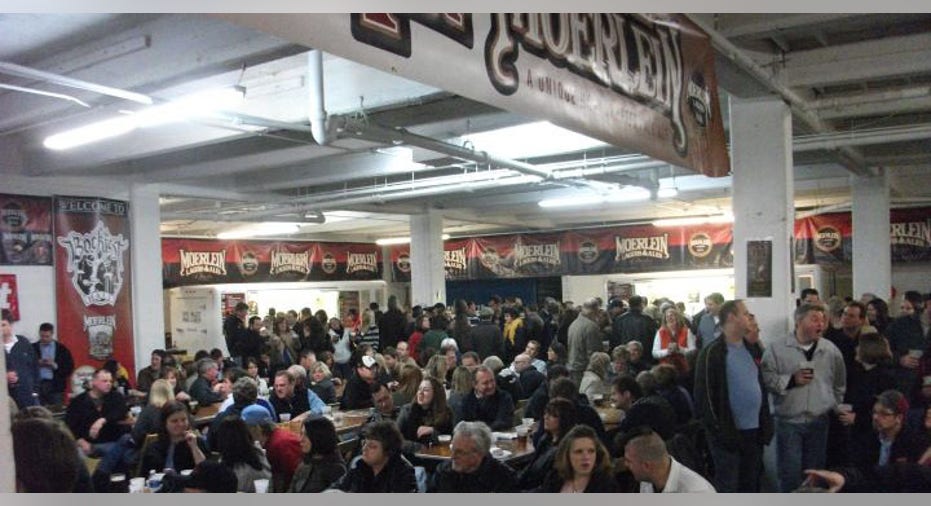 A dedicated group of Cincinnati business owners are hoping to turn a rundown neighborhood in Ohio's third-largest city into a national destination by tapping into the area's pre-Prohibition brewing heritage.
Rhinegeist Brewery will open this weekend in the Over-the-Rhine neighborhood – which was settled in the 1800s by German immigrants, who brought with them a rich tradition of German beer-making. With the opening of Rhinegeist, the area gets closer to cementing its new reputation as an up-and-coming historic destination – a far cry from the drug-ridden, downtrodden Over-the-Rhine of recent years.
"We'll do 3,000 barrels of annual production and have a little tasting room," says Rhinegeist co-founder Bryant Goulding.
And the potential key to OTR's revival is the same thing that brought Goulding to Cincinnati from San Francisco: the neighborhood's brewing history and original, relatively untouched architecture. With a heritage trail in the works and a rebranding plan, local developers and business owners hope to make Goulding's story a common one, turning the neighborhood into a hip, diverse and vibrant area, where local beer is the gateway to shopping, eating and living.
Tourism Key to Reviving OTR Greg Hardman is leading the charge to repopulate OTR – and his mission began with a love of Ohio beer.
Hardman, who began his career in the mid-80s with a beer distributor in Athens, Ohio, bought Christian Moerlein Brewing Company in 2004. The brewery dates back to 1853, when it was founded by German immigrant Moerlein, but was shuttered during Prohibition.
"I woke up and I said, I'm going to bring local ownership back to Cincinnati, and open a local brewing operation with all the great heritage of the original breweries," says Hardman. The brand had been revived in the early '80s, but wasn't operating in the city's historic – but down on its luck – neighborhood.
Now, as president of the OTR Brewery District Urban Redevelopment Corporation, Hardman hopes to spread the love, by turning OTR's historic brewery buildings into "an economic driver for the city."
Historic tours celebrating OTR's architecture and its Prohibition experience are already operating, and in the works is a Brewing Heritage Trail, which will offer a history lesson of the Over-the-Rhine district. Marketing efforts will also include "signage, sculptures, lighting and other branding devices," says the BDURC's master plan.
"People will not only know when they have entered the Brewery District, they will get a feel for our fun-natured attitude our business vitality and, of course, our love of beer," the plan continues.
Steve Hampton, an area architect and executive director of the BDURC, says the goal is to capture at least 10% of the 8 million annual visitors to Cincinnati. But the ultimate goal, at root, is to repopulate the neighborhood with new residents, retail stores and restaurants.
"We can easily accommodate thousands of new residents," says Steve Hampton, an area architect and the executive director of the BDURC. "We want a healthy, mixed-use neighborhood."
And committee member and architect Jeff Raser agrees, foreseeing new zoning laws that will allow for small manufacturing, residential and commercial properties on the same block. "With the master plan, we're laying fertile ground for new investment here," he says.
Small Businesses: Change Is Coming Quick At the Mannequin Boutique, a non-profit consignment shop that moved to OTR two and a half years ago, manager Kathryn Cottingham says the neighborhood's rebirth has been rapid.
"It had been abandoned for a really long time. A lot of abandoned buildings, low-income housing and drugs – just poor. There were no amenities, and only one grocery store," says Cottingham.
Today, she says, "it's all starting to meld." Cottingham says there's more foot traffic, more restaurants and retail – a knitting store opened up next door to the boutique – and a newfound appreciation for OTR's history.
"We were once the beer capital of the country," says Cottingham, "and I think, 'Can't we go back to doing that?'"
Rhinegeist co-founder and former San Francisco native Bryant Goulding agrees.
"I was in a neighborhood under the 101 [in San Francisco] where a heroin den turned into one of the city's better craft beer bars," says Goulding. "Now, this is happening beneath our feet, with this courageous reinvestment in Cincinnati."
He points out that a new streetcar stop has just been approved for the location directly in front of Rhinegeist Brewery, making the area more accessible for both visitors and residents – a big plus for the local economy.
Looking five years down the road, Goulding envisions a neighborhood bubbling over with activity.
"I think there will be vibrant levels of foot traffic, interesting places to eat and drink and safety – all within this architecture that is beautiful and well preserved," he says.