Samsung Poised to to Widen Smartphone Gap with Apple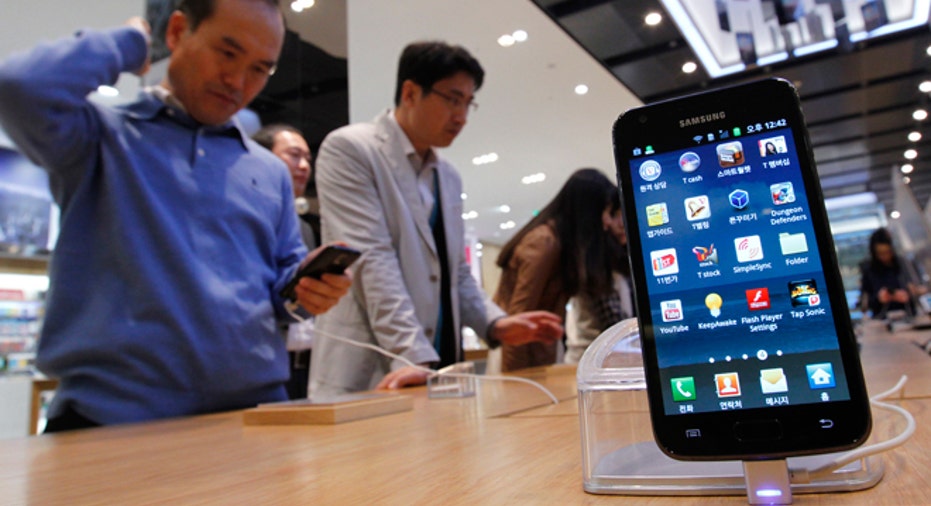 Samsung Electronics Co Ltd is expected to widen its lead over Apple Inc (NASDAQ:AAPL) in global smartphone sales this year with 35% growth, helped by a broad product lineup, market researcher Strategy Analytics told Reuters on Friday.
Apple, returning the offensive, could roll out a smaller, cheaper "iPhone Mini" next year to grab market share by targeting demand from users of lower-end smartphones, Strategy Analytics said.
"We expect Samsung to slightly extend its lead over Apple this year because of its larger multitier product portfolio," Neil Mawston, executive director at Strategy Analytics, said in an e-mail interview with Reuters.
Global smartphone shipments will jump 27% to 875 million this year, slowing from last year's torrid 41% pace as growth is easing in many key markets such as North America, China, the developed economies of Asia, and Western Europe, Mawston said.
South Korea's Samsung Electronics is forecast to sell 290 million smartphones this year, up from a projected 215 million in 2012, the research firm said. Apple's smartphone sales are projected to reach 180 million this year, up 33% from last year, slightly trailing Samsung's 35% increase.
This will give Samsung a 33% share of the 2013 smartphone market, up from last year's estimated 31%, while Apple will hold 21%, versus last year's 20%.
MORE SEGMENTS
Apple, the world's most valuable technology company, and Samsung Electronics, the most valuable in Asia, have battled fiercely in the global mobile device market, which they dominate, although Samsung is also a supplier to Apple.
Samsung may launch the Galaxy S IV, a new version of its flagship smartphone, in April, and the Galaxy Note III phablet and a series of other new smartphones over the course of this year, media reports and analysts have said recently.
"Samsung plays in more segments and this should enable it to capture more volume than Apple (assuming Apple does not launch an 'iPhone Mini' this year)," Mawston said.
Brian J. White, a researcher at Topeka Capital Markets, on Wednesday raised the possibility that Apple may launch a smaller and lower-priced iPhone - the iPhone Mini - to further penetrate markets such as China and India.
White said in a report that he believed Apple will launch the next iPhone, the iPhone 5S, in May or June, and offer more options in screen sizes. This would eventually open up the possibility for the iPhone Mini, he said.
But Mawston said the iPhone Mini was not expected to hit the market until after this year.
"We think Apple will have to launch an 'iPhone Mini' at some point over the next three years to address the hundreds of millions of prepaid users worldwide that cannot afford the current iPhone," he said.
"The iPhone 5 is growing fast and profitably right now, so there is little incentive for Apple to launch an 'iPhone Mini' this year.
"We expect the iPhone Mini to be more likely next year, in 2014 when ... Apple will be forced to discover fresh growth streams," he said.
Samsung Electronics, once a laggard in the smartphone market, has quickly surpassed Apple as the world's largest smartphone maker.
Strong smartphone sales have helped to lift both the company's shares, which hit a record high of 1.584 million won ($1,500) on Thursday, and its earnings, with a record profit expected for a fifth quarter in a row in the latest October-to-December period. The results are expected to be announced early next week. ($1 = 1061.6000 Korean won)