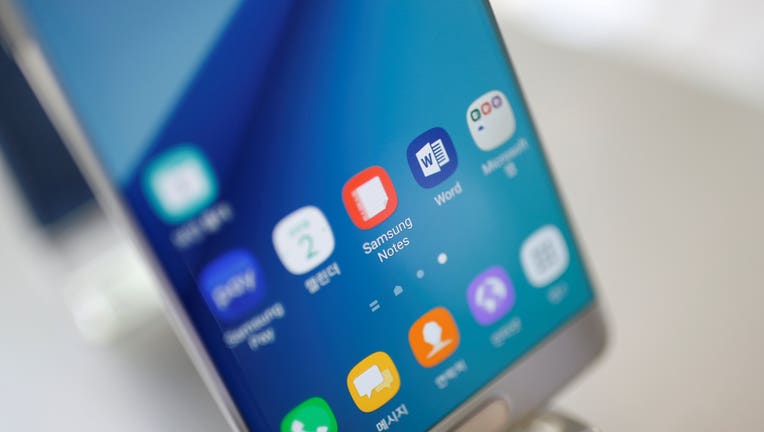 As Samsung Electronics Co. continued to grapple with the fallout of a massive recall of its newest smartphones, it announced a coming software update to limit the number of accidents, while in China -- one of its most important markets -- it recalled a small batch of phones for the first time.
The developments are a sign of an escalating crisis at Samsung, which is battling to regain consumers' and investors' confidence following incidents of its Galaxy Note 7 smartphones catching fire while charging.
Samsung launched the Galaxy Note 7 phone, which costs more than $800 in the U.S., in multiple markets last month. Following reports about the devices catching fire, it recalled 2.5 million Galaxy Note 7 smartphones on Sept. 2 in 10 countries.
Since Samsung announced the recall more than $10 billion has been wiped off the company's market value. Samsung was forced to delay the launch of the new phones in India and other key markets, and suffered dwindling consumer confidence as airlines and the U.S. Consumer Product Safety Commission warned against people using or charging the phones on planes.
Samsung said Wednesday that the software update would be available from Sept. 20, in its home country of South Korea first. It didn't have a timeline for when U.S. consumers could update their phones. The software attempts to reduce the risk of phones catching fire by limiting the battery charge to 60%, it said.
"We are considering every possible measure to protect consumers' safety and this update is part of our ongoing efforts to urge consumers to power down their device and participate in the replacement program," it said.
In the U.S. Samsung said it continues to work with the CPSC and its carrier partners to develop solutions.
"No action will be taken without the approval of the CPSC," it said.
In China on Wednesday, the country's quality supervisory agency said it met with Samsung's local office and the company laid out a plan to recall 1,858 Galaxy Note 7 units that had been acquired by select consumers in the country ahead of the official start of sales through a phone trade-up program. Samsung said those were test devices. China wasn't part of the Sept. 2 because Samsung said phones shipped there didn't contain faulty batteries.
The recalled units were manufactured between July 20 and Aug. 5, and acquired ahead of the Sept. 1 start of regular sales, said China's General Administration of Quality Supervision, Inspection and Quarantine. Samsung China said that they would be replaced with the same model.
The regulator said the internal barrier separating the two sides of the battery leaked and there was insufficient coverage by insulation tape, causing short circuits and overheating.
"In extreme situations, it can combust, resulting in hidden safety dangers," it said.
China's flight regulator also said Wednesday the Galaxy Note 7 is forbidden from being put in checked luggage. It also reminded passengers not to use the device or charge it on planes, joining the Federal Aviation Administration and other airlines to issue warnings. A ban on smartphone use on planes was already in effect on Chinese carriers.
"Our number one priority is the safety of our customer. We are asking users to power down their Galaxy Note 7s and exchange them as soon as possible," Samsung said in a statement Wednesday, noting it is working on replacement devices.
Samsung relied on two battery suppliers: Samsung SDI Co., an affiliate that supplied the bulk of the faulty batteries in the Galaxy Note 7 and Hong Kong-based Amperex Technology Ltd., which supplied batteries for phones sold in China that weren't part of the recall. ATL has recently seen a rise in orders for batteries for the Note 7, people familiar with the matter said.
Samsung has said it is looking for a third supplier.
"Samsung is at risk of turning a minor drama into a major crisis," said Neil Mawston, an analyst at Strategy Analytics. "Samsung needs to get a decisive grip of the battery problem and fix it."
--Juro Osawa in Hong Kong contributed to this article.
Write to Eva Dou at eva.dou@wsj.com and Yun-Hee Kim at yun-hee.kim@wsj.com