Samsung Launches Lighter Version of Galaxy Android Tablet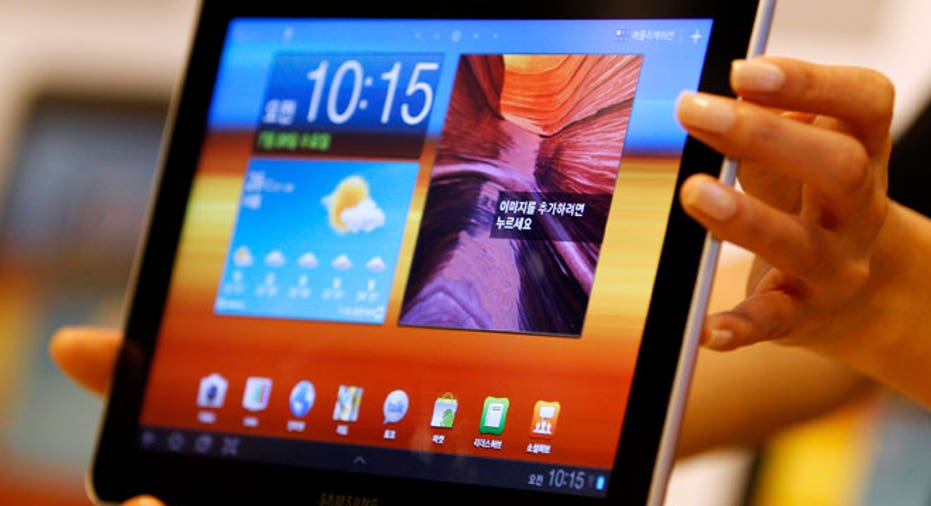 South Korea's Samsung Electronics Co launched a thinner and lighter version of its Galaxy tablet in its lucrative home market, trying to chip into blockbuster sales of Apple Inc's iPad.
The Galaxy Tab 10.1 inch is an upgraded version of the 7-inch introduced in October. Priced from $500 onwards in the U.S. market, the same as the 9.7-inch iPad, it faces tough me-too competition from more than 100 devices, mostly running Google's Android operating system.
However, so far, Apple and Samsung have dominated the market as tablets, initially viewed as Web entertainment gadget for consumers, have caught the imagination across businesses such as luxury hotels, airlines and wedding planners.
Competing products including Research In Motion's PlayBook and Motorola's Xoom have received lukewarm reviews, while Hewlett Packard's TouchPad is a late entrant and Internet retailer Amazon.com Inc unveiled plans only last week to join the overcrowded market.
On Wednesday, Lenovo launched three tablets worldwide. Dell Inc has chosen to launch its new 10-inch Android tablet in China this summer, passing up a U.S. and European launch as China emerges as a front line battle for tablets.
Apple's market-beating June-quarter sales for iPad reported on Tuesday underscore the challenge for the South Korean company. Shares in Samsung closed up 3.5 percent, boosting the market capitalisation of Asia's most valuable technology company to about $130 billion, in a strong market for technology stocks.
Apple sold 14 million iPads in the first half of this year, compared with analysts' sales estimates of about 7.5 million units for the Galaxy Tab over 2011.
"Apple's quarterly results showed again it's indeed the strongest rival to beat. Samsung will have a tough second half due to growing competition from Apple as it is set to introduce a new iPhone," said James Song, an analyst at Daewoo Securities.
Both Apple and Android have nurtured what are now thriving ecosystems around their products, populated by energetic third-party developers churning out games and other applications by the thousand.
DISTANT SECOND
Samsung is Apple's nearest rival in the booming mobile device industry as it leverages its cost competitiveness and access to chips and core tablet components.
It has sharply narrowed the gap with Apple in the smartphone market, but remains a distant second in the tablet market, which research firm Gartner forecasts will surge to 108 million devices next year from an estimated 70 million in 2011.
"As our smartphone business grew very fast within a very short period of time, I believe it's just a matter of time for our tablet business to improve," J.K. Shin, head of Samsung's mobile division, told reporters.
Apple said on Tuesday that concern over iPad 2 supply constraints had eased and demand was still outstripping supply in some markets.
Apple's overall tablet market share is expected to shrink to below half in 2015 from an estimated 69 percent this year, Gartner says.
Some analysts however said Samsung faced a tough battle.
"Samsung's overall software is still far behind iPad, which makes me doubt if Samsung can succeed to catch up any time soon," said Lee Min-hee, an analyst at Dongbu Securities.
"Its tablet sales were quite disappointing at around 2 million units in the first half and there's a big question mark whether Samsung can meet its target for this year."
Nomura forecast Samsung's tablet sales at 7.5 million units this year, far outpacing estimates of 2.4 million for Acer , 2 million units for Motorola and 1.4 million units for RIM.
Non-iPad tablet shipments are set to jump 134 percent next year, outpacing the overall market growth rate of 80 percent, Nomura said in a 90 page global tablets report titled "Prepare for the next course."
The sale of the Tab in Korea is Samsung's fifth launch after its U.S. debut a month ago and its sales kickoff in Indonesia, where the company says it commands a 65 percent market share. It has also launched the device in Italy and Sweden.
The Galaxy Tab 10.1 runs on Google's newest Android version and Nvidia's dual core processor Tegra 2.
Samsung faces the challenge of moving beyond being a hardware company, clever at copying ideas, to becoming more creative and better adept at software at a time when consumer gadgets are getting smarter.
The Galaxy Tab 10.1 has a bigger and brighter screen and weighs less than the iPad 2. However, it has access to only about half the applications Apple users do at more than 200,000 applications compared with over 425,000 applications from the Apple App store.
To cope with such shortcomings, Samsung equipped its Korean version with access to television and radio channels.
Samsung reiterated on Wednesday it aimed to boost tablet sales by more than five fold this year. It didn't provide specific numbers but analysts expect the company to have sold about 1.5 million units last year.
In South Korea, the 16-gigabyte model with Wi-Fi will be sold for 671,000 won ($633), slightly more expensive than the compatible iPad, which is being sold at around 640,000 won. ($1 = 1059.650 Korean Won) (Editing by Anshuman Daga)