Samsung ends Intel's 2-decade-plus reign in microchips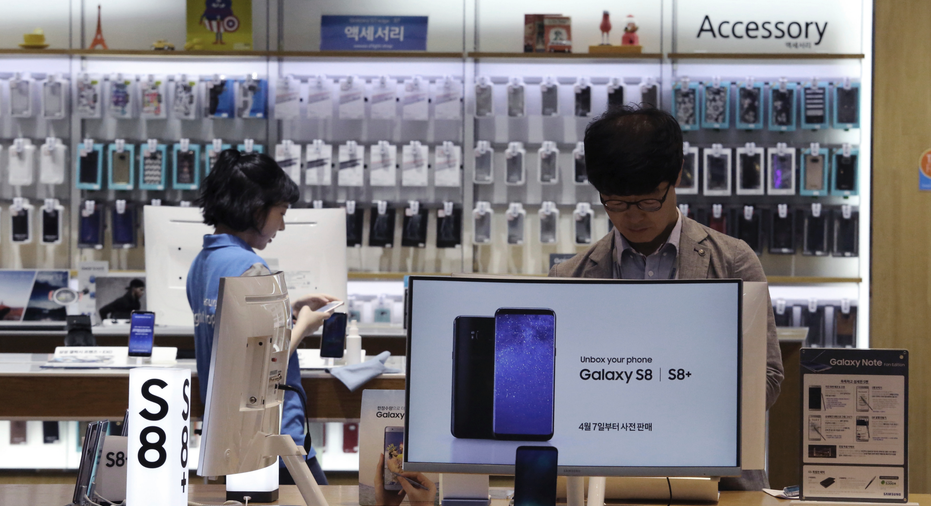 Intel's more than two decade reign as king of the silicon-based semiconductor ended Thursday when Samsung Electronics surpassed the U.S. manufacturer to become the leading maker of the computer chips that are a 21st century staple much as oil was in the past.
Samsung reported record-high profit and sales in its earnings report for the April-June quarter, and while Intel's reported earnings beat forecasts, the U.S. company's entire revenue was smaller than sales from Samsung's chip division.
Samsung said its semiconductor business recorded 8 trillion ($7.2 billion) in operating income on revenue of 17.6 trillion won ($15.8 billion) in the quarter.
Intel said it earned $2.8 billion on sales of $14.8 billion. Analysts had expected the U.S. chipmaker to report $14.4 billion in quarterly revenue.
"Given Samsung's strength today in flash memory, I am not surprised Samsung surpassed Intel in semiconductor revenue," said Patrick Moorhead, principal analyst with Moor Insights & Strategy, adding that Intel may be able to catch up Samsung when Intel's memory output is at full production capacity in about six months. "I think we will see a lot of back and forth between the two companies."
On an annual basis, Samsung's semiconductor division is widely expected to overtake Intel's sales this year, analysts at brokerages and market research firms say.
Mobile devices and data are the keys to understanding Samsung's ascent as the new industry leader, even as its de facto chief is jailed, battling corruption charges, and it recovers from the fiasco last year over the fire-prone Galaxy Note 7 smartphones.
Manufacturers are packing more and more memory storage capacity into ever smaller mobile gadgets, as increased use of mobile applications, connected devices and cloud computing services drive up demand and consequently prices for memory chips, an area dominated by Samsung.
Just as Saudi Arabia dominates in oil output, Samsung leads in manufacturing the high-tech commodity of memory chips, which enable the world to store the data that fuels the digital economy.
"Data is the new crude oil," said Marcello Ahn, a Seoul, South Korea-based fund manager at Quad Investment Management.
For over a decade, Samsung and Intel each ruled the market in its own category of semiconductor.
Intel, the dominant supplier of the processors that serve as brains for personal computers, has been the world's largest semiconductor company by revenue since 1992 when it overtook Japan's NEC.
Samsung is reaping the rewards of dominating in the memory chip market that is growing much faster than the market for computers that rely on processing units dominated by Intel, said Chung Chang Won, a senior analyst at Nomura Securities.
"Greater use of smartphones and tablet PCs instead of computers is driving the rise of companies like Samsung," Chung said.
Since 2002, Samsung Electronics has been the largest supplier of memory chips, called DRAMs and NANDs. But for years demand for memory chips was vulnerable to boom-and-bust cycles depending on output and on demand from the consumer electronics industry. At times, competition was brutal as supply gluts arose.
That changed in 2012 when Japan's Elpida filed for bankruptcy and was sold to Micron Technology, leaving only three major suppliers of DRAM, a type of memory chip used in servers, computers and handsets: Samsung Electronics, SK Hynix and Micron.
Tight supplies coupled with rock solid demand have pushed prices of memory chips higher, with average selling prices of DRAMs and flash memory chips doubling over the past year, bringing South Korea's memory chip makers record wide profit margins. Both Samsung and SK Hynix are expected to report all-time high profits this year.
Amid this boom that analysts call a memory chip "super cycle," global semiconductor revenue is forecast to jump 52 percent this year, reaching $400 billion for the first time, according to market research firm Gartner.
For the full year, Intel is expected to post $60 billion in annual sales, according to a market consensus polled by FactSet, a financial data provider. Samsung Electronics' semiconductor business is expected to report 71.9 trillion won ($62.6 billion) in full-year revenues.
Looking ahead, Samsung and SK Hynix, which control more than three quarters of the global DRAM sales, are raising their spending on semiconductor capacity and development in anticipation of robust future demand. SK Hynix raised its capital spending to 9.6 trillion won ($8.6 billion) this year, up more than 50 percent from last year. Samsung has said it plans to spend $18 billion in the next four years to expand memory chip production capacity at its South Korean plants.
Not just tech companies but also transport, retail, tourism, food and other industries are seeking ways to better use or manage data, to gain insights on trends or customer preferences and otherwise make money from "big data." The rising use of vehicle connectivity and the "internet of things" is expected to drive still further demand for the chips that have helped Samsung move ahead, at least for now.
__
Lee can be reached on Twitter: www.twitter.com/YKLeeAP