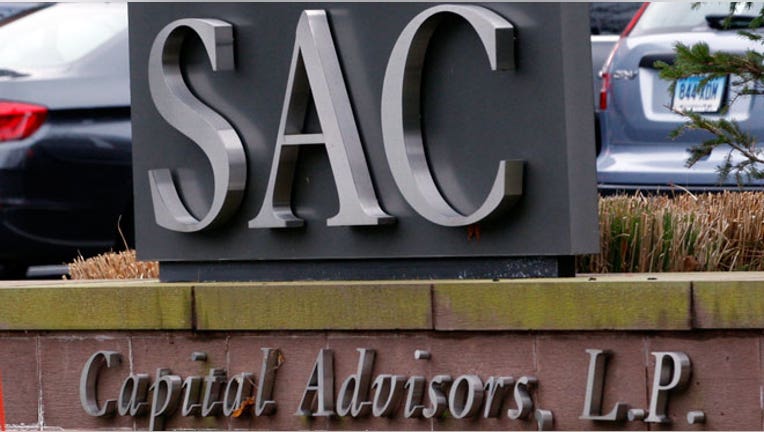 Besieged hedge fund powerhouse SAC Capital Advisors has pleaded guilty to insider trading charges in a deal announced Monday that levies a record-setting $1.8 billion in total fines and requires the firm to close its investment advisory business.
The $1.8 billion penalty includes $616 million in fines SAC agreed to pay earlier this year to settle civil insider trading charges filed by the Securities and Exchange Commission.
The deal, which must be approved by a judge, is a big blow to SAC founder and erstwhile Wall Street heavyweight Steven A. Cohen, once a legendary money manager who is now blocked by the deal from managing other peoples' money.
"Today, SAC Capital, one of the world's largest and most powerful hedge funds, agreed to plead guilty, shut down its outside investment business, and pay the largest fine in history for insider trading offenses. That is the just and appropriate price for the pervasive and unprecedented institutional misconduct that occurred here," said Preet Bharara, U.S. Attorney for the Southern District of New York in a 1 p.m. press conference in Manhattan.
Invoking Gordon Gekko
Bharara said victims of SACs insider trading schemes included "everyone" who believes securities markets should operate "fairly."
Invoking Gordon Gekko, the iconic Wall Street wheeler dealer of movie fame, prosecutors said the deal with SAC shows that "principles are just as important as your profit."
"As today's plea illustrates, SAC institutionalized their practices by cultivating a culture of
corporate corruption," said FBI Special Agent in Charge April Brooks.  "The problem of insider trading is real and for companies that willfully turn a blind eye -- be on notice -- how your employees make money is just as important as how much they make."
As part of the agreement, SAC Capital is required to shut down its investment advisory business to outside investors. The firm can continue to manage Cohen's personal fortune, said to be worth at least several billion dollars.
Cohen could conceivably be approved by the SEC to once again manage outside clients' funds.
"The government believes that the proposed global resolution is fair, reasonable, and firmly promotes the interests of justice, deterrence and respect for the law. The aggregate $1.8 billion is – to the Government's knowledge – the largest financial penalty in history for insider trading offenses," prosecutors wrote in court papers.
No Immunity for Individuals
The deal provides no immunity from prosecution for any individual still under investigation. Bharara said the investigation continues into how the firm because so rife with illegal insider trading.
At its peak, SAC Capital managed about $14 billion in funds. Clients have been pulling their money en masse in recent years as the firm has been targeted by numerous insider trading probes. Six people have pleaded guilty so far in those cases.
SAC released the following statement Monday: "We take responsibility for the handful of men who pleaded guilty and whose conduct gave rise to SAC's liability. The tiny fraction of wrongdoers does not represent the 3,000 honest men and women who have worked at the firm during the past 21 years.  SAC has never encouraged, promoted or tolerated insider trading."
In addition to criminal charges, the deal to be announced Monday will also settle civil charges filed against SAC.
In July, prosecutors in New York indicted SAC Capital in a 41-page criminal complaint, alleging that the firm encouraged its employees to engage in numerous insider trading schemes to improve profits. According to the indictment, insider trading at SAC was "substantial, pervasive and on a scale without known precedent."
"What SAC Capital's plea demonstrates is that cheating and breaking the law were not only permitted but allowed to persist. SAC focused on hiring the best talent, talent who was equipped with extensive networks to circumvent traditional lines of communication. Talent who would be prepared to get confidential information to fuel their ilict trades," said Brooks.
Achieving An 'Edge' for Ill-Gained Profits
The indictment said SAC and its various affiliated units repeatedly sought out and hired portfolio managers and research analysts whom Cohen and his top managers believed could provide SAC with "an edge" based on recruits' "network of contacts" at public companies within the sectors in which the recruits specialized.
"The focus on hiring employees with such networks was not balanced by any corresponding effort to ensure that prospective SAC (portfolio managers and research analysts) did not use these contacts to obtain illegal inside information," the indictment said.
At least one SAC portfolio manager was allegedly hired despite warnings from a former employer that the recruit routinely used his contacts to obtain and trade on inside information.
Cohen still faces civil charges filed by SEC that accuse him of ignoring insider trading that was taking place at SAC. Discussions for a settlement in that case are ongoing. He was not personally indicted when the charges were handed down against his firm in July.