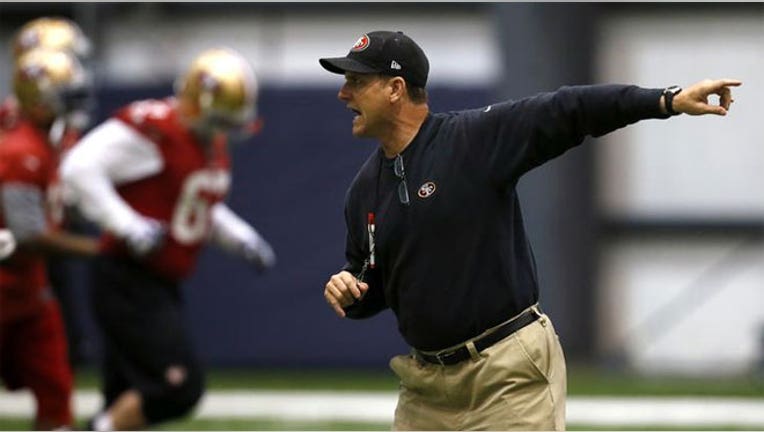 Running a professional football team and a corporate office may have more similarities than one would expect.
The NFL is already prepping for the 2013 season in the same way that executives gear up for the new fiscal year. Teams have hired many new head coaches and their credentials suggest they're a talented bunch. But with the exception of Andy Reid who's moving from the Philadelphia Eagles to the head coaching spot at the Kansas City Chiefs, all new coach recruits are either new to the NFL or in a first-time head coaching spot.
In fact, the Harbaugh brothers, Jim and John, whose San Francisco 49ers and Baltimore Ravens are battling it out on Sunday, are both previous first-time head coaches.
In this hyper-competitive sports business, the stakes for head coaches are high—and much like business where experts say CEO tenure has shrunk from eight or nine years down to under five, these new coaches have a contracted timeframe to prove their worth.
Whether you're talking football or business, good or great leadership is one in the same, says Bob Damon, president of recruitment firm Korn/Ferry North America.
So what's the difference between a good leader and a great one? The great leader has willing followers, Damon says. Great leaders get to the heart, soul and minds of their organizations instilling values that will develop and are all about team.
"In business and in sports, learning agility, a leader's ability to apply his or her professional and personal life experiences in a new and different environment [creates a great leader]," Damon says.
But he warns a great leader can't thrive in all environments; there has to be a cultural fit as well.
This gets at how leaders do what they do, and whether their vision and methods align with the existing culture of an organization. Damon says the fit and a set of mutually shared expectations prevent crash and burn if the new leader has to tweak an organization to make changes.  
No one person can or should be expected to serve as the savior to an underperforming organization or team, says Dr. R.J. Heckman, president and CEO of PDI Ninth House. Boards and shareholders, or owners, players and fans alike sometimes wear blinders that prevent them from more broadly seeing what's needed to drive a high performance organization.
A culture of success relies on a well-rounded composite team profile—not one or two critical leaders on a coaching or executive team, says Heckman. A strong offense leads to putting points on the board or revenue into an office, but equally important is the defense. And don't forget the special teams that can breathe new life into a team or corporation.
A leader who runs a successful organization is liked by shareholders just as a successful coach enjoys the admiration of players and fans. Nonetheless, sometimes even these successful leaders fail to see the holistic picture.
A CEO, for example, might rely on cost cutting to bring in earnings. PDI would assess that company and most likely recommend the executive team to seek out a member to drive revenue and growth, says Heckman. "You can't cost cut your way into strong earnings; you need someone to play offense."
Levers of growth require more risk tolerance and the increased development of growth-related systems and processes that can only be accomplished by rounding out the executive team, says Heckman. PDI's solution: develop a talent grid that stack-ranks the top 25 executives that have demonstrated strength in operational excellence to welcome innovation and initiate growth.
Sports and business history is peppered with these kinds of examples: IBM divesting itself of its computer business or Steve Jobs increasing Apple's focus on music and phones.
And on Sunday when the San Francisco 49ers quarterback Colin Kaepernick takes the field, his success or failure will be a result of Harbaugh's mid-season decision to permanently trade out his injured first-string quarterback Alex Smith for the second-year Kaepernick. Kaepernick displays a dual-skilled athleticism as a quarterback who can not only rifle but also run the ball.
It's anybody's bet what will happen this Sunday or this season. But one thing is certain: it takes a village to run both a football team and the C-suite. Still another point on which experts agree: Leadership is not for the faint of heart.
How to Become an Effective Leader
Trust requires three factors, says Damon:
Project eternal optimism – The world is not rigged for you to succeed but to fail. Still, great leaders are not wild-eyed but always upbeat and positive
Act respectfully – Treat people the way you want to be treated; it sounds simple, but it's surprising how many leaders forget this
Lead by example – Don't talk one way and act differently
Set Expectations: Tell your team what you expect from them but also what they should expect from you, including the way you react to situations. The 49ers' Harbaugh may have a reputation for being strident, but his players understand this is his way of developing a winning team.
Success Comes in Many Forms: There's no one formula, no right or wrong, just fit, says Damon, and establishing mutual expectations with your colleagues.
Don't be Scared to Fail: It's one of the best and most potent lessons, says Heckman. The agility to pivot out of failure is the differentiator that prevents you from making the same mistake twice.
Make a Game Plan: Define it, commit to it and evaluate it honestly to determine the individual and team strengths that will move you forward and the gaps that will hold you back. Then, when all is said and done, never waiver on your plan.