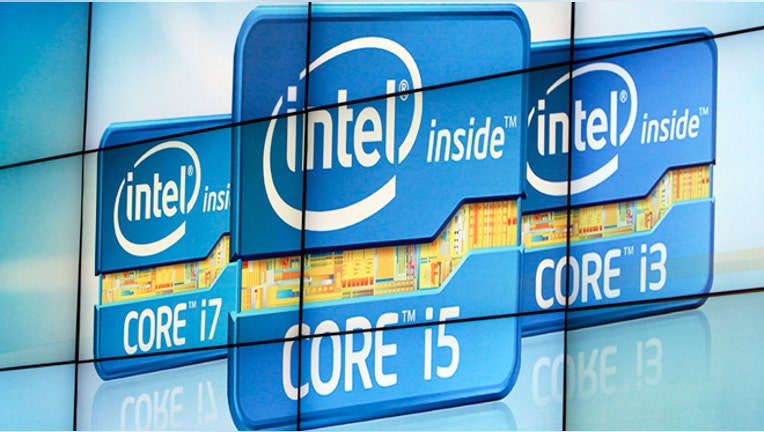 Shares of Intel (NASDAQ:INTC) slipped nearly 2% to a 52-week low Tuesday morning after the chip maker was slapped with a downgrade and received other negative notes from analysts.
Sanford Bernstein cut Intel to "underperform" from "market perform" and lowered its price target on the Silicon Valley giant to $20 from $24. R.W. Baird cut Intel's target to $26 from $32 on an "outperform" rating.
The bleak view by both Intel and analysts reflects inflated prices that may soon be pushed lower by the broader market, softening global PC demand and rising competition from rivals like Advanced Micro Devices (NYSE:AMD).
Stacy Rasgon, senior analyst of U.S. semiconductors at Sanford Bernstein, attributed the bearish view on a mismatch between the prices offered by Intel for PCs and the actual size of demand.
"We find that most of Intel's growth in PC revenues was not really due to outsized unit growth, but instead from significant upside to price," Rasgon said.
The view is not a reflection on the upcoming quarter, as Sanford Bernstein is actually above Wall Street's consensus on revenues for the fourth-quarter 2012, but is a call on longer-term fundamental trends that could impact Intel and its stock performance over the next year.
Intel last month cited weak demand in previously fast-growing economies like China amid mute PC demand as to why it lowered its revenue and profit margin expectations for the third quarter.
While the company has seen significant mix shift toward its more expensive Core i5 processors, there is a risk that Intel's notebook distribution shifts back in favor of products running on the budget Core i3 processor over the next 12 to 18 months.
As the market looks to bring Ultrabooks down to mainstream prices, average selling prices for Intel notebooks in 2013 could fall 7% to 10%, Rasgon said.
It is also possible that average selling prices for Intel's desktops could fall in the mid-single-digit range next year due to competitive pressures from rivals like AMD, which recently launched the Trinity family of desktops that Rasgon said appear to be better priced.
"We have long promulgated the point of view that Intel's risk profile is, simply, inherently asymmetric," he said. "Even with structural advantages in capex/process and a reasonably compelling roadmap, it is simply a fact that they have much more to potentially lose than they have to gain."
Other problems the analyst cites are an inability to really have breakthrough smartphone success, a degradation to its PC business, which Rasgon said could "conceivably be devastating," and the high cost of maintaining the status quo in a low-growth market.
In recent trade, shares of Intel slumped more than 2% to $22.02.