Rolling Out Your Social Media With Tumblr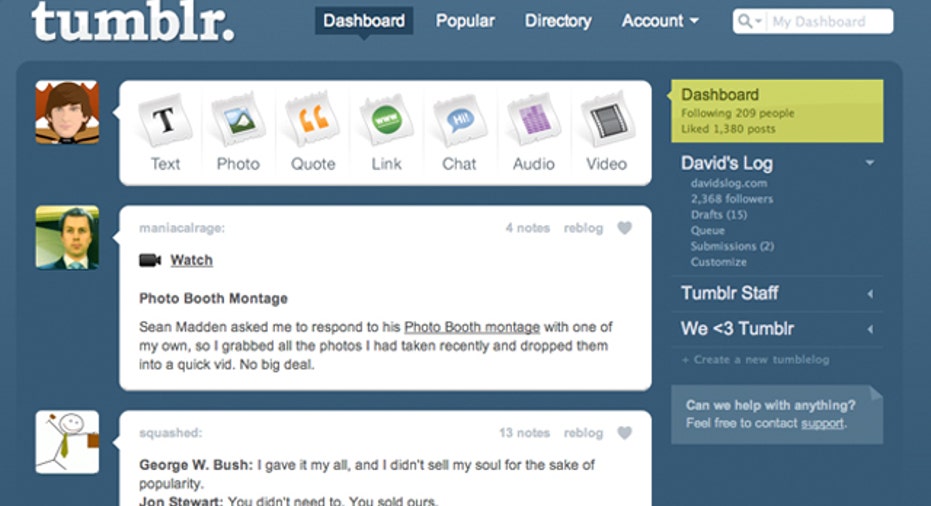 You've decided your small business is ready to enter the social media arena, but with Facebook, Twitter and blogging available, it's hard to know which is the right fit for your business. Thankfully there is something in between 140-character-limit messages and 1,000-word blog diatribes: enter Tumblr.
Think of Tumblr as a hybrid of social media and a traditional blog. Like a blog, it offers 20 different 'themes'  to design the look and feel of posts. Similar to Twitter's "re-tweets," you can "re-blog" something and like Facebook, you can post links, videos and text with ease.
In essence, Tumblr is a free micro-blogging site, backed by the same venture capitalist group as Twitter. Tumblr says its average user creates 14 original posts each month, and re-blogs three posts. Half of those posts are photos and the rest are split between text, links, quotes, music and video.
Due to the ease of the system (not to mention its free price tag), entrepreneurs across the country are flocking to Tumblr. Just ask Harvard Business School grads and founders of new jewelry sensation Baublebar.
Tumblr: http://blog.baublebar.comTumblr theme: Classic
BaubleBar Founders Daniella Yacobovsky and Amy Jain came up with the idea for their high-end fashion jewelry site during summer 2009 while enrolled in Harvard Business School. The two friends were shopping for an upcoming wedding when Yacobovsky realized she had no go-to destination to buy fashion jewelry – either online or a physical store.
Yacobovsky and Jain recognized a tremendous opportunity in this untapped market and launched BaubleBar in December 2010 to become the one-stop shop for every woman's fashion jewelry needs.
From inception, social media was closely intertwined with the brand. In fact, Yacobovsky said they chose the company name based on social media availability.
"There were a few potential names that we eliminated because the Twitter handle, Facebook page or Tumblr account was already taken under that name. We created BaubleBar accounts on all three from day one," said Yacobovsky.
BaubleBar took to Tumblr for two main reasons: to develop brand identity and to engage customers--they wanted to have a conversation with customers and the duo found re-blogging as a very natural way to do so.
"Think of how frequently a friend of yours e-mails you a funny article, or interesting story they've found? Re-blogging essentially allows us to do just that, but on a larger scale," said Yacobovsky.
BaubleBar tries to post one main entry every day with small posts in between. "We have found that people really respond well to having two types of content: the authoritative style of editorial content and the friendly voice of blog-style content."
BaubleBar also uses Tumblr in more innovative ways: every Friday they mark down one item on the site to $10, since they have tons of inventory, they use Tumblr to give customers clues on where to find that discounted item.
Rather than competing with other social media platforms, Tumblr is a great way of incorporating and enhancing other social-media campaigns. Everything that BaubleBar posts to Tumblr then goes to Facebook and Twitter. Knowing that some customers are loyal Twitter followers, while others prefer Facebook, Tubmlr helps BaubleBar get its message out on as many platforms as possible.
"While we're big fans of WordPress and Blogger, we felt that Tumblr was the most interactive platform," said Yacobovsky.
"A huge part of being a start up is listening to your customers' reactions to your product and constantly refining it to make it better. Having access to hearing what people think about your product real-time just allows you to react faster and make smarter business decisions."
You named your small business, you set up a Web site, and you even started seeing profits from it. What's next? You could set up a profile page on a social networking site, such as Facebook or Myspace. And/or you may want to head to Twitter, the member-based site that boasts of allowing you to virtually shout your company's message from a technological rooftop.
Every week, Fox Small Business Center will highlight companies that are making their brand known through social media. As small businesses, you are on the frontlines of re-starting our economy, and we want your voice to be heard.