Roger Goodell denies Colin Kaepernick is being blackballed by NFL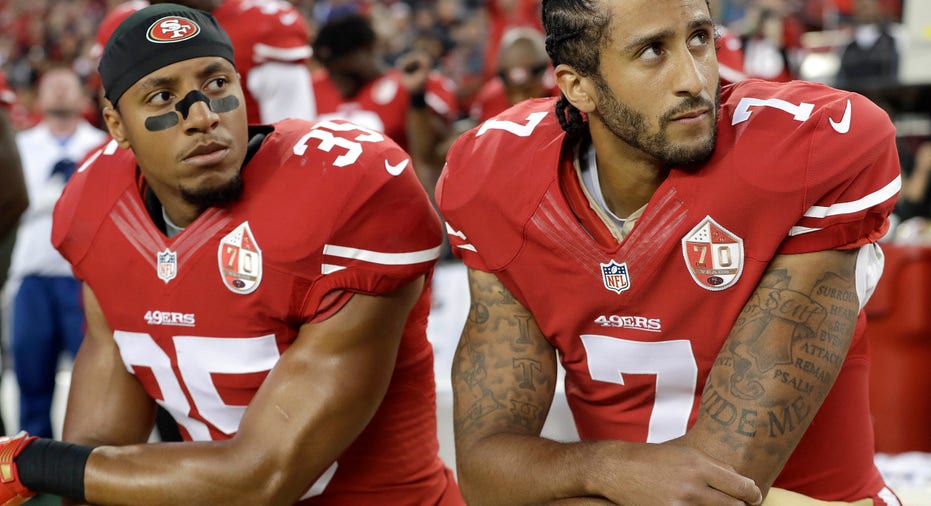 NFL Commissioner Roger Goodell denied Sunday that the league's 32 teams are blackballing free agent quarterback Colin Kaepernick due to his political beliefs, months after the former San Francisco 49er kicked off a national debate by refusing to stand for the National Anthem.
"He can't be [blackballed] because we're not," Goodell told reporters Sunday during a fan forum event at M&T Bank Stadium in Baltimore. "The clubs are making those individual evaluations to make the determination whether they think he can help them win, and that's true with any player. Obviously, everyone's aware of the fact of his protests last year, and that's something individual clubs will either weigh or not weigh."
Kaepernick conducted his National Anthem protests to draw attention to perceived racial and social injustice in America. The 29-year-old NFL veteran has been a free agent since he opted out of his contract with the 49ers last March.
Kaepernick's employment status will be decided as teams make "football decisions" about "what they think are the right ways to make their football teams better," Goodell said.
"Those are decisions I don't get involved with, decisions that rightfully belong with the club," he added.
At the same event, Baltimore Ravens owner Steve Bisciotti confirmed that his club has considered offering Kaepernick a contract. The Ravens' starting quarterback, Joe Flacco, is currently dealing with a minor back injury.
"We're very sensitive to [the situation], and we're monitoring it and we're still, as [Ravens general manager Ozzie Newsome] says, we're scrimmaging it. We're trying to figure what's the right tact. Pray for us," Bisciotti said, adding that the team is consulting with Ravens legend Ray Lewis and fans about the decision.