Rob Lowe is KFC's New Colonel Sanders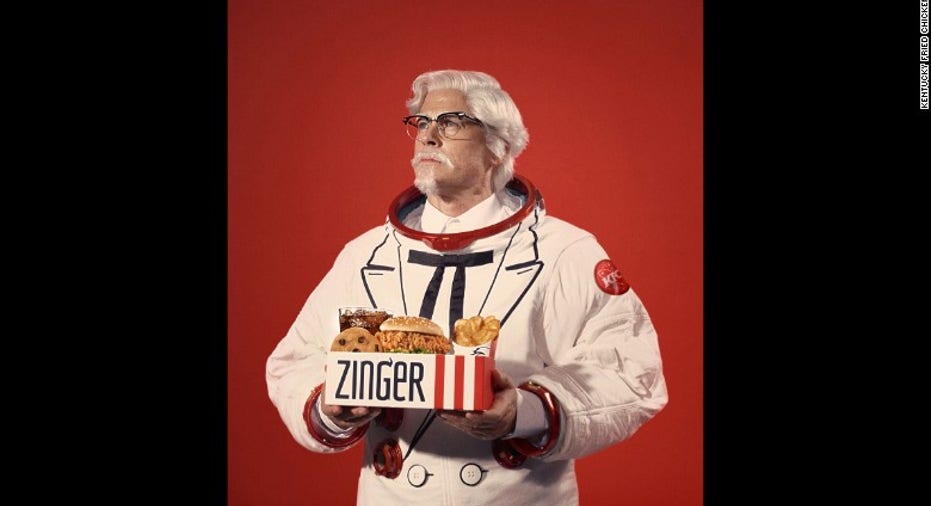 KFC, a unit of Yum! Brands, announced Friday that actor Rob Lowe is taking on the role as the company's new Colonel Sanders.
Debuting on Sunday, the former "West Wings" star will appear in a new ad campaign promoting the fast food chain's "Zinger" chicken sandwich, which KFC has spent nearly $80 million to create over the last two years.
Lowe said in statement that he signed on as a spokesman to pay tribute to his grandfather.
"My grandfather was the head of the Ohio chapter of the National Restaurant Association in the 1960s and took me to meet Colonel Harland Sanders when I was as kid," Lowe said in a statement Friday. "It was a big deal. I thought this would be a nice homage to both Colonel Sanders and to my grandfather."
Lowe joins a list of other celebrities who have filled the colonel's iconic shoes. Comedians Darrell Hammond, Jim Gaffigan, Norm Macdonald and actors George Hamilton and Billy Zane have also played the king of fried chicken.
The new spicy Zinger is the company's first fried chicken sandwich to be made by hand, daily in-house, the company's president told FOX Business' Stuart Valley.
"We have been actually working on this for two years, we spent $80 million dollars upgrading our back house equipment and we spent the last six months re-training all of our staff on how to make a fried chicken sandwich fast because ultimately at lunch, we have to win on speed," Kevin Hochman, president and chief concept officer for KFC, told FOX Business.
The sandwich, which is already sold in more than 120 countries around the world, will officially debut in the U.S. on Monday. In addition to that, it will be made with 100% real chicken from U.S. farms (without using any antibiotics).
KFC recently joined other fast-food restaurants in announcing plans earlier this month to stop using antibiotics important to human medicine in its chickens by the end of 2018.
"We share the public's concern about … antimicrobial resistance," Hochman said in a statement.
Chipotle, McDonald's, Burger King, Panera and Wendy's have already made similar pledges. But KFC says they believe they are on the cutting edge in trying to forgo antibiotics when it comes to on-the-bone chicken. The "Zinger" will also be free of added hormones, steroids and food dyes.