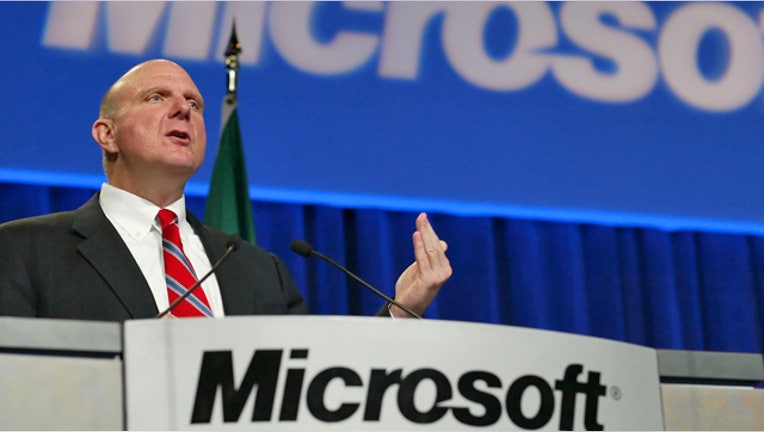 Microsoft (NASDAQ:MSFT) CEO Steve Ballmer's subpar performance last year may have made him 2012's lowest paid CEO of the Dow Industrials, but it doesn't seem to have impacted his personal wealth much at all.
With a fortune of $17 billion, the software maker's chief by far topped the 2012 list of wealthiest CEOs among those heading the 30 largest publicly-traded U.S. firms, according to a report released Wednesday by net worth intelligence provider Wealth-X.
That comes as Ballmer's bonus was trimmed to $620,000, less than half the possible maximum bonus of $1.37 million and below his 2011 bonus of $682,500. His total salary of just $1.3 million fell far below his peers, who earned as much as $40 million.
The second wealthiest CEO last year was Hewlett-Packard's (NYSE:HPQ) Meg Whitman, the only female of the top 30 richest chiefs to rank on the Wealth-X rating, which was compiled using proxy statements from members of the Dow Jones Industrial Average.
While Whitman, who was hired to help turn around the embattled computer maker, only recorded a base salary of a dollar last year, she took home more than $15 million in total compensation, putting her net worth at $1.2 billion.
Whitman, formerly the CEO of eBay (NASDAQ:EBAY), was one of several Silicon Valley executives, including Facebook's (NASDAQ:FB) Mark Zuckerberg, Oracle's (NASDAQ:ORCL) Larry Ellison and Google's (NASDAQ:GOOG) Larry Page, who pledged to only take a salary of one dollar in 2012 to underscore their overhaul efforts.
Rounding out the top five richest Dow CEOs was UnitedHealth's (NYSE:UNH) Stephen Hemsley, who has a net worth of $480 million, and Cisco's (NASDAQ:CSCO) John Chambers and United Tech's (NYSE:UTX) Louis Chenevert, both worth about $430 million.
Interestingly, only one banking executive made the list: J.P. Morgan Chase (NYSE:JPM) CEO Jamie Dimon, who has an estimated fortune of $340 million even though his pay was halved in 2012 to just under $19 million following the "London Whale" trading mishap that cost the No. 1 U.S. bank by assets more than $6 billion.
Among the other wealthiest CEOs were American Express' (NYSE:AXP) Ken Chenault, General Electric's (NYSE:GE) Jeff Immelt, Exxon Mobil's (NYSE:XOM) Rex Tillerson and Travelers' (NYSE:TRV) Jay Fishman.