Rich, Famous and Tussling With the Taxman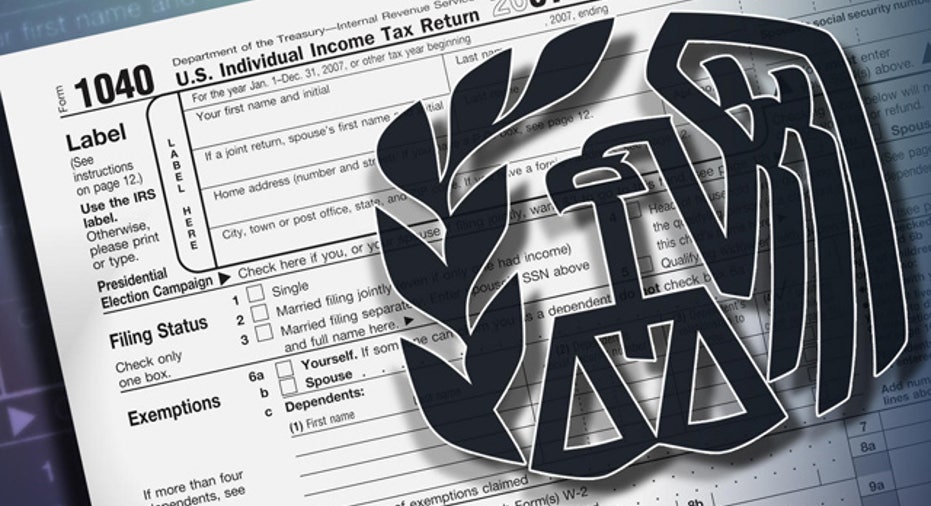 When celebrities come up short on their taxes, the world takes notice.
Headlines that proclaim a star's tax troubles often spark a firestorm of public scorn. How dare our heroes not pay their fair share when their cup runneth over!
Americans owe an astounding $290 billion in back taxes, according to the Internal Revenue Service. Typically, filing a tax lien on the scofflaw's property is the taxman's first step to collect the debt.
These eight celebrities know the sting of a recent tax lien. Or two. Or three. Some came up short by circumstance, others by design and still others by accident.
Don't hate them because they're rich and famous. Often the dedication to their craft removes them from the tax chores familiar to the rest of us.
That said, by all means, don't follow these stars when it comes to filing your own taxes.
Jaime Pressly
The star: She's a model-turned-actress who won an Emmy Award for her role as Joy Turner on the NBC sitcom "My Name Is Earl."
Amount owed: $637,149, based on three liens listed below.
What happened: Sometimes life imitates art. It seems so in Pressly's case, given that her recent real-life troubles mirror the jams that would befall her "My Name Is Earl" character, the ex-wife of reformed petty thief Earl Hickey, played by Jason Lee. First, her series was canceled. Then came the tax problems, which according to The Detroit News, include a June lien for $95,080 by the state of California, a September IRS lien for $281,699 on back taxes from 2008, and a December IRS lien for $260,370. Money troubles like these are enough to drive you to drink, or drink and drive, which is what police in Santa Monica, Calif., charged Pressly with in early January. That was apparently the straw that broke up her marriage of 16 months to entertainment lawyer Simran Singh, according to entertainment site BANG Showbiz.
The outcome: Only time and tax court will tell. In preparation, the IRS might want to peruse Pressly's 2009 autobiography, "It's Not Necessarily Not the Truth."
Val Kilmer
The star: The California leading man is best known for his portrayal of rocker Jim Morrison in "The Doors," Naval aviator Iceman to Tom Cruise's Maverick in "Top Gun" and the Dark Knight in "Batman Forever."
Amount owed: $498,165.
What happened: Tax troubles are nothing new to Kilmer, who according to The Associated Press was slapped with a $498,165 IRS lien last November for unpaid taxes from 2008. In July 2009, the IRS previously presented Kilmer with an overdue tab of $538,858. Kilmer's tax woes date back to 2004, when a New Mexico Court of Appeals ruled against the actor and then-wife Joanne Whalley's claim that they were owed a tax refund of more than $300,000.
The outcome: Pending. According to entertainment website TMZ, Kilmer made good on his 2009 tab. Like other house-burdened celebrities, Kilmer has been trying to sell his 6,000-acre Pecos River Ranch near Santa Fe, N.M., since 2009. Zillow reports that Kilmer has dropped the original asking price 46%, from $33 million to $18.5 million.
Pamela Anderson
The star: The Canadian-born model, actress, Playboy Playmate and animal-rights activist is best known for her role as lifeguard C.J. Parker on "Baywatch" and her tempestuous marriages to rockers Tommy Lee and Kid Rock.
Amount owed: $673,144.
What happened: Though she's hardly drowning in debt, Anderson apparently has been lax with her taxes in California. The Golden State slapped the blond bombshell with a tax lien for $493,144 in unpaid personal income tax in April 2009, then followed with a second lien for $180,000 last November, according to TMZ. According to Newsoxy.com, Anderson filed annual taxes but not for the correct amount, and her plans to build a $50 million waterfront condominium development stalled when the housing market tanked.
The outcome: TMZ quotes Anderson's representative as saying the latest lien has been satisfied. As for that half-mil tab from 2009, Anderson told TMZ she isn't broke, just disorganized. "Mistakes may have been made in calculating taxes owed and we are now in the process of ensuring that any taxes owed are paid," she says. Perhaps "the Hoff," aka her "Baywatch" co-star David Hasselhoff, can toss her a lifeline.
Nicolas Cage
The star: The Academy Award-winning actor (for "Leaving Las Vegas") is best known for the films "Moonstruck," "Con Air" and "National Treasure." He is the nephew of "The Godfather" director Francis Ford Coppola and former husband to Lisa Marie Presley.
Amount owed: $13.3 million.
What happened: Cage's tab with the IRS dates back to 2002, with subsequent liens in 2003, 2004 and 2007. In 2009, Cage fired and sued his business manager-accountant Samuel Levin for $20 million for making "numerous highly speculative real estate investments" that led him "down a path toward financial ruin," court documents show. Levin's countersuit claimed Cage was wild at heart and blew $33 million on real estate, purchased 22 cars, including nine Rolls-Royces, and bought castles in England and Germany against his advice. Cage lost two homes in New Orleans to foreclosure in 2009. The two settled their face-off out of court in September 2009.
The outcome: Nic is apparently back on track. "I am under new business management and am happy to say that I am current for 2009. All taxes will be paid, including any to-be-determined state taxes," he told People.com.
Stephen Baldwin
The star: The youngest of the acting Baldwin brothers (Alec, Daniel, William) is best known for his film roles in "The Usual Suspects" and "Bio-Dome" and reality TV appearances on "Celebrity Apprentice," "Celebrity Mole" and "I'm a Celebrity, Get Me Out of Here!"
Amount owed: $1 million.
What happened: The reality of being a reality-TV star caught up with Baldwin in July 2009, when he filed for Chapter 11 bankruptcy in New York. Court documents show that Baldwin and wife Kennya (the daughter of jazz musician Deodato) owed $1.2 million on two mortgages on their home, more than $1 million in back taxes, and $70,000 in credit card debt.
The outcome: Unclear, since Baldwin declared personal bankruptcy, discharging much of his outstanding debt. In a financial side note, Baldwin sued fellow actor Kevin Costner in December, claiming the "Dances with Wolves" star edged him out of an $18 million deal with BP to purchase oil-separating centrifuges to clean up the Deepwater Horizon spill. Baldwin's $1.4 million share in Costner's venture was sold just three days after the BP deal was struck -- allegedly, though, without Baldwin's knowledge.
Burt Reynolds
The star: The '70s heartthrob and one-time Cosmopolitan centerfold is best known for his Southern-fried comedic roles in "Smokey and the Bandit" and "The Cannonball Run," and pitch-perfect dramatic turns in "Deliverance" and "Boogie Nights."
Amount owed: $225,000.
What happened: Eyebrows shot up when Reynolds appeared as No. 247 on the California Franchise Tax Board's 2009 list of the state's 250 biggest tax deadbeats for a tax bill dating back to 1996. At 75, Reynolds remains one of America's most enduring stars, popular for voiceover work ("All Dogs Go to Heaven") and TV and film roles, including the Adam Sandler remake of his own 1974 hit, "The Longest Yard." Then again, his bitter 1993 divorce settlement from Loni Anderson was a whopper.
The outcome: Much ado about nothing, apparently. The actor's spokesman Jeffrey Lane told The Associated Press that Reynolds paid his debt more than a decade ago and asked California to kindly remove the Bandit from its tax bandit list.
Wesley Snipes
The star: The versatile screen star may be best known for the "Blade" horror trilogy, but his resume includes performances in drama ("Jungle Fever"), comedy ("White Men Can't Jump") and action films ("Passenger 57").
Amount owed: It's complicated.
What happened: Whether you chalk it up to bad advice or bad judgment, the fact remains that Snipes declared himself a "nontaxpayer" to the IRS and stopped paying income tax in 1998. Government prosecutors say Snipes failed to pay $15 million in taxes during the past decade and tried to obtain $11.3 million in fraudulent tax refunds in 1996 and 1997. He was found guilty in 2008 of willful failure to file income tax and began serving a three-year sentence in December 2010.
The outcome: The IRS continues with its civil suit, but determining the exact amount Snipes owes is difficult, given that he has not filed tax returns for 1999 through 2004, despite a 2002 warning from the IRS that he was being investigated. At his sentencing, Snipes offered three checks totaling $5 million as a gesture of goodwill. "It's essentially a down payment, but a fraction of what he owes," said former Assistant U.S. Attorney Scotland Morris.
Gisele Bundchen
The star: This Brazilian beauty rules the modeling world, thanks to contracts with Dior, Versace, Victoria's Secret, Louis Vuitton and other famous brands. But most readers probably know her best for her romance with Leo DiCaprio and subsequent marriage to New England Patriots quarterback Tom Brady. Her $25 million in earnings last year placed her 85th on Forbes' 2010 Celebrity 100.
Amount owed: $72,003.
What happened: The State of California reckons the supermodel came up a bit short on her 2009 taxes and filed a lien for that amount in Los Angeles County. Let's chalk it up to a very busy year for the Brady household, what with the December 2009 birth of their son Benjamin and Tom's $16 million signing bonus that brought his annual salary to $26.5 million, according to The Detroit News. Nice to know there's a breadwinner in the family!
The outcome: Not to worry. With mad looks like hers, mad skills like his and a combined annual income to rival a Third World country, this golden couple doubtless will be good for the debt.
Flavor Flav
The star: William Drayton Jr., aka Flavor Flav, first hit the public radar as the freestyling MC with the oversized chest clock in the legendary rap group Public Enemy. He went on to star in VH1 reality shows "The Surreal Life," "Strange Love" and "Flavor of Love."
Amount owed: $183,810.
What happened: Despite his formidable timepiece, Flav apparently overslept when it came time to pay the taxman. California tax authorities filed the tax lien against the rapper in September 2009.
The outcome: While there's been no word on whether Flav is putting a rap to his outstanding taxes, he has cooked up another income stream with the January opening of Flavor Flav Chicken in Clinton, Iowa, the first in a planned nationwide chain. "The Colonel better watch his back, G," Flav proclaimed to online media. It remains to be seen whether the taxman will respond with, "Yeah boy!"