Review: Will Xbox One "Kinect" with Consumers?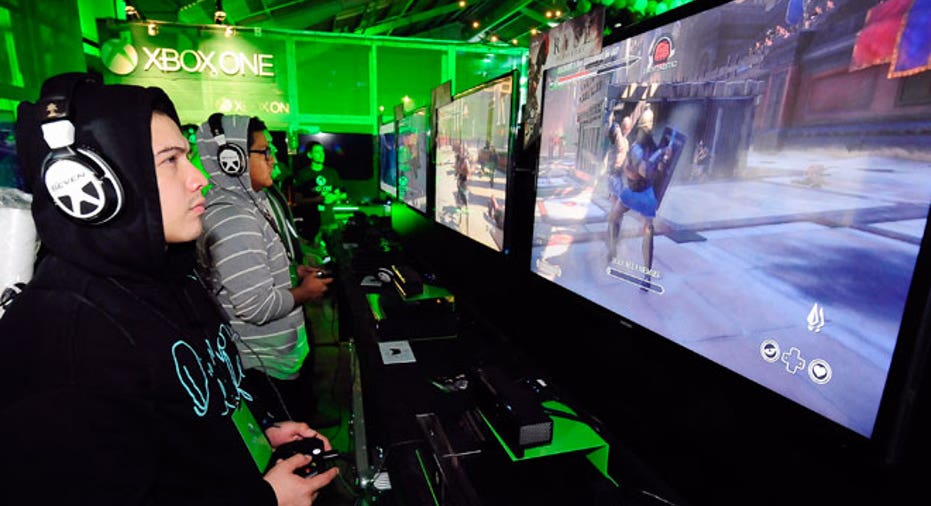 Get "Kinect-ed"
Xbox One is vying to be the center of your "smart" living room scene.  You can impress your friends and family by launching the game system and your TV with a simple command, "Xbox, on" and voila! You have nearly instant access to your content.  A simple setup includes hooking your cable or other content delivery device into the Xbox via HDMI and the One aims to live up to its name by being the only device needed to control your viewing and playing pleasure.
In a demo, the pass-through technology made it easy to verbally call up cable TV (Time Warner) menus or change channels using voice command while watching a program, or to go to the video or music apps.  The process takes some trial and error, and there were some issues accessing a few channels and commands, but overall it was very quick and easy.  If you have a DVR on your cable box, the One allows you to pause and rewind TV using voice control as well, but as of now, there is no built-in DVR functionality.
The box's appearance is not groundbreaking; it's yet another black rectangle requiring a few more cables around your TV.  It actually has a larger footprint than the newer models of the Xbox 360 (and the PS4) and the Kinect sensor is also bigger than its predecessor, presumably all the better to see you and your play space.  The Xbox One and Kinect are, however, both considerably quieter and quicker to launch applications and respond to commands than the last generation.
Perhaps the coolest functionality is the facial recognition.  Xbox recognizes registered gamers and welcomes them with an onscreen nametag bubble even if you walk into frame after someone else starts up the system.  It's part of Microsoft's (NASDAQ:MSFT) efforts to customize the device (gamers can select their favorite color for tiles on their Xbox homepage) or as some skeptics may say, to keep an eye on their customers.  It does make it easy for visiting a friend and instantly logging in just by showing up.  You can also access your own profile to add to achievements or continue a marathon match you paused at your place (as long as it was a downloaded game since that data is stored in the cloud).
Navigating the apps menus remains simple on Xbox: You can browse or use Bing search to reach a specific title.  The app offerings are ramping up into the launch.  Netflix (NASDAQ:NFLX), Redbox, FoxNow, and ESPN are just a few free offerings already running.
The Xbox One can multi-task, which you didn't know you needed to do until you did it (smart phone users can relate).  You can watch TV while surfing through the main menu, surf the web while watching video, pause a game, and then pick it back up when you restart it, even at someone else's house on their console (after signing in via Kinect).
Some viewers may find this distracting, but the feature aims to bring the second screen experience to your primary viewing screen.  In early tests, one useful way to use this feature was "snapping" the NFL app as a sidebar on the TV screen and pulling up standings or schedules while watching shows about the league.  There is also a fantasy football interface to track your team on the app while watching live broadcasts, the catch here is you must have a league set up on NFL.com.  The downside, if you are sorting through videos or trying to surf the Web, is the small thumbnail space on the Snap bar can be difficult to see if you don't have a huge screen. Smart Glass aims to create unholy, but wholly helpful alliances between iOS and Android devices with the Xbox One.  The free app can turn devices, including non-Windows ones such as iPhones and iPads into Xbox remote controls.  You can also access video and audio content including game clips on your devices as well as check in on your Xbox friends.
If you want to go old school, there is a Blu-ray DVD/CD player.  But keep in mind that games or other content started at your place using a disc cannot be accessed from a friend's place.  Only downloaded or web accessed content will work that way.
Private Eyes
Xbox One does not need to be always on or even always connected to the Internet.  In fact, after the initial update is downloaded, Microsoft officials say it can be played offline with no issues.  Yes, you can "diss"-Kinect.  That may be a relief to some Americans who may not appreciate having a camera and open mic in their home given the ongoing privacy concerns involving big tech sharing data with the government and the NSA spying scandals.
As for the games, the graphics and controller are both definitely improved over the last generation.  The new controller is less bulky than the older model and features grooves on the analog sticks to prevent slippage, which is helpful when battling for your virtual life or trying to hold your line while speeding a McLaren P1 across Prague's Charles Bridge.Game On
All of these bells and whistles have garnered praise from many casual gamers but attracted skepticism and criticism from some hard-core gamers, DIYers, and critics who want to see more power, the ability to swap out to a bigger hard drive, or even better graphics for the price.  After all, most consumers aren't going to plunk down five hundred bucks for yet another content delivery device (plus $60 per year), no matter how good the original programming is from Xbox Studios.
The games available for demo gave a cross-genre sample:  Killer Instinct offered colorful backdrops for fighting vs. murderous mutants in a game that required you to use almost every button and fighting move you could muster on the controller, a family game with some basic strategy taking care of animals and facilities as a Zoo Tycoon, and chase game LocoCycle featured a campy, live-action back story before revving into animated action to showcase the new improved grooves and haptic feedback on the controller.
The rumble sensations in the controller's triggers truly make you feel like you were behind the wheel on the streets of Prague in Forza Motorsport 5.  The in-house game tapped into the superior graphics and may be an early hit for the system.
Kinect Sports Rivals gets you off the couch and into various adventure sports.  The demo featured a raucous wake race around a harbor with swelling seas, launching off ramps, and avoiding mines while using your body to control the craft and pass your opponents.  There will be other sports options when the title debuts next spring.
Microsoft is banking on exclusive titles including its in-house, best-selling Halo franchise (new games as well as scripted video content produced by Steven Spielberg) and content partnerships with the likes of the NFL and ESPN to attract young consumers who want a second screen experience while watching videos or listening to music.
Microsoft says there will be 22 titles available at launch for Xbox One.  Ten will be exclusive games, with four of those brand new franchises.
It also integrates Skype with the Kinect sensor and the Upload Studio app allows gamers to record and edit highlights that they can upload to SkyDrive allowing for customized social gaming to share with friends and rivals.
One possible downside for consumers is the $499 price tag plus $60 for each new game.  There's also a $60 annual fee for an Xbox Live Gold membership that's needed to access most content and for online challenge matches.
Additionally, your old Xbox games won't work on the One, which is not backwards compatible.  Your achievements and friends list will update and some games and accomplishments may be forward compatible via downloads or instant updates from your account, but gamers will largely need to buy new titles to play on the One.
The One to buy?
Consumers will ultimately judge with their wallets whether the improvements are dramatic enough, the content offerings enticing enough, and the slate of games compelling enough, to merit paying an extra $100 for the Xbox One over PS4 or an older gen system—that is if they can even find it in stores before Christmas.