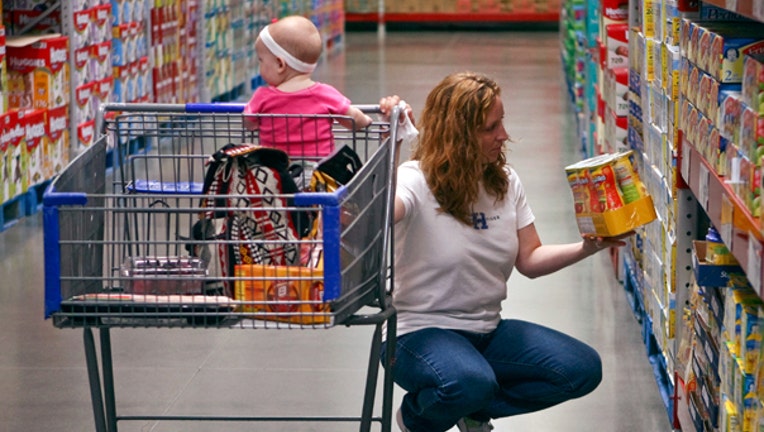 Retail sales increased 0.2% in June as discretionary spending increased, but this isn't the same consumer that was hitting stores seven years ago.
"People are more opportunistic to find a deal, partly for survival purposes. But technology has been enabling them to become more savvy," says Stephen Hoch, professor emeritus of marketing at the Wharton School of the University of Pennsylvania. "Consumers are much busier, they aren't walking into a store, taking it all in and making a decision. They know what they want and how much to pay."
Tuesday's report from the Commerce Department showed strong gains from clothing, health and personal care, general merchandise and non-store retailers. Excluding auto sales, sales rose 0.4% month over month. Richard Feinberg , a professor of consumer sciences and retail at Purdue University, says wage stagnation and slow job creation continues to plague retailers.
"It's almost a miracle we are selling as many houses and cars as we have. People put off purchasing cars for so long that they have to get them now and dealers are giving them away with very low interest rates--that's the only reason we are selling them. Wages haven't been able to keep up."
Consumer spending is essential to economic growth, making up nearly 70% of gross domestic product. First quarter GDP disappointed with a 2.9% decrease, but economists are forecasting growth of 2%-3% for the current quarter.
"Discretionary spending is up more than it should be," says Hoch. "There's still a lot of underemployment, which means people still don't have the kind of money they want, but they are still spending, going out to eat and shopping."
How consumers make purchasing decisions has changed dramatically in the wake of the Great Recession with smartphones playing a major role in the shopping process to compare prices and product reviews. While the "how" might have changed when it comes to shopping, Hoch says consumers have short memories. "When they have a cash flow, they will spend it, especially now as confidence is returning."
The challenge now for retailers is enticing consumers into their stores, and the competition is fierce. According to research from consulting firm McKinsey & Company, six of the 10 largest domestic retailers in 1990 have been replaced with new winners, including online powerhouse Amazon.com and warehouse giant Costco.
"That continued sucking sound is Amazon that continues to put pressure on all retailers—especially those that lack a major online presence," says Hoch.
Today's One-Stop Shopper
According to Feinberg, consumers today are shopping less frequently and hitting fewer stores.
"No one has time to make multiple stops into different stores to get all their shopping done, they want to make as few stops as possible, which forces retailers to expand inventory."
However, when it comes to stocking the fridge, the days of one main shopping trip are gone, says Hoch. "No one talks about grocers, but they've changed the most over the last few years to adapt. People cherry pick all week long to get their groceries since there are so many places offering food products outside the standard grocery stores."
Heavy Promotions All the Time
With consumers unwilling to visit multiple stores, that means retailers have to step up their promotion tactics.
Last week, the CEO of The Container Store said in the company's earnings report that, "Consistent with so many of our fellow retailers, we are experiencing a retail 'funk.'" But Feinberg isn't buying this excuse.
"You have to be highly promotional, you can't fight that and the Container Store has been fighting it all year," he claimed. Consumers are still tight-fisted with their spending and are looking for a deal. "You can't turn on the TV without hearing 'Buy one suit get six free.' Instead of lowering the price of all six suits, they are making customers feel like they are getting a deal. There's no fighting that"
Value Doesn't Mean Lowest Price
While discounts are inviting, the lowest price isn't the sole consideration when consumers make purchasing decisions right now.
Feinberg  points to Kroger's recent announcement it was beefing up its organic product offerings due to consumer demand. "These aren't low-priced offerings, it's not value in terms of price, they want the best they can get for their dollars."
Discount dollar stores, which thrived in the years following the 2008 crisis, have also cooled off, buffering the argument that price doesn't always win. Last week, Family Dollar reported a 33% drop in its third-quarter profit, citing restructuring charges and fewer customer transactions.
"The sector became overgrown," says Hoch."In the wake of the crash, real estate was cheap so these dollar chains overbuilt. Wal-Mart in turn responded and created dollar stores within their stores."
Beefed Up Loyalty Cards
Blind brand loyalty has eroded in the wake of the financial crisis, according to Hoch as consumers become more open to off-brand products and retailers. "The really big national retail chin can source their own products now, so why would anyone buy Tylenol when CVS' acetaminophen is the same thing for less?"
He expects more brick-and-mortar retailers to take the "bare bones" approach to reduce their costs and offer low prices.
Feinberg says the lack of a "hot category" like fashion or furniture recently to drive people into stores is forcing retailers to beef up their loyalty rewards cards. "Expect a sharp increase in the discounts offered from these cards and the benefits of using them."