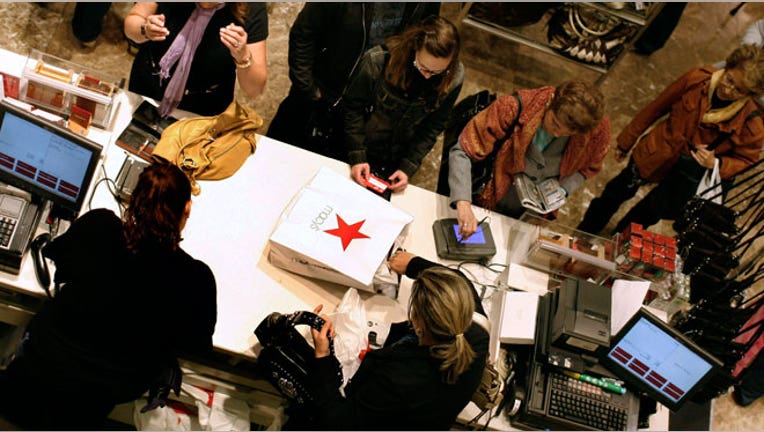 The hopes were not high, but retailers did better than economists had expected over the holiday season posting a 0.2% month-over-month sales increase in December. This comes days after Friday's surprisingly-weak jobs report, which reminded Americans that while on an uptrend, the overall recovery is slow moving.
The Commerce Department reported Tuesday total retail sales 2013 rose 4.2% , the weakest gain in four years. Retail sales increased 5.3% in 2012, 7.5% in 2011 and 5.5% in 2010.
"You could say 0.2% [month-over-month] growth is healthy," says Jason Asaeda, a retail analyst at S&P Capital. "People are spending cautiously. They are planning ahead, so in case something goes wrong, they have a cushion."
Asaeda points to the 16-day government shutdown in October as one of the negative factors impacting peoples' confidence and their buying habits, which is critical to the health of the U.S. economy since consumer spending makes up about 70% of the country's GDP.
Slow improvement in the labor market has also kept consumers watching their overall spending habits very closely.
It's been over six years since the financial crisis struck and more than four years since the ensuing recession officially ended, but job creation and labor participation rates have stayed weak.
"People are spending cautiously. They are planning ahead, so in case something goes wrong, they have a cushion."
The unemployment rate, hitting 10% at one point, is now at 6.7% , the lowest since 2007. But, as the Bureau of Labor Statistics report showed, this is in large part due to the hundreds of thousands of discouraged workers leaving the labor market entirely. (In December, an estimated 347,000 disappeared from the work force.)
In December, the economy only added 74,000 jobs, falling significantly short of analysts' expectations of 200,000 newly-created jobs. But reports from October and November both showed positive gains of 200,000 and 241,000 respectively. (November's numbers were revised up 38,000 in the latest report.)
"I don't think that we should get too excited about this 74,000 number," says Chris Williamson, chief economist at research firm Markit. "It's certainly a surprise and the growth was disappointing low, but the bulk of evidence still suggests that things are okay in the U.S. economy."
In 2013, job growth averaged at 182,000 per month, which is about the same amount as in 2012.
Williamson predicts that jobs gains would be revised upward for December in the next employment report, and points out that stronger growth leads to better retail sales in the future.
He also says that one area in retail that is booming is the non-store segment, with non-store retailers up an enormous 10.3% this year, according to the Commerce Department.
Internet giant Amazon (NASDAQ:AMZN), which sold more than a billion items on the site last year, experienced record growth during the holiday season -- and according to YouGov Brand Index -- was the most highly regarded brand in the United States in 2013.
"There is undoubtedly a structural change in the way the consumer shops," says Williamson. "[Merchandise stores] are facing oblivion and they need to offer steep discounts to compete with online competition, which is driving their profit margins down."
He says overall though, the better-than-expected retail number is a good sign for jobs.
"Stronger-than-expected retail sales in December add to business survey evidence to suggest that the U.S. economy maintained a robust pace of economic growth and job creation at the end of last year," he wrote in an email. "… [And the disappointing December jobs report] merely represent a statistical quirk rather than the start of a renewed downturn in the employment data."