Resources for Ex-Military Entrepreneurs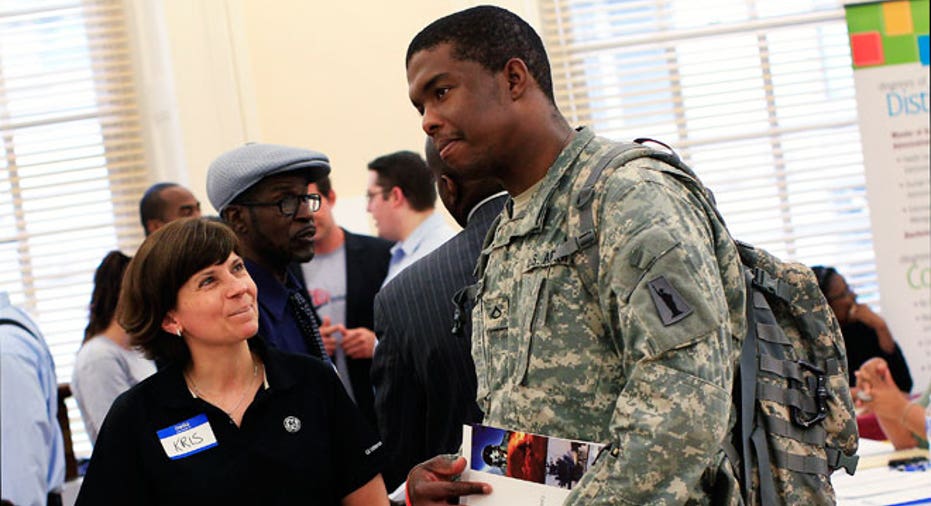 According to the U.S. Census Bureau, veteran-owned firms represent 9% of all U.S. firms. Overall, there are 2.45 million veteran-owned businesses that employ more than 5.8 million workers. Service members transitioning back to civilian life typically possess the training, experience and leadership skills that enable them to start businesses and create jobs.
There are many programs available for military personnel who have returned from Iraq War and Afghanistan, as well other conflicts, who are looking to start or expand their own businesses. The Small Business Administration (SBA) and its Office of Veterans Business Development (OVBD) offer assistance and support the nation's 26 million veterans who might be interested in launching a startup or growing an existing small business.
Millions of dollars in SBA loans are made to veteran-owned businesses annually. Meanwhile, the agency also offers business training, counseling and mentoring to eligible veterans who own or are considering starting their own company.
The SBA's Patriot Express Pilot Loan Initiative is an option for veterans and members of the military community who want to establish or expand a small business. Patriot Express loans are available to veterans and service-disabled veterans, active-duty military eligible for the Transition Assistance Program, reservists and National Guard members, and spouses of service members.
Patriot Express loans can be used for most business purposes, including: start up costs, equipment purchases, business real-estate purchases, inventory, working capital, expansion, and preparing a business for the possibility of the owner's deployment. These loans offer low interest rates --  generally 2.25% to 4.75% over prime, depending upon the size and maturity of the loan. The maximum loan amount is $500,000.
Military Reservist Economic Injury Disaster Loans provide funds to eligible small businesses to meet operating expenses that can't be met because of an essential employee's being called to active duty.  Businesses with the financial capacity to fund their own recovery are not eligible for this assistance.
The SBA's Operation Boots to Business initiative teaches service members the ins and outs of starting and growing a small business and introducing veterans to the agency's nationwide Resource Partner network for support throughout the lifecycle of their new business. The SBA's Veterans Business Outreach Centers provide entrepreneurial development services.
The National Veterans Business Development Conference & Expo is an annual event that focuses on veteran small businesses and federal procurement opportunities.  The event offers the opportunity to launch and demonstrate new products and services to government buyers, private contractors and potential partners. It also introduces companies to key decision makers in public sector purchasing at various federal agencies.
The Department of Veteran Affairs also offers assistance to military personnel and service-disabled veterans who are interested in going into business for themselves. It can help veterans with business start-up, financing, training, procurement and business development. The Department's Center for Veterans Enterprise enables verification of companies as eligible for service-disabled veteran-owned or veteran-owned small business set-asides. The center also provides information about funding options, franchise opportunities, and government assistance programs.
Franchising is an attractive route to business ownership for many veterans. VetFran is a program started by the International Franchise Association (IFA) in Washington, D.C., that offers discounts and other assistance to veterans. My company, Biz2Credit, offers free business plan writing assistance for veterans who are looking for financing.
VeteranOwnedBusiness.com is a comprehensive, user friendly directory of small, medium and large businesses owned by veterans, active duty military and reservists. The directory lists categories including: accounting and finance, tax preparation,  aerospace and defense contracting, agriculture and forestry, I.T. and technology companies, general contractors and construction management services, environmental engineering services, food and beverage, health and medical, home construction and improvements, HR and recruiting services, insurance, legal services, manufacturing, marketing services, nonprofit organizations, real estate agencies, security and safety firms, and tax preparation services.
Further, many states and other organizations also provide business services to those who have served in the military.  As we mark Veterans Day this week, and as increasing numbers of returning soldiers and sailors come home, it is important to have information and programs available for them to transition to civilian lives. It is the least we can do in appreciation of their service.
Rohit Arora is co-founder and CEO of Biz2Credit, an online resource that connects 1.6 million small business owners with 1,100+ lenders, credit rating agencies and service providers such as CPAs and attorneys via its Internet platform.  Since 2007, Biz2Credit has secured more than $700 million in funding for small businesses across the U.S.