Research in Motion Plans $485M Charge on Ugly PlayBook Sales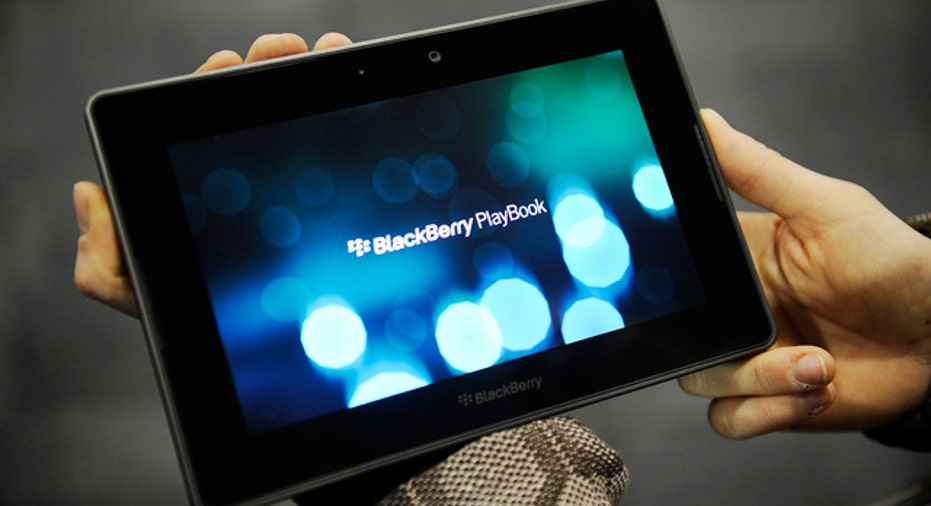 Research in Motion (NASDAQ:RIMM) disclosed plans on Friday to take a $485 million charge due to anemic sales of its PlayBook Tablet device, forcing the BlackBerry maker to abandoned its 2011 profit targets.
The latest gloomy news from the Canadian technology company sparked a 7% dive in its already beaten-down stock.
RIM's PlayBook has been a huge disappointment, failing to compete with Apple's (NASDAQ:AAPL) much more successful iPad tablet device. Last quarter the company sold just 150,000 units and it warned it sees slower sales for the fourth quarter. RIM said it will be forced to rely on increased promotions to drive sales.
RIM blamed the performance on a number of factors, including "shifts in the competitive dynamics" of the market and a delay in the release of its new operating system.
"RIM is committed to the BlackBerry PlayBook and believes the tablet market is still in its infancy," co-CEO Mike Lazaridis said in a statement. "We believe the PlayBook, which will be further enhanced with the upcoming PlayBook OS 2.0 software, is a compelling tablet for consumers that also offers unique security and manageability features for the enterprise."
Due to the poor results, RIM said it needs to take a $485 million charge, or $360 million after-tax charge, to mark down the value of its PlayBook inventory.
As a result, RIM said it no longer expects to meet its fiscal 2011 non-GAAP profit projection of $5.25 to $6.00. Analysts had been calling for EPS of just $4.65.
Additionally, RIM said it sees non-GAAP EPS of $1.20 to $1.40 on revenue of $5.3 billion to $5.6 billion, compared with the Street's forecast for EPS of $1.21.
Shares of RIM continued their months-long plunge, and the stock was already down 68% on the year as of Thursday's close.