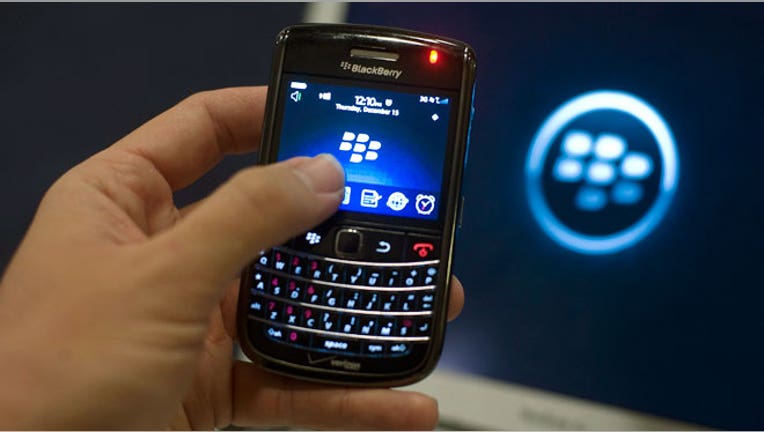 Research In Motion shares (NASDAQ:RIMM) sank in trading after the bell, as the company missed the Street's expectations and sales of its BlackBerry 7 smartphones came in at the low end of its guidance.
The troubled firm, which has watched its shares plunge 76% in the past year, also announced a management shakeup as the company's former co-CEO Jim Balsillie resigned from its board, and current CTO Software David Yach and COO Global Operations also resigned. RIM said it plans to hire a single COO to run its operations.
Research In Motion has its hopes for a turnaround pinned on its next-generation BlackBerry 10 operating system, which is not expected to hit the market until October.  Consequently, the Street was looking to the company's guidance more than fourth-quarter results to see how it expects to perform ahead of the launch of BlackBerry 10.
The company said because it expects there to be pressure on revenue and earnings throughout fiscal 2013, it will "no longer provide specific quantitative guidance." RIM cited weakness in its domestic smartphone business, as well as the focus on growing its subscriber base through sales of its BlackBerry 7 handsets, ahead of the launch of BlackBerry 10. Analysts were looking for first-quarter earnings of 66 cents a share on revenue of $4.25 billion.  The Street expects the company to ship 11.2 million smartphones in the first quarter.
In the fiscal fourth quarter, the company nearly missed its own guidance for BlackBerry sales; the company said BlackBerry shipments fell 21%, compared to the third quarter, to 11.1 million.  That number falls near the low end of the company's guidance, as RIM had forecast that it would ship between 11 million and 12 million BlackBerry handsets in the fourth quarter.
RIM weighed in with a fourth-quarter net loss of $125 million, or 24 cents a share, compared with last year's fourth-quarter profit of $934 million, or $1.79 a share. On an adjusted basis, after excluding pre-tax charges, the company reported profit of $418 million, or 80 cents a share.
Revenue fell to $4.19 billion, down from year-ago sales of $5.56 billion.  Adjusted gross margin widened sequentially to 33.4%, up from 27.3% in the third quarter; however, that was still narrower than the company's gross margin of 44.2% one year ago.
The results missed expectations; analysts polled by Thomson Reuters had predicted adjusted earnings of 81 cents a share on revenue of $4.54 billion.
"I have confirmed that the Company has substantial strengths that can be further leveraged to improve our financial performance, including RIM's global network infrastructure, a strong enterprise offering and a large and growing base of more than 77 million subscribers," said new CEO Thorsten Heins, in his first quarterly report for the company.  Heins reiterated the company's focus on the BlackBerry 10 platform, and service offerings such as BlackBerry Mobile Fusion.  He said the company is looking to implement "increased management accountability and process discipline."
Shares of RIM rose 6 cents, half of one percent, in Thursday's session, closing at $13.73.  The stock rallied 2.77% on company's results.  Shares are down more than 5% since the beginning of the year and have plummeted nearly 80% in the past 12 months.  When electronic trading after hours resumed, shares were down more than 7%.