Research Hospitals Excluded From Insurance Plans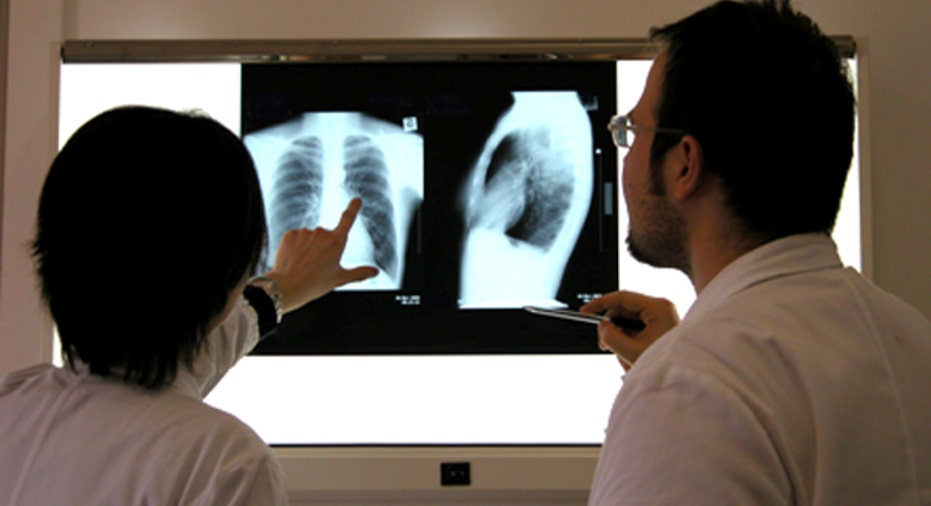 Are expensive research hospitals pricing themselves out of the health care market? It's possible, if recent developments in Los Angeles are a sign of what's to come, according to a medical industry research group.
HealthLeaders-InterStudy says Los Angeles' decision to go with Anthem Blue Cross for its 27,000 city workers shows that employers are eager to trim costs by avoiding high-priced academic and research institutions. The city's arrangement with Anthem, which excludes doctors from Cedars-Sinai Medical Center and UCLA Health System, would stop referrals to those pricier, but often better, hospitals, according to HealthLeaders.
Jenny Kerr, an analyst for HealthLeaders, believes this could signal a trend in the health care insurance market.
"Employers are more willing to do things they wouldn't do before," she says. "They are trying to find ways to cut costs and will tell people to go to another hospital instead of a research hospital. California is a barometer for the rest of the country. We will see more of this." (See: "5 ways your boss is downsizing your health insurance.")
Further, health insurance exchanges mandated by the Patient Protection and Affordable Care Act (ACA) may not include these prestigious hospitals in their networks. Covered California, designed to handle the state's health insurance needs under the ACA, is one that doesn't, according to HealthLeaders. (See: "Health reform sticks: Now what?")
These exchanges, slated to open Oct. 1, are online marketplaces where individuals and small businesses can shop for health plans. Ideally, exchanges would make it easier for people to purchase coverage and could lead to lower prices due to increased competition among providers. Currently 15 states are on board to run their own exchanges, while 35 have opted out, which means the federal government will organize and implement them on behalf of those states. (See: "Health insurance marketplaces: How they work and who benefits.")
To guarantee care at a prime research hospital will mean more out-of-pocket costs for a worker as well as their employer, notes Ric Gross, a senior analyst for HealthLeaders. In Massachusetts, which passed its own health reform in 2007 that reflects the ACA, employees have the option of paying more to have the best hospitals, like Massachusetts General Hospital in Boston, included in their pool of providers, he says.
"It will come down to individuals having the choice … but it will also come down to higher costs, that's clear," he says.
And what can these premier hospitals do to compete? For Kerr, the answer is simple: "There's going to be pressure to lower prices," she says. "That's what will be looked at."
Workplace health insurance - premium costs still climbing
Another report, meanwhile, shows that medical plan costs continue to rise, but at a slower pace than in prior years.
The 2013 ADP Annual Health Care Benefits Report, which looks at expenses tied to employer-sponsored health coverage along with enrollment trends, says medical plan costs continue to rise but at a slower pace than in prior years.
The report, based on four years of data drawn from 175 U.S. companies with at least 1,000 workers, found that premiums jumped by 3.1 percent in 2012. A tidy hike, but still less than half the 7.6 percent increase from 2010 to 2011. Overall, health insurance rates went up 13.9 percent between 2010 and 2013, according to ADP.
The report also found that:
The average monthly premium for workplace medical insurance in 2013 is $832, a figure that includes both employer and employee contributions. ADP notes that premium costs do vary from state to state.
In analyzing 21 states with the largest worker populations, New Jersey had the highest monthly rate of $968 in 2013. On the other end, North Carolina had the cheapest premiums, at $733 a month.
As for employer contributions, ADP says those in Colorado pay the lowest, 72 percent of the premiums. New York business-owners, however, picked up the most, 79 percent of insurance costs.
While scrutinizing younger employees, ADP researchers learned that:
Workers under 30 faced the steepest increase in premiums in 2013. The group also endured the largest decrease in eligibility for employer-sponsored plans; since 2010, their eligibility dropped by 4.6 percent.
Slightly more than half of employees under 30 decided not to participate in a workplace plan, even if they were eligible. Researchers speculate that some may try to save money by taking advantage of provisions under ACA, which allows those up to 26 to be covered by a parent's group health insurance.
The original article can be found at Insurance.com:Trend watch: Research hospitals excluded from insurance plans