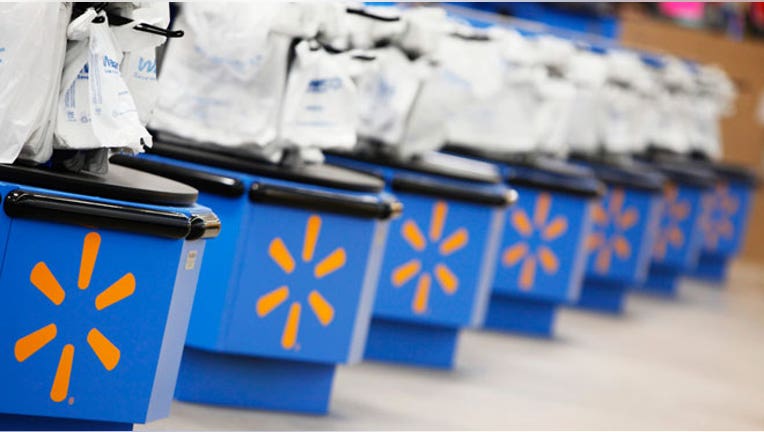 Shares of Wal-Mart Stores (NYSE:WMT) retreated as much as 3% Wednesday afternoon after a report indicated the world's largest retailer slashed orders with suppliers this quarter and next due to rising inventories.
The report suggests consumers aren't spending as much as Wal-Mart had projected and paints a cautious picture ahead of the crucial holiday-shopping season.
"We are looking at reducing inventory for Q3 and Q4," an ordering manager at Wal-Mart told a supplier in a September 17 email reviewed by Bloomberg News.
The order drop is impacting suppliers in a number of categories, including general merchandise and apparel, the supplier told Bloomberg, noting he can't recall Wal-Mart ever planning an order reduction two quarters in advance.
However, a Wal-Mart spokesperson pushed back against the story, calling it "widely inaccurate and a pretty bad piece of irresponsible journalism."
"There are no broad-based conversations with suppliers," the spokesperson said, adding that inventory changes are based on sales trends and seasonality. "We have no issues with our inventory levels. We are in constant conversations with our suppliers. We work with them to dial it up or dial it back."
Still, the news was enough to drive $246.6 billion Wal-Mart's stock sharply lower to an intraday low of $73.56, down 2.9% from Tuesday's close of $75.75. The stock closed off those levels at $74.65, down 1.45% on the day.
Last month, Wal-Mart disappointed Wall Street by posting a tepid 1.3% increase in second-quarter profits and cutting its full-year guidance due to cautious sentiment about consumer spending.
"The retail environment remains challenging in the U.S. and our international markets, as customers are cautious in their spending," Charles Holley, Wal-Mart's chief financial officer, said in a statement on August 15.
Wal-Mart said its inventory jumped 6.9% last quarter due to softer-than-anticipated sales trends, a delay in summer weather and timing shifts.
"While we're not concerned about the quality of the inventory, it will continue to be an area of focus in the coming months, as we get ready for the key holiday season and continue to balance in-stock and an expanded assortment," Bill Simon, CEO of Wal-Mart's U.S. division, told analysts in a conference call last month.
In addition to suggesting trouble for the retail environment for the rest of the year, the order reduction by Wal-Mart likely is related to the company's struggles to keep shelves fully stocked due to a lack of manpower.
Wal-Mart and its Sam's Club warehouse chain employ about 1.3 million workers in the U.S., down about 120,000 over the past five years despite the addition of 500 U.S. stores, Bloomberg reported.
Earlier this week, Wal-Mart unveiled plans to hire 55,000 seasonal employees for the holidays and give more hours to thousands of other workers.