Report: Volkswagen to Dismiss CEO Over Emissions-Cheating Scandal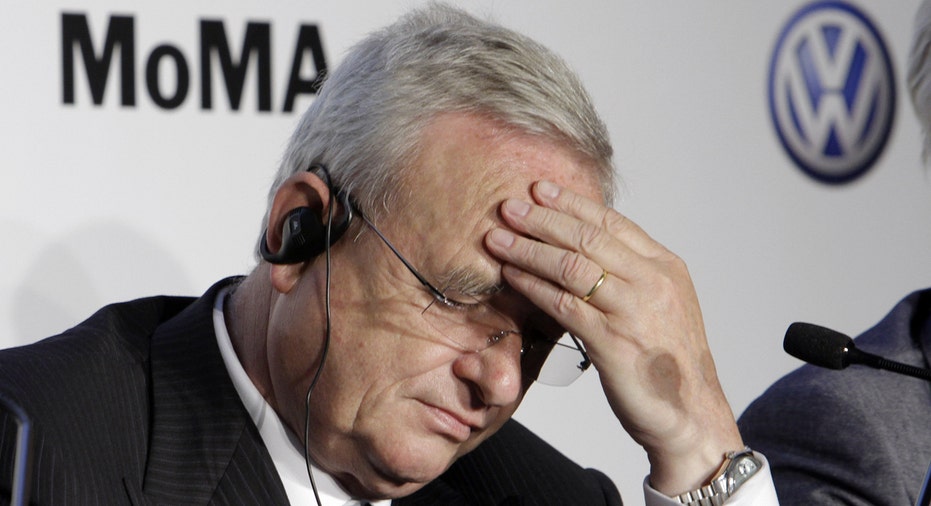 FRANKFURT (Reuters) - Volkswagen will dismiss Chief Executive Martin Winterkorn, a German newspaper said on Tuesday, after the carmaker admitted to cheating U.S. vehicles emissions tests and said 11 million of its cars could be affected worldwide.
The Tagesspiegel newspaper, citing unidentified sources on Volkswagen's supervisory board, said Winterkorn would be replaced by Matthias Mueller, the head of the carmaker's Porsche sports car business.
A Volkswagen spokesman denied the report. A spokesman for Porsche said Mueller was attending a Volkswagen board meeting at its headquarters in Wolfsburg.
Shares in Europe's biggest carmaker plunged almost 20 percent on Monday after it admitted using software that deceived U.S. regulators measuring toxic emissions in some of its diesel cars.
The stock tumbled another 20 percent to a four-year low on Tuesday after the company said it would set aside 6.5 billion euros ($7.3 billion) in its third-quarter accounts to help cover the costs of the biggest scandal in its 78-year-history, blowing a hole in analysts' profit forecasts.
Volkswagen warned that sum could rise, adding diesel cars with so-called Type EA 189 engines built into about 11 million Volkswagen models worldwide had shown a "noticeable deviation" in emission levels between testing and road use.
Volkswagen sold 10.1 million cars in the whole of 2014.
The U.S. Environmental Protection Agency (EPA) said on Friday Volkswagen could face penalties of up to $18 billion for cheating emissions tests. The carmaker also faces lawsuits and damage to its reputation that could hit sales.
The crisis has sent shockwaves through Germany, with Chancellor Angela Merkel calling for "complete transparency" and newspapers putting the blame squarely on Winterkorn.
The 68-year-old was due to have his contract extended at a supervisory board meeting on Friday, but is now facing questions over why the scandal wasn't averted.
Volkswagen, which for several years has been airing U.S. TV commercials lauding its "clean diesel" cars, was challenged by authorities as far back as 2014 over tests showing emissions exceeded California state and U.S. federal limits.
The company attributed the excess emissions to "various technical issues" and "unexpected" real-world conditions.
It wasn't until the EPA and the California Air Resources Board threatened to withhold certification for its 2016 diesel models that Volkswagen in early September admitted its wrongdoing.
"Winterkorn either knew of proceedings in the U.S. or it was not reported to him," Evercore ISI analyst Arndt Ellinghorst said. "In the first instance, he must step down immediately. In the second, one needs to ask why such a far-reaching violation was not reported to the top and then things will get tough too."
Porsche's Mueller was promoted to Volkswagen's executive board on March 1 and was previously its head product strategist. As a management board member of family-owned Porsche SE, he is also close to the Porsche-Piech clan that has a controlling shareholding in Volkswagen.
"TOTALLY SCREWED UP"
Winterkorn, who recently saw off a challenge to his leadership with the ousting of long-time chairman Ferdinand Piech, has built Volkswagen into a global powerhouse since he took the helm in 2007, with brands ranging from budget Seats and Skodas to premium Audis and top-end Porsches and Lamborghinis.
But he has also faced criticism for a centralized management style which some analysts say has hampered the company's efforts to address long-standing underperformance in North America.
"I am sure that there will be personnel consequences in the end, there is no question about it," supervisory board member Olaf Lies told German radio station Deutschlandfunk on Tuesday.
Workers in Wolfsburg, where Volkswagen employs over 50,000 people, were angry about the damage to the company's image. "If Winterkorn knew of the manipulation, then he must go," said one staffer who works at the plant's human resources department.
Late on Monday, Volkswagen's U.S. chief Michael Horn said the company had "totally screwed up" and promised to make amends.
At 1240 GMT, Volkswagen shares were down 20.1 percent at 105.7 euros after touching a low of 101.35 euros.
Shares in rivals including Peugeot, Renault and Fiat Chrysler also fell sharply amid signs regulators across the world will step up scrutiny of vehicle tests, which environmentalists have long criticized for exaggerating fuel-saving and emissions results.
"No doubt we will hear a lot from plaintiffs' attorneys representing the poor car buyers but I guess the group that would have been hurt most would have been the other car manufacturers who compete with Volkswagen," said one Swiss based hedge fund manager, speaking on condition of anonymity.
The EPA said on Monday it would widen its investigation to other automakers, and French Finance Minister Michel Sapin said on Tuesday an EU-wide inquiry was needed too.
"It has to be done at a European level," he told Europe 1 radio. "We are a European market with European rules. It is these that have to be respected. It is these that have been violated in the United States."
There have been no suggestions so far that other carmakers have engaged in the same practices as Volkswagen. German rivals BMW and Daimler have said the accusations against Volkswagen did not apply to them.
The European Commission said it was in contact with Volkswagen and U.S. authorities, and that it was premature to say whether any specific checks on the carmaker's vehicles were needed.
Switzerland and Italy said they would separately investigate Volkswagen's diesel vehicle emissions tests.
South Korea's environment ministry also said it would investigate 4,000 to 5,000 of Volkswagen's Jetta, Golf and Audi A3 vehicles produced in 2014 and 2015, and could expand its probe to all German diesel cars if it found problems.
German auto supplier Bosch said on Tuesday it had supplied the components to Volkswagen that are now at the center of the U.S. probe into test rigging.
"We produce the components after specification of Volkswagen," it said in an e-mailed statement. "The responsibility for application and integration of the components lies with Volkswagen."