Report: Sprint Could Make Play for T-Mobile Worth More Than $20B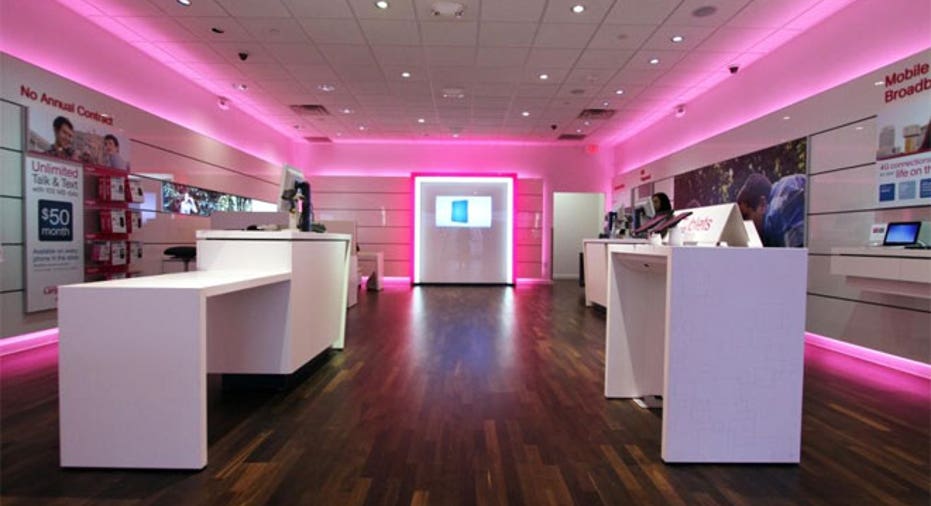 Fresh off its $20 billion deal with Japan's SoftBank, Sprint (NYSE:S) is reportedly plotting a takeover of rival T-Mobile US (NYSE:TMUS), a bid that would join the country's No. 3 and No. 4 wireless providers.
While a combination between T-Mobile and Sprint has been speculated about in the past, such a deal would likely face obstacles from antitrust regulators that have nixed deals in this space in the past.
According to The Wall Street Journal, Sprint is studying regulatory concerns and could launch a bid worth more than $20 billion in the first half of 2014. T-Mobile had a market cap of $20.4 billion entering Friday's trading.
"Our policy is to not comment on rumors and speculation," a Sprint spokesperson said in a statement.
T-Mobile didn't respond to a request for comment on the matter.
The late-day M&A buzz drove shares of T-Mobile 8.65% higher to close at $27.64 on Friday. However, the wireless provider fell 1.59% to $27.20 in extended trading.
Sprint's shares also responded favorably to the news, rallying 3.44% to $8.43 during regular trading and then surging 9.13% to $9.20 in extended trading.
A possible play for T-Mobile would come about two years after the Department of Justice blocked AT&T's (NYSE:T) $39 billion offer to acquire T-Mobile by filing an antitrust lawsuit.
Sprint is 80% owned by SoftBank, which acquired its stake for just over $20 billion earlier this year. SoftBank CEO Masayoshi Son is the driving force behind the T-Mobile push, the Journal reported.
T-Mobile is 67% owned by Deutsche Telekom (NASDAQ:DTEGY), which may be looking to exit the   U.S. market, the Journal reported.
A combined T-Mobile/Sprint would have almost 53 million postpaid subscribers but that is still well below AT&T and industry leader Verizon Wireless.
In October, Sprint posted a stronger-than-expected third-quarter profit thanks to investment gains, but also revealed it continued to bleed customers. Sprint said it lost 313,000 subscribers during the third quarter, well above what analysts had been forecasting.