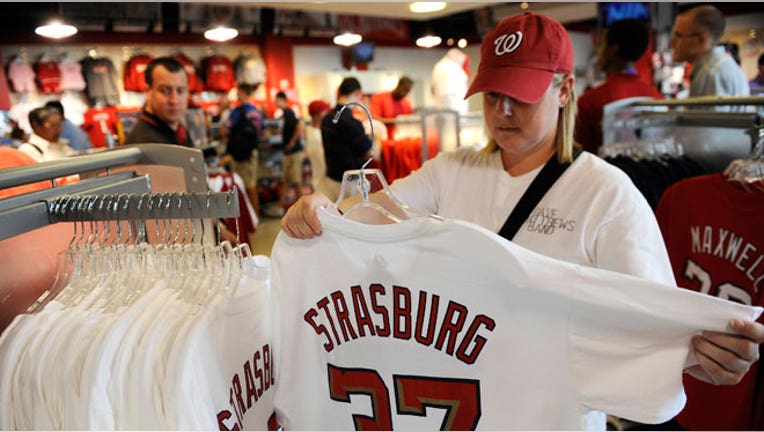 Major League Baseball is reportedly weighing an exit from its online store, potentially outsourcing e-commerce operations to boost profits for the league.
MLB operates the online stores for each of its 30 teams, including inventory and pricing, but uses Fanatics, a third-party seller of sports merchandise, to ship items sold on those websites.
The New York Post cited three sources as saying baseball executives are considering whether to hand over the operation to Fanatics. The move would allow MLB to drop day-to-day operations while gaining a share of baseball-related sales on the Fanatics site.
One source told the newspaper that the league currently doesn't make money from MLB sales by Fanatics, which already operates online stores for the National Football League, the National Basketball Association and the National Hockey League.
By reshaping its e-commerce business, MLB is hoping the revenue from a new contract with Fanatics will more than offset its current profits.
MLB sees profit margins of as much as 20% on $100 million a year in revenue, according to the Post.
Alternatively, the league may also continue to run the online stores and choose a new shipper to replace Fanatics. The Post reported that MLB is speaking with Demandware (NYSE:DWRE), which doesn't compete with MLB.
MLB, Fanatics and Demandware didn't immediately respond to requests for comment.
The potential shakeup at MLB is another sign of the pricing power held by retailers that offer a wider variety of merchandise. For instance, as football fans search for a jersey, Fanatics can also sell them baseball apparel.
Fanatics has undercut MLB on prices for items the two stores sell separately, one source told the Post.
The report added that a recent round of funding for Fanatics valued the company at $3.1 billion. Its backers include Andreessen Horowitz, Insight Venture Partners and Chinese e-commerce giant Alibaba Group.