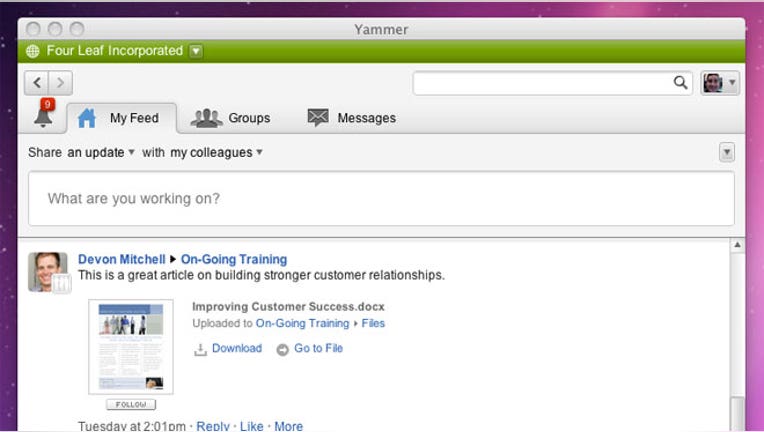 Microsoft (NASDAQ:MSFT) has scooped up business-software maker Yammer for $1 billion in a bid to beef up its Office capabilities, according to The Wall Street Journal.
Based in San Francisco, Yammer was founded in 2008 and had been considered a candidate to go public relatively soon. The enterprise social networking company is seen as a Facebook-style (NASDAQ:FB) service for businesses, offering tools such as file-sharing and threaded conversations.
The Yammer acquisition hasn't been announced yet and it's not clear when it will be, the Journal reported.
Yammer is reportedly used by more than 200,000 companies, including eBay (NASDAQ:EBAY) and Ford (NYSE:F). It was founded by David Sacks, who served as chief operating officer at PayPal.
For veteran software behemoth Microsoft, the takeover comes just over a year after snatching video-calling service Skype for $8.5 billion -- its largest acquisition in history.
Yammer could allow Microsoft to spruce up its Office platform with new features and stay ahead of emerging competition from the likes of Google (NASDAQ:GOOG).
Large information-technology companies like Microsoft, Oracle (NASDAQ:ORCL) and SAP (NYSE:SAP) shelled out $17.4 billion on enterprise-software acquisitions last year, up dramatically from just $715.5 million in 2009, according to Bloomberg.
Earlier this month Salesforce.com (NYSE:CRM) snatched Buddy Media for $745 million in an effort to bolster its social-marketing offerings.