Report: Buyout Shops Circle BMC Software; KKR, TPG Team Up on Joint Bid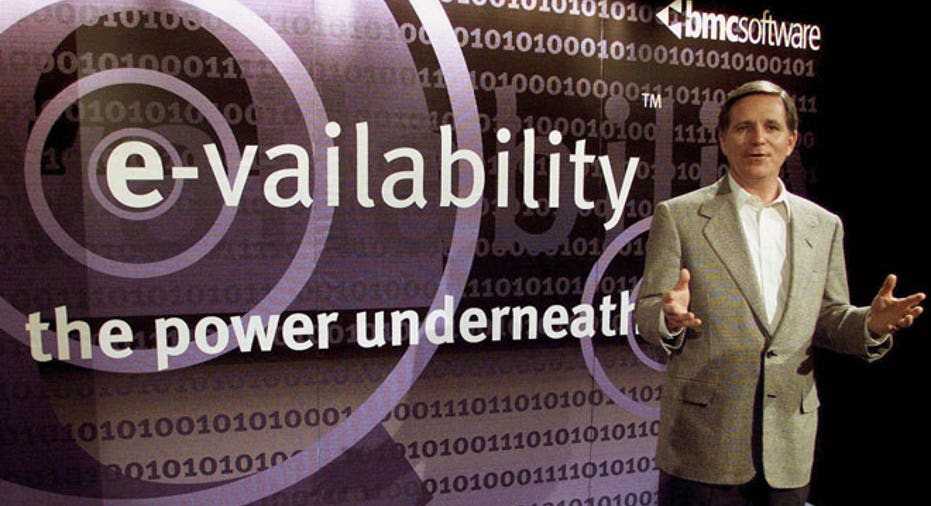 The auction of BMC Software (NASDAQ:BMC) appears to be heating up as a number of private-equity firms are reportedly teaming up on joint offers and a first round of bids has already been placed.
Shares of the IT management solutions company spiked 5% after hitting a circuit breaker Thursday morning on the news.
According to Reuters, private-equity firms KKR (NYSE:KKR) and TPG Capital have formed a consortium to acquire BMC, which competes with tech giants like Oracle (NASDAQ:ORCL) and SAP (NYSE:SAP).
Likewise, Bain Capital and Golden Gate Capital are joining forces on a bid for BMC, the wire service reported.
It's not clear how much BMC would fetch in a go-private deal, but the company's market cap stands north of $6.5 billion.
The first round of bids has already been submitted and final offers are expected in the next few weeks, Reuters reported.
BMC, which is based in Houston, didn't immediately respond to a request for comment.
The software company abandoned an effort to sell itself last year, however recent reports indicated it had drawn new interest from buyout firms.
BMC, which has been pressured by activist investor Elliott Associates to pursue a deal, had 6,900 employees and $2.2 billion in annual revenue as of the end of 2012.
BMC's shares gained 3.77% to $45.73 in recent trading, leaving them up 15.3% on the year.
The news comes as the M&A market has heated up in recent months thanks to the improving economy and rallying stock market. Dealogic said U.S. M&A activity surged 93% year-over-year through March 1.
A number of high-profile deals have recently been announced, including a $24.4 billion leveraged buyout of Dell (NASDAQ:DELL) and the $28 billion acquisition of H.J. Heinz (NYSE:HNZ) by Warren Buffett and 3G Capital.