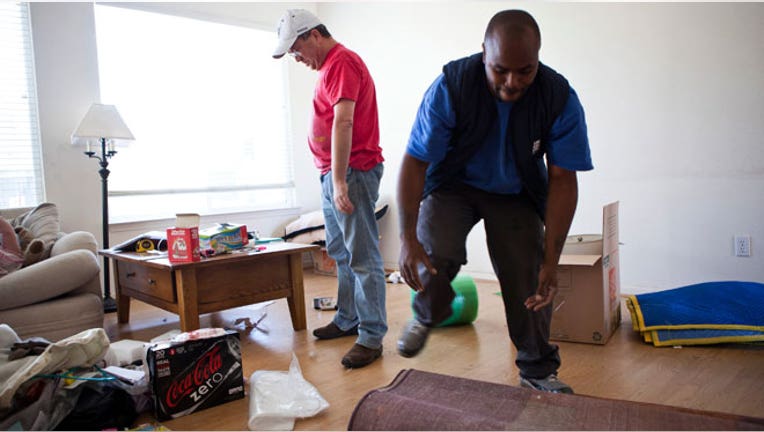 The U.S. Census Bureau estimates that a person in United States can expect to move 11.7 times in his or her lifetime.
They usually don't move far. In 2010, the Census found, 69% of moves were within the same county. U-haul, the moving truck rental company, roughly estimates that three-quarters of all moves are done by do-it-yourselfers.
Done right, moving yourself could save you a ton of money
But do it wrong and you could end up with a bent truck that isn't covered by your car insurance policy. Here is what you need to know.
Summertime is moving season
U-Haul says its North American trucks, trailers and tow dollies rack up enough mileage every day to move a family to the moon and back -- 9.9 times.  (See "Tips from U-Haul for self-movers")
Summertime is peak season, says John Bisney, spokesperson at the American Moving and Storage Association. "June gets top billing, followed by August and July," says Bisney.
That puts a massive number of motorists -- U-Haul estimates as many as 20 million moves between Memorial Day and Labor Day -- behind the wheels of large, unfamiliar vehicles cruising around neighborhoods they don't know very well.
That is bound to lead to mishaps.
While U-Haul and the rest of the major moving truck renters won't talk about specific accident rates, they are willing to talk about the kinds of accidents their customers usually have.
"The most common damage we see is drivers hitting overhead objects, on the upper right-hand side," says Scott Willson, director of insurance programs at U-Haul. "People don't realize the height of the truck and crash into awnings, carports, bridges and even the drive-thru at their favorite fast food spot," continues Willson.
Damaged mirrors and tires are common as well.
Your personal auto insurance doesn't apply
Even the safest of drivers can make a mistake. It can be a costly one if it's in a moving truck since in most cases your personal car insurance won't cover you -- nor will any insurance coverage associated with your credit card.
U-Haul notes that the majority of car insurance companies won't cover their rental trucks due to their gross vehicle weight (GVW) of 9,000 pounds or higher. And rental trailers aren't normally covered by personal auto policies, either.
Most credit cards offer some type of car insurance coverage for rental vehicles, but they typically draw the line at covering exotic cars and moving trucks.
Penny Gusner, consumer analyst for CarInsurance.com, points out that your insured personal vehicle would be covered if it were damaged on a rented trailer during transport -- if you have collision coverage. You'd still be on the hook for the cost of the trailer itself, though.
What are your options?
Your moving truck rental agreement or contract normally will include state minimum liability coverage, which is usually quite low, and that's it. The rental company doesn't require you to show proof of any other insurance to drive the truck away.
Moving truck rental companies make it clear that whoever signs the contract is fully responsible for the equipment and any and all damages - regardless of fault. You'll be charged not only for the repair costs, but also loss of income while the truck is out of service.
Rental truck companies such as Budget truck rentals, Penske and U-Haul do, however, offer protection plans that you can purchase.
The details vary, but they all offer the same basic types of coverages, which usually will include:
Damage waiver - Covers accidental damage to the rental equipment.
Cargo coverage - Covers the goods you're transporting for damages resulting from situations such as collision, fire, windstorm and overturning of the rental truck.
Personal accident insurance - Gives you medical coverage for injuries from an accident as well as loss of life coverage.
Supplemental liability coverage - Protects you against claims made by a third party for property damage or liability damage sustained as a result of an accident with your rental truck. Limits vary (maximum usually $1,000,000).
Towing insurance - Damage waiver can include coverage for accidental collision damage to rental auto transport, tow dolly or rental trailer. Also, the towed property coverage portion will typically cover any car, truck, van, motorcycle, ATV golf cart or lawnmower that is being towed with the rental equipment - up to the chosen limits.
Should you buy?
The cost of the coverage varies from around $14 to $30 a day depending upon the coverage and limit levels you choose. Deductibles can apply.
"If you're moving yourself, you are trying to save money," Gusner says. "But don't blow it because you don't know how to back up a trailer."
All plans with all carriers have exclusions, so read carefully.
For instance, U-Haul's Safemove coverage has an exclusion for a collision with an overhead object and cut, blown, or damaged tires -- which coincidentally are two of the most common types of accidents reported by U-Haul.
Theft is not covered, either -- so don't leave the keys in your moving truck while you go grab a soda.
The original article can be found at CarInsurance.com:Rental trucks: You aren't covered