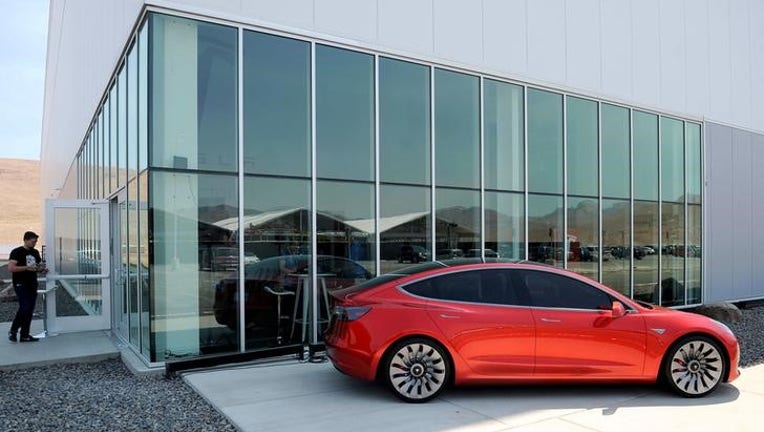 Tesla Inc's shares jumped to an all-time high on Monday as the electric car maker's record quarterly vehicle deliveries allayed some concerns over its production challenges, ahead of the hotly-awaited launch of its Model 3 sedan.
Tesla's stock climbed as much as 5.7 percent to $294.15, giving it a market capitalization of $47.92 billion - higher than Ford Motor's $46.27 billion value and just below General Motor's value of $48 billion, at their Monday session highs.
Tesla said on Sunday it delivered a record 25,418 vehicles in the quarter ended March, a 69 percent increase from last year and edging past Goldman Sachs' forecast of 23,500 vehicles.
"This beat shows that they are managing production better and that it bodes well for the Model 3 to be on time as well," said Ivan Feinseth, director of research at Tigress Financial Partners.
Tesla delivered 76,230 vehicles last year, but production challenges kept the result well short of its 80,000- to 90,000-unit target.
That and other setbacks had led investors and suppliers to predict that Model 3 volume production would be delayed until 2018.
But Chief Executive Elon Musk reassured investors in February that the Model 3 was on track for volume production by September this year.
The Model 3, a midsize mass-market sedan, had about 373,000 advance reservations as of April last year, and is expected to go on sale later this year in the United States.
Tesla's shares were up 5.2 percent at $292.77 in afternoon trading. Ford's shares were off 2.6 percent, while GM's stock was down over 4 percent following their monthly sales reports.
"(Tesla has) had a pattern of missing their targets and the fact that they were able to meet the delivery target this quarter should be warmly received by investors," said CFRA analyst Efraim Levy.
"It's good news for Tesla, clearly."
(Reporting by Aishwarya Venugopal in Bengaluru; Editing by Sai Sachin Ravikumar)