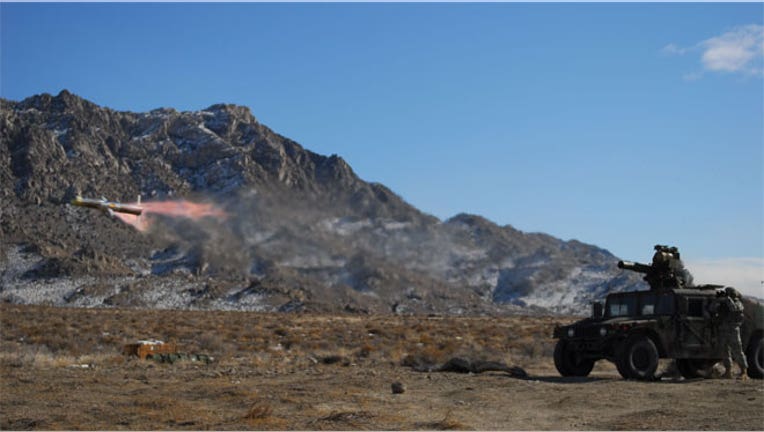 Raytheon (NYSE:RTN) said Thursday its third-quarter earnings fell 2.8% amid declining revenue, but the defense contractor lifted its outlook after topping forecasts.
The Waltham, Mass.-based weapons maker now expects a per-share profit of $5.67 to $5.77, up from $5.51 to $5.61. It also raised the high-end of its revenue estimate by $100 million to $23.8 billion.
Raytheon said it expects more opportunities to win overseas orders in the near future, while the company has already scored key contracts related to its missile-defense unit.
Raytheon's profit checked in at $487 million for the third quarter, compared to $501 million in the year-ago period. Per-share earnings remained flat at $1.51. Earnings from continuing operations slipped two cents to $1.60 but handily beat the $1.32 consensus estimate.
Revenue was down 3.3% at $5.84 billion.
The company said its backlog was down 11% to $32.2 billion, although it noted overseas sales tend to accumulate in the fourth quarter. Aided by new U.S. Navy radar contracts, third-quarter bookings were $5.7 billion and raised Raytheon's book-to-bill ratio to 97%.
However, Lockheed Martin (NYSE:LMT) filed a formal protest with the Navy over the contract win, a move that forced Raytheon to halt work on the project until an official ruling is given.
Raytheon, the No. 4 U.S. defense contractor by revenue, followed stronger-than-expected earnings from other Pentagon suppliers like United Technologies (NYSE:UTX) and Lockheed Martin, the world's largest defense contractor.
Each of the five top U.S. contractors beat profit expectations in the third period even as the Pentagon trims its budget.
In a statement, Raytheon CEO William Swanson said the "overall economic environment has been challenging."
Shares fell 1.4% to $77.39 in mid-morning trading, paring year-to-date gains of 36% as of Wednesday's close.