Rate Survey: Credit Card Interest Rates Down Slightly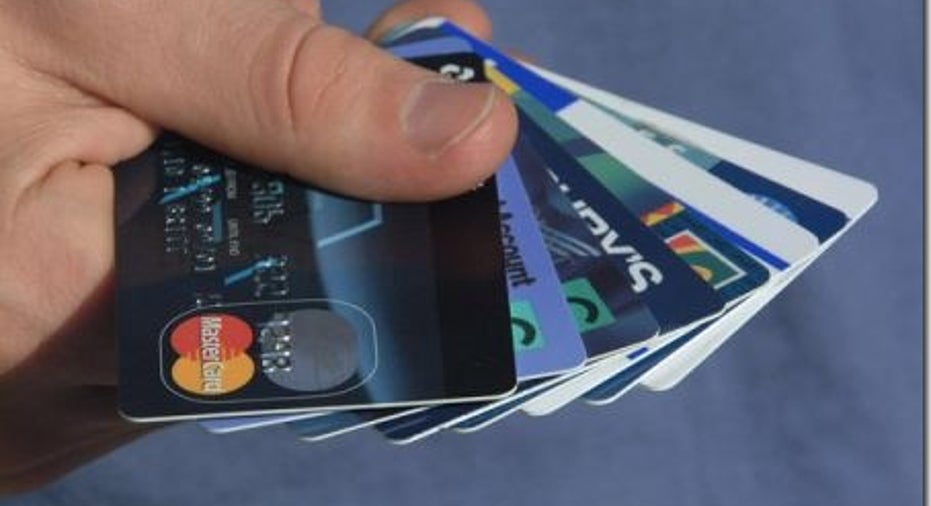 Interest rates on new credit card offers dipped slightly this week, according to the CreditCards.com Weekly Credit Card Rate Report.
The national average annual percentage rate (APR ) on new credit card offers fell to 14.92% Wednesday, making this the first week in nearly two months interest rates have declined.
Consumers have little reason to celebrate the dip in rates, however. This week's decline was tiny -- by just a hundredth of a percentage point. Meanwhile, the national average continues to hover near record-highs and shows no sign of dropping significantly any time soon.
To get a sense of just how sticky average interest rates currently are, consider this. In the past nine months, interest rates have dropped below 14.9% only once. They dropped to 14.87% in February before surging to 14.97% the following week. By contrast, average interest rates fluctuated far more often -- and by significantly wider margins -- in previous years, climbing by nearly 2 full percentage points in 2010.
Rate change by Citi spurs decline
This week's slight change in the national average occurred because of a small rate change on a Citi business credit card. Citi lowered the APR on the CitiBusiness World MasterCard by a full percentage point, bringing it down from 14.24% to 13.24%. Citi didn't respond to a request for comment.
Discover was also active this week. The issuer widened the range on two of its rewards cards: the Miles by Discover card and the Discover Escape card. Previously, the cards advertised a 5-point range of 10.99% to 15.99%. Now, both cards feature a 9-point range of 10.99% to 19.99%. The rate changes didn't affect the national average because CreditCards.com considers only the lowest possible interest rate when calculating rates.
That said, the rate changes were still significant, particularly for consumers with less-than-perfect credit. By widening the range of possible APR offers on two of its rewards cards, Discover joined several other card issuers that advertise APR ranges as wide as 9 percentage points or more.
The extra wide ranges on card offers have been criticized by consumer advocates who say the ranges make it difficult for consumers to know what rate they will actually get after they apply for a card. However, wide APR ranges are relatively common. For example, among the cards currently featured in the CreditCards.com database, more than a quarter of the cards feature ranges of 9 percentage points or more. Issuers advertise wide APR ranges so that they can offer the same card to a broader group of consumers.
Study: Many consumers still struggling with credit
Meanwhile, it's getting slightly easier for consumers to qualify for a new credit card, according to recent Federal Reserve data. However, access to credit is still tight, say experts, and many consumers have had to cut spending as a result, according to a recent study by the think tank Demos. The think tank surveyed a nationally representative sample of 997 low- and middle-income households in February and March 2012 and found:
In the past three years, 39% of households have struggled to get access to credit and have either had their current cards canceled, their credit limits cut or have been denied a new credit card.
Nearly half of those consumers say they reduced their spending as a result and went without items or services they would have otherwise charged to their cards.  
A large number of low- and middle-income consumers also say that they're relying on their cards just to get by, according to the study. For example, 40% of low- and middle- income households said they used credit in the past year to pay for daily living expenses, such as rent or mortgage payments, groceries and utilities because they didn't have enough cash on hand. Meanwhile, 51% of low- and middle-income households said that cost-of-living expenses contributed the most to their current levels of credit card debt. By contrast, just 31% said non-essential expenses pushed up their balances.
Medical expenses have also contributed significantly to consumers' debt levels, according to the study. For example, 47% of low- and middle-income households say they currently have medical debt on their credit cards, with the average amount of medical debt on cards clocking in at $1,678. And 55% of low- and middle-income consumers with a poor credit score say that unpaid medical debt is the main reason why their score is low.
American consumers are an optimistic bunch, however. The mean amount of credit card debt that low- and middle-income consumers are carrying is $7,144.74, according to the study. However, 43% of low- and middle-income consumers say they plan to clear their balance in less than six months. 19% think it will take them between 6 months and a year to clear their debt, while 16% think it could take them up to two years to get back in the green. Meanwhile, just 21% think it will take them longer than two years to get rid of their debt completely.