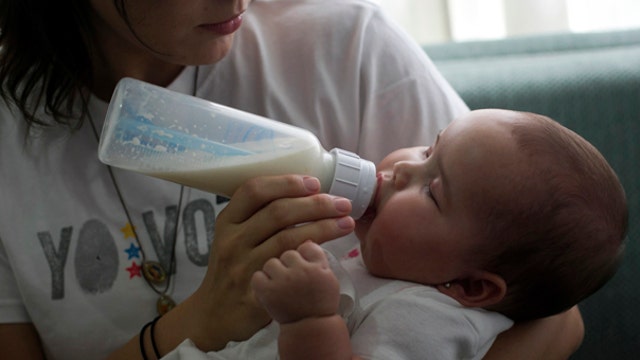 The financial crisis has many young adults rethinking or delaying major life events, including having children, over one major snag: the price tag.
"The cost of raising a child has gone up by close to six figures in the last 10 years," says Carmen Wong Ulrich, a contributor for BabyCenter.com. "When the economy is tight and money is short like it's been in the last few years, the birth rate goes down as more people choose to wait or not have children. The decision to have kids or more kids has become as much of an economical choice as a personal one."
The Great Recession and uneven recovery has many young adults delaying having children due to financial uncertainty. In fact, the Center for Disease Control reports that birthrates have fallen at an alarming rate since 2007. In 2012, there were 63.2 births per 1,000 women, down from 69.3 births in 2007.
The Department of Agriculture reported last summer the average cost of raising a child was $234,900, but many experts say the number isn't an accurate reflection of the true costs of having children. For starters, the department's figures only take into account costs through age 17 and doesn't include college tuition, which can double that figure. Families earning more than $100,000 can expect to pay an average of $389,670 for a child through age 18.
"Kids these days have the same needs as previous generations, but they need more earlier," says Scott Steinberg, CEO of TechSavvy.
He points to kids needing laptops, smartphones and other technology at an earlier age because society and, often, education institutions, demand it. "Today's kids are more connected than ever, the costs of these goods should go down, but that's not the case. It's not just the Joneses that families are trying to keep up with, it's the Smiths, the Kleinfelds, it's the entire neighborhood."
Like retirement, there's no magic number to signal financial readiness for having children, and the insecurity surrounding job prospects and progression has many individuals in a holding pattern.
"Wages aren't keeping up with the price of having a child," says Wong Ulrich. "Discretionary income is shrinking as the cost of actually giving birth soars, cost of living is up along with rent prices, owning a home, and medical costs. If you still have the same salary as 10 years ago, it's hard to find wiggle room.&quot
High Expectations Means Big Spending
With the background of recent graduates struggling to find employment haunting parents, experts say the pressure to give kids the best of everything in order for them to be successful in life weighs heavily.
According to a recent Intuit Spending Index, families are spending more money on children's activities, with an 118% increase since 2011.
"There's added pressure to make sure your kid is the top performer at everything, but it's all self inflicted," says Wong Ulrich. "Parents strive to give children the best of everything thinking it will pay off when they become adults, but at the end of the day, it's up to the child to put it all to use to get the return on the investment."
The survey also shows parents are spending 70% more on their children's education over the last two years.
"The economy has added pressure to have kids perform better," says Hitha Prabhakar, Mint.com's personal finance advocate. "I just look at my sisters, they were doing PowerPoint presentation in the third grade. Parents feel they have to prepare children as young adults, and they are signing them up for language lessons and other education enhancements outside the classroom, and that is expensive."The Future Workforce  
It's common for birthrates to fall when the economy is bad, but it has been declining for several decades, and experts worry it could impact the future workforce.
"This means we will have a smaller population and smaller market compared to other countries, we will be investing less and we won't be able to outpace and outgrow previous generations' wealth. Everyone knows buying power isn't in kids, it's with older consumers, and if we don't have a big enough population, the entire economy suffers," says Steinberg.