Raiders QB Derek Carr lands NFL's richest contract ever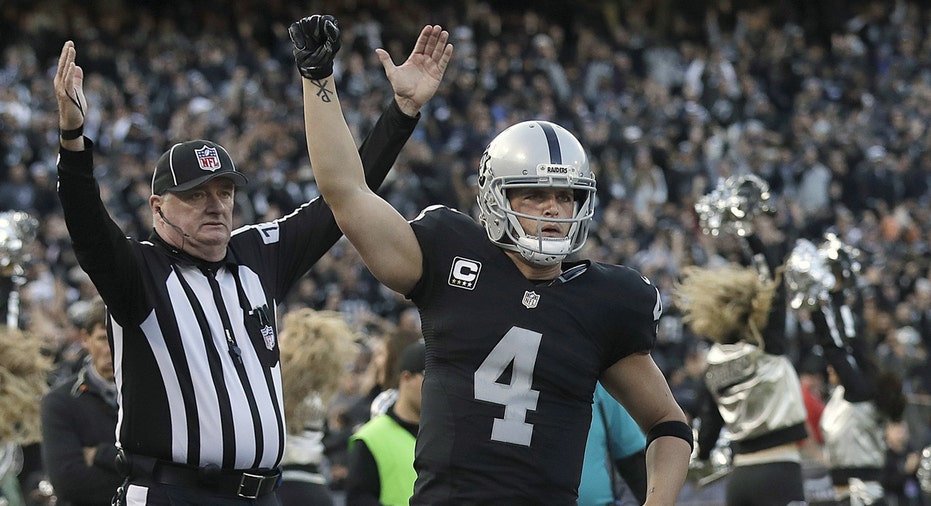 The Oakland Raiders made quarterback Derek Carr the highest-paid player in NFL history on Thursday.
Carr, 26, agreed to a five-year contract worth $125 million. The deal runs through the end of the 2022 season, meaning that Carr will remain under contract when the Raiders move to their new Las Vegas stadium in 2020.
Carr's annualized salary of $25 million broke the league's previous record for highest pay set by quarterback Andrew Luck, who earns $24.8 million annually from the Indianapolis Colts. The NFL Network was first to report the deal.
"Now it's done! From the jump I've wanted to be a Raider 4 life. One step closer to that! Blessed!!! Business done! Let's just play now!!!" Carr said on Twitter.
Both sides had expressed a strong interest in signing a long-term deal with Carr, who was scheduled to enter the final year of his rookie contract. Carr had imposed a deadline of the start of training camp in late July.
Carr has transformed the Raiders from a perennial loser into a contender after being drafted in the second round in 2014. He was part of a stellar draft class led by AP Defensive Player of the Year Khalil Mack and third-round guard Gabe Jackson, who have been key to Oakland's turnaround.
He lost his first 10 starts as a rookie before winning seven games his second year and taking the Raiders to the playoffs in 2016 with a 12-4 record. Carr missed the final game of that season and the playoff loss to Houston with a broken leg.
But he's healed now and a major reason why the Raiders are the preseason favorites to win the AFC West and contenders to dethrone the New England Patriots as the top team in the conference.
Carr has thrown for 11,194 yards in his first three seasons and ranks fourth all-time with 81 touchdown passes through three years, trailing only Dan Marino, Luck and Peyton Manning. He has shown dramatic improvement each season in his career after an up-and-down rookie campaign when he threw 21 TD passes, but averaged only 5.5 yards per attempt.
Carr's best season came in 2016 when he led seven fourth-quarter comebacks while completing a career-high 63.8 percent of his passes. He threw for 3,937 yards with 28 touchdowns and only six interceptions in just 15 games.
The Associated Press contributed to this report.