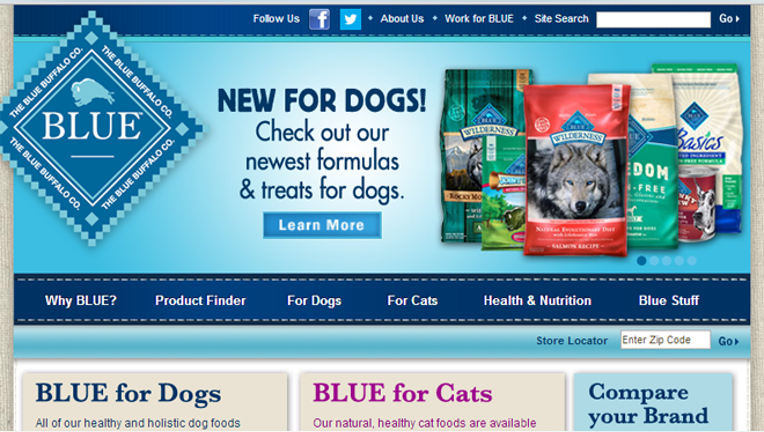 Nestle's Purina PetCare division filed a lawsuit Tuesday alleging competitor Blue Buffalo misled consumers in its advertisements marketing its healthy food line.
Purina slammed Blue Buffalo, alleging the company "repeatedly and unequivocally state(s) that its pet food products contain 'NO Chicken/Poultry By-Product Meals,'" when laboratory tests show that its "Pet Protection" line in fact "contained significant percentages of poultry by-product meal."
The lawsuit was filed in U.S. District Court for the Eastern District of Missouri in St. Louis.
FOX Business was unable to immediately reach Blue Buffalo through telephone or a contact form on the company's website. A review of the court docket did not indicate which firm would be representing the company in federal court.
If true, the allegations would deal a significant blow to Blue Buffalo's advertising that its products "only (use) the finest natural ingredients."
In addition to the claim about poultry by-products, Purina also alleged Blue Buffalo's vow to not use corn was debunked in laboratory tests that found corn in the company's "LifeSource Bits."
Purina said Blue Buffalo spent $50 million last year on advertising its premium pet-care products, in a bid to knock larger competitors down.
Blue Buffalo commands materially higher prices than mainstream brands as a result of its premium posturing. For example, on Petco's website, 31.1 pounds of Purina ONE Smartblend Chicken & Rice Formula Dog Food ran $34.99 (discounted from $39.99), while 30 pounds of Blue Buffalo Chicken & Brown Rice Adult Dog Food cost $59.99.
Spending on pets has exploded in recent years. The American Pet Products Association – a trade group – estimates total U.S. pet expenditures will weigh in at $58.51 billion this year, up from $17 billion a decade ago. Of that total, the APPA estimates $22.62 billion will be spent on pet food alone, up from $21.57 billion last year.
The case is Nestlé Purina PetCare Company v. Blue Buffalo Company Ltd., No. 4:14-cv-00859 in U.S. District Court for the Eastern District of Missouri in St. Louis.