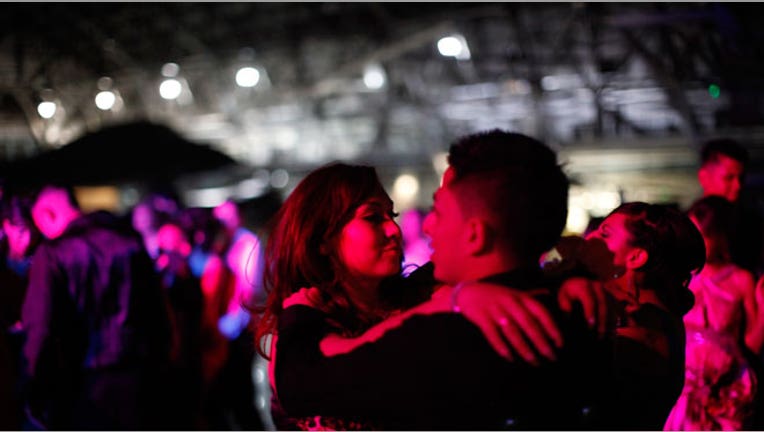 Their kids might call it the most important night of their high school years, but parents are spending less on prom in 2014 than they have in years past.
A new survey from Visa (NYSE:V) finds the average American family will spend $978 on the dance this year, down 14% from the average $1,139 spent in years past on dresses and tuxedos, limos, tickets and more. The move comes after three years of steady increases, according to Visa.
Nat Sillin, Visa's U.S. head of financial education, says families are shifting their outlook on prom.
"Perhaps families are coming to their senses and realizing you don't have to spend like a celebrity to enjoy prom," Sillin says. "And that's not necessarily a bad thing with all the other expenses teens at that age have."
Prom spending also varies by region, with those in the Midwest being the most budget-conscious and spending an average of $835. Southern families dish out $926 on average for the dance, a 23% decrease from last year. Those on the coasts always spend the most, Visa finds, with  West Coast families leading the nation with their prom bills coming in at an average of $1,125—an increase from last year. Northeastern families will spend $1,104 this year, a 27% reduction.
"To spend $978 in Bergen County [in New Jersey] isn't necessarily that much, but in a place like Iowa, that's a huge amount of money. Either way, it's significant," says Sillin.
Our neighbors to the north in Canada spend $723 per family in U.S. dollars on prom, 25% less than the average American household.
For the first time in three years, household income and prom spending are correlated. According to Visa's survey, families with an income of less than $50,000 a year plan to spend significantly less than the national average of $733. Those who make more than $50,000 a year will spend an average of $1,151 this year.
The age of parents also factors in to how much they spend, Visa reports, with those who are under 40 spending 30% more than those over 40.
Teens aren't going to prom entirely on their parents' dime either, Visa finds. Parents plan to pay for about 56% of prom costs, while teens are covering the remaining 44%, which is an improvement from last year.