Profile of a Determined Maker of a Ballet Slipper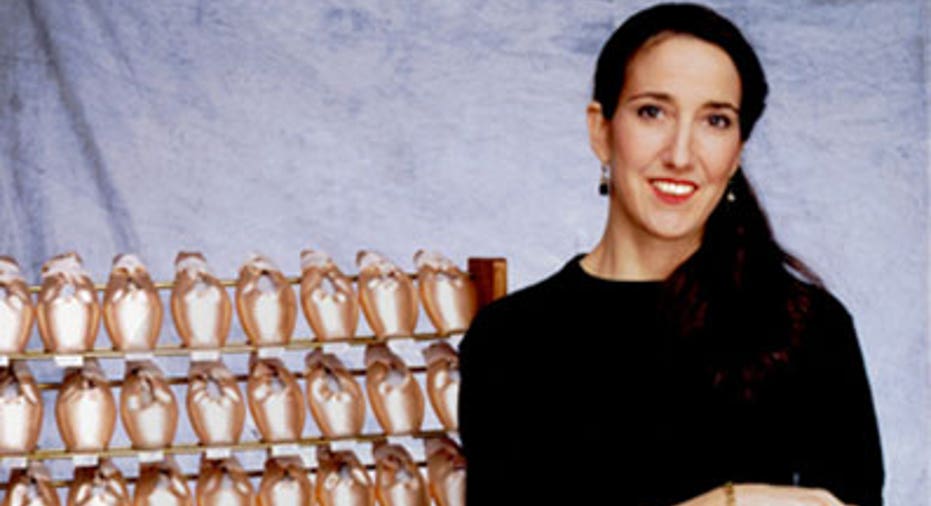 It took eight years of research and development before she even opened up shop, but Eliza Minden had finally defied skeptics in the dance world and built a reputable and unique line of advanced ballet shoes. And then, she said, came one day when she saw it was about to crumble into pieces right before her eyes.
"It felt like having the rug pulled out from underneath me," said Minden, about how she felt when three years after she opened the doors to her NYC-based company, one of the synthetic materials essential to her shoes and her business was discontinued.
And this wasn't just any run-of-the-mill material; it was the nucleus of her product line.
"Everything about the shoe, all of its specifications were designed around that material," said Minden of the high-tech substance that made these ballet shoes outlast the old-fashioned pointe shoes ballerinas had been dancing on for decades.
To make matters worse, her original supplier neglected to send the final installment of the rubber-like substance, leaving her manufacturing facility with only enough material to produce shoes for a few more months. The time Minden had to finish testing a replacement material suddenly shrank from about half a year to a matter of weeks. But the entrepreneur processed through her brain all that was firing at her, and made the decision she wouldn't bow out.
She said instead of letting this slow her down, with the help of one assistant she accelerated her intensive R&D process. Dozens of dancers were recruited to test various prototypes. Within days of halting production, Minden finally hit upon a superior alternative material and was able to continue filling pointe shoe orders.
That experience was just the beginning of the many challenges Minden said she has faced growing her company. However, she added, with each setback, she finds a new way to leap --or grand jeté -- over obstacles and strengthen her business.
Determined Eliza Minden
"Here I was, this woman coming around with one crazy pointe shoe looking for dancers who could fit the shoe, like Prince Charming looking for Cinderella," Eliza Minden joked. This is how the entrepreneur describes her experience testing the prototype that would become her high-tech dance shoe for ballerinas. Attempts at introducing a technologically-advanced ballet shoe into the dance world had failed before. But Minden's steady perseverance and marketing strategy helped her convince an industry rooted in traditionalism that it was time to dip a toe into the world of modern technology.
The dream: "I was surprised and dismayed at how much they hurt," Minden, 51, recalled disappointedly about the first time she wore pointe shoes in ballet class. Years later, while working on the management side of the dance world, Minden realized that pointe shoes were causing millions of dollars worth of financial pain to non-profit ballet companies. So, she did what the daughter of an inventor and a ballet teacher would do. She bought a dozen pairs of pointe shoes, dissected them with a band saw and began building a technologically- advanced shoe that would offer better durability and comfort to ballerinas.
Obstacles and naysers: Introducing an advanced alternative to a very traditional product was tough. Minden's initial marketing approach touted the high-tech elements that distinguished her pointe shoes, but the pitch didn't resonate with the dancers she was targeting. Even when ballerinas became more receptive to the new brand, skeptics called her product a cheater shoe and accused it of using advanced materials to substitute talent.
How did you push through: Minden had the patience to spend eight years developing and redeveloping her prototype before launching her company. She was not discouraged when she had to rework her marketing strategy to better appeal to her target audience and clear-up misunderstands about her innovative shoe. She also said she eventually realized that developing her own personal brand could help increase the credibility of her company.
Today: In 2011, Gaynor Minden is respected as a successful competitor in the dancewear market. The pointe shoe line has increased from a handful of models in 1993, to nearly 3,000 options today. The company's shoes are sold in dance shops throughout North America, Europe, Asia, and Latin America. More than 200 ballet companies around the world feature dancers who wear Gaynor Mindens, including American Ballet Theatre, The Royal Ballet in England and The Kirov Ballet in Russia. The profitable company has expanded into accessories, dancewear, and will be introducing a new plush high-end pointe shoe this winter. According to the company, recession-induced penny-pinching brought in new customers who are willing to pay a little more upfront for Gaynor Minden shoes because of their durability.
Are you, or do you know, a well-established mom-and-pop and/or thriving startup that started out at the bottom of the barrel? How did they dig out and climb up? FOX Business wants to hear from you about your from-roadblock-to-success stories, and those of your entrepreneurial heroes. They are the little engines that could and today keep chugging and pushing our economy back on better footing, and for that they deserve the spotlight. Send us details at smbs@foxbusiness.com about those in your neighborhood or city, and we'll feature some in upcoming articles in the FOX Small Business Center special series, "Determined."