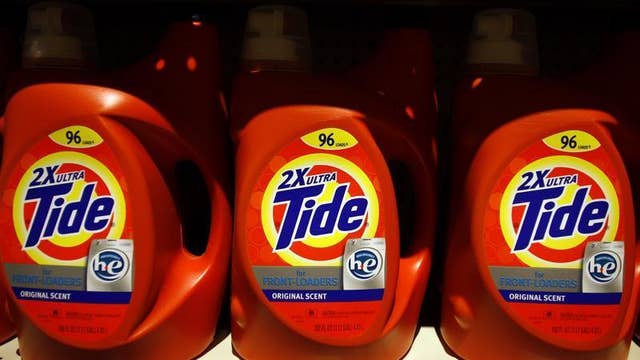 Procter & Gamble (NYSE:PG) disclosed a dip in fiscal second-quarter earnings on Friday even as the maker of Duracell batteries and Tide detergent grew organic sales.
Shares of the Cincinnati-based consumer products behemoth ticked higher following the mixed results.
P&G said it earned $3.43 billion, or $1.18 a share, last quarter, compared with a profit of $4.06 billion, or $1.39 a share, a year earlier.
Excluding one-time items, it earned $1.21 a share, down from $1.22 a year earlier but a penny better than the Street anticipated.
Revenue ticked up 0.5% to $22.28 billion, nearly matching consensus calls from analysts for $22.33 billion. Organic sales climbed 3%, mirroring the rise in unit volumes. Gross margins dipped to 50% from 50.9%.
P&G posted a 4% jump in health-care sales during the fourth quarter amid increased volumes, while sales of fabric care/home care and baby/feminine/family care inched up 1%. The company's grooming revenue was flat, while beauty sales dropped 2%.
Looking ahead, the maker of Head & Shoulders and Old Spice reaffirmed its earnings guidance for fiscal year EPS to expand by 7% to 9% on organic sales growth of 3% to 4%.
"We expect strong earnings growth in the second half of the fiscal year driven by solid top-line growth, moderating headwinds from foreign exchange, and productivity savings that build throughout the year," P&G CEO A.G. Lafley said in a statement.
P&G saw its shares increase 0.72% to $78.80 ahead of Friday's opening bell. The company has underperformed the broader markets over the past year, rising just 11% versus a 22% rally for the S&P 500.