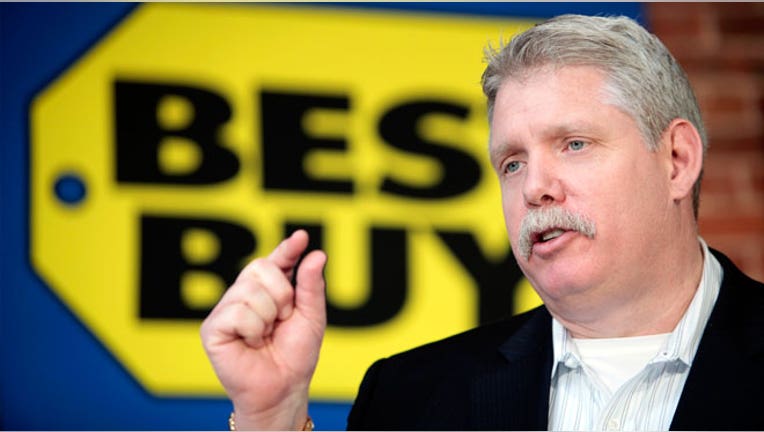 Best Buy (NYSE:BBY) said its former chief executive, Brian Dunn -- who abruptly resigned in April following allegations of an affair with a female subordinate -- demonstrated "extremely poor judgment" and violated company policy, but did not misuse corporate funds.
He will receive a separation agreement valued in the millions of dollars.
The consumer electronics giant also found through a two-month investigation that its founder and chairman of the board, Richard Schulze, acted inappropriately in not bringing the matter to the audit committee in December 2011 when he first learned of the misconduct.
The Richfield, Minn.-based retail giant said Schulze is stepping down as a reflection of that and will be replaced by 14-year Best Buy director and current audit committee chairman Hatim Tyabji at the conclusion of Best Buy's annual meeting on June 21.
Schulze, who founded Best Buy, will continue to serve in the honorary position of chairman emeritus and will serve out the remainder of his term as director through June 2013.
The announcement follows the release of an independent, two-month investigation led by the audit committee, high-profile lawyers and a former enforcement chief of the Securities and Exchange Commission that included 45 interviews of 34 current or former employees, email searches and CEO documents and the female employee's computers, among other things.
Dunn, who is 51 and married, resigned in April after 28 years with the company following allegations that he was having an affair with a 29-year-old who worked in a leadership training institute at the company's Richfield, Minn.-based headquarters.
Shortly after, Best Buy launched a probe into his personal conduct.
The investigation concluded that while Dunn violated policy by engaging in an "extremely close personal relationship with a female employee that negatively impacted the work environment" and demonstrated "extremely poor judgment and a lack of professionalism," he did not misuse company resources to conduct the affair.
Dunn will be awarded a multi-million-dollar separation agreement that includes a previously earned fiscal 2012 bonus of $1.14 million, reported restricted stock grants of 131,876 shares at $19.28 each, which totals more than $2.54 million, a severance payment of $2.85 million and compensation for unused vacation of $106,742.
Best Buy director G. Mike Mikan will continue to serve as interim chief executive until the company's search committee finds a permanent replacement.
"In December, when the conduct of our then-CEO was brought to my attention, I confronted him with the allegations (which he denied), told him his conduct was totally unacceptable and contrary to Best Buy's policies and everything I, and the company, stand for," Schulze said, adding that he understands and accepts the finding of the audit committee.
In light of the findings, Best Buy said it will launch an effort to review and enhance relevant corporate policies and procedures, and encourages shareholders to vote for the declassification of the board, which requires directors to stand for reelection on an annual basis.
"Each of us -- with no exceptions -- will be subject to approval by the shareholders on an annual basis," Tyabji said.