Priceline Pays $2.6B for OpenTable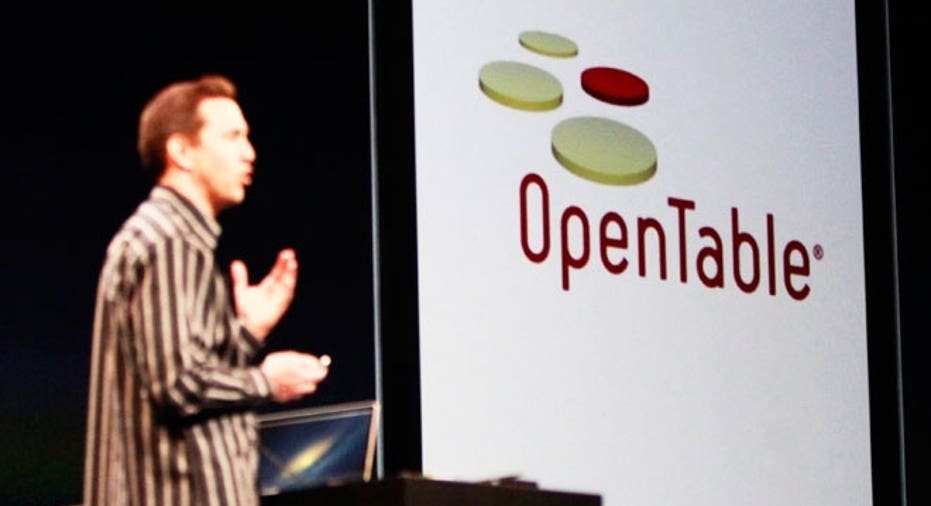 Travel booking platform Priceline (NASDAQ:PCLN) has agreed to buy restaurant reservation service OpenTable (NASDAQ:OPEN) for $2.6 billion in cash, the companies announced on Friday.
Priceline offered $103 per share, 46% higher than OpenTable's closing price on Thursday.
OpenTable will give Priceline a "natural extension into restaurant marketing services and a wonderful and highly-valued booking experience for our global customers," said Darren Huston, President & CEO of The Priceline Group, in a statement.
The company says it will be helping OpenTable  "accelerate their global expansion, increase the value offered to their restaurant partners, and enhance the end-to-end experience for our collective customers across desktop and mobile devices."
San Francisco-based OpenTable says it seats 15 million diners through its online booking platform each month. About 31,000 restaurants participate in OpenTable's service.
Priceline, whose brands include Kayak and Booking.com, is making an effort to own the travel reservation experience. Restaurant booking complements its other services.
"The Priceline Group is a leader in e-commerce innovation with global expertise in online marketing and digital customer conversion across devices,"said Matt Roberts, CEO of OpenTable, in a statement.  "They have an exceptional track record of customer service in dozens of languages around the world."
Priceline says over one million guests daily stay in accommodations booked through its platforms. Over 480,000 properties participate in Priceline's global services.
OpenTable shares rose 47%, to match the acquisition price. Priceline shares were down 1%.
Competitors Groupon (NASDAQ:GRPN), Yelp (NYSE:YELP), and GrubHub (NYSE:GRUB) all rose on the news.