President Obama Unveils 2016 March Madness Bracket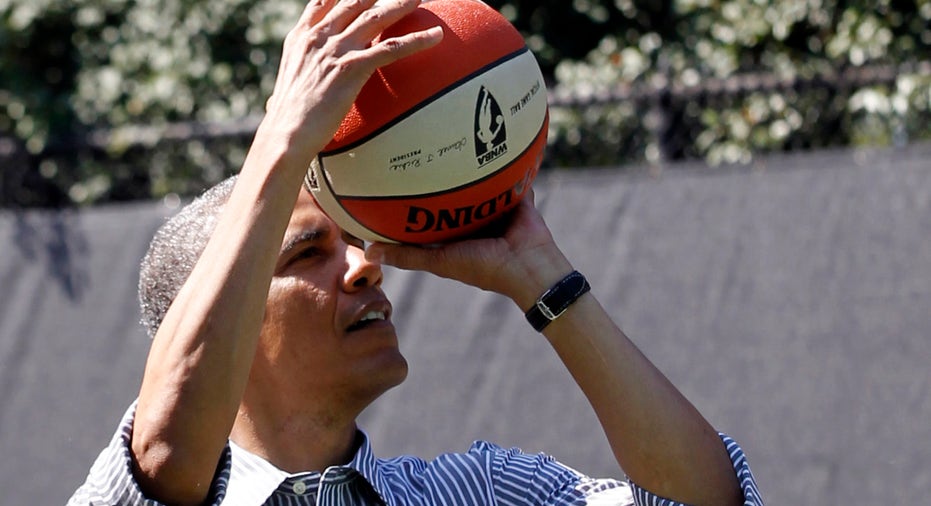 President Barack Obama is counting the University of Kansas to reverse his seven-year March Madness losing streak. During his annual ESPN (NYSE:DIS) "bracketology" segment, Obama picked Coach Bill Self's Jayhawks to win the 2016 NCAA basketball tournament.
Obama has filled out a March Madness bracket on ESPN every year since he assumed office in 2009. He accurately selected the University of North Carolina Tarheels to win the tournament that year, but he hasn't correctly chosen a winner since.
"Sadly, only once was I proven right," Obama told ESPN's Andy Katz in the White House. "But we're going to bracket – success at the beginning, success at the end."
Obama previously chose the Kansas Jayhawks to win the NCAA Tournament in 2010 and 2011, but they fell short on both occasions. This year, the president thinks Kansas, led by forward Perry Ellis and guard Wayne Selden Jr., will defeat North Carolina in the national championship.
"Bill Self owes me. I'm putting Kansas in here," Obama said. "Coach, I'm just teasing. I'm not putting pressure on you. But I think the Jayhawks in a squeaker get past UNC.''
To round out his Final Four, Obama picked the third-seeded Texas A&M Aggies to win the West region and the second-seeded Michigan State Spartans to come out of the Midwest region. The president says he tends to make selections based on program pedigree and the track record of a school's coach.
"I have a tendency to pick the coach as much as anything, because typically these days, with one and done, what you see is continuity with the program,'' Obama said."Coach K [Duke coach Mike Krzyzewski] or [Michigan State coach Tom] Izzo or Coach Self, [Kentucky coach John] Calipari, they know how to take even their blue-chip freshmen and mold them, so that by the time the tournament comes around they're ready. I haven't always picked the right top four teams, but typically it's been one of the top teams that's ended up winning the tournament.''
In a surprise pick, Obama chose 13-seed University of Hawaii, from his home state, to upset the University of California in the tournament's first round. Hawaii hasn't made the NCAA tournament since 2002.
"I didn't want to get carried away. That is a homer pick. Although, if they get hot shooting threes, that's a possible upset," he said.
Obama is one of about 40 million Americans who will fill out a bracket during March Madness, according to the American Gaming Association.
The president's entire 2016 bracket can be viewed here.