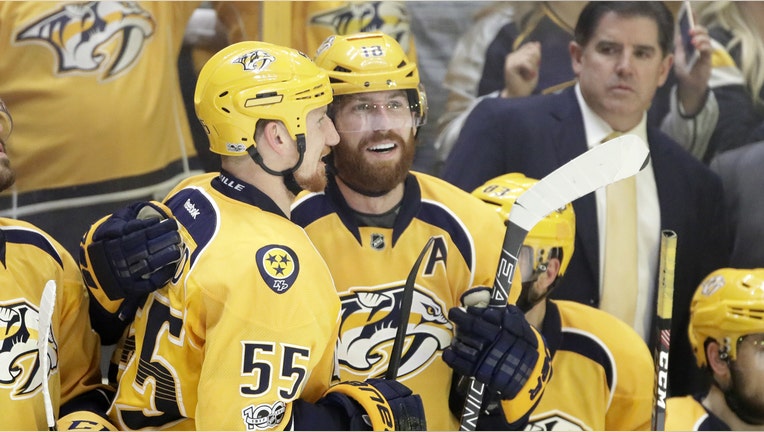 Hockey fans are already paying a premium this week for tickets to see the Nashville Predators make their first-ever Stanley Cup Final appearance against Sidney Crosby and the defending NHL champion Pittsburgh Penguins.
The first four games of this year's Stanley Cup Final have an average resale price of $883 on SeatGeek, a secondary market ticket aggregator – roughly $80 higher than the final average resale price for last year's championship series.
A limited supply of available tickets at Nashville's Bridgestone Arena has made tickets for Stanley Cup games 3 and 4 particularly expensive, with average prices of $1,125 and $1,201, respectively. SeatGeek analyst Chris Leyden told FOX Business that "only a handful" of Stanley Cup games since 2010 have carried a higher price tag.
"The reason prices are so high in Nashville - outside of the city embracing the team in its first Stanley Cup appearance - is because the supply of tickets on the secondary market is more limited than at most other venues," Leyden told FOX Business. "There are still tickets available in virtually every area of the arena, but the quantity in each section is certainly lower than what we see typically."
The Penguins secured their second-consecutive Stanley Cup berth with a double-overtime win over the Ottawa Senators on Thursday. Prices for Stanley Cup game 3 in Nashville have risen 17% since Pittsburgh's victory.
"It's only an eight-hour drive between the cities, so there is a good argument to be had that Predators fans feeling priced out of the games at Bridgestone could drive up to Pittsburgh, or hop on a flight," Leyden said.
Ticket prices at major sporting events generally drop as game time approaches. The first game of last year's series between the Penguins and the San Jose Sharks – also held in Pittsburgh – cost an average of just $289 on SeatGeek.
The Penguins are favored to defeat the Predators and win a second straight championship, according to the latest odds from WestGate SuperBook in Las Vegas. Pittsburgh currently has -170 odds of winning the Stanley Cup, while the Predators are listed at +150.
The Penguins are also the Vegas favorite to win the first game of the series on Monday.