Pounding Caribbean, Hurricane Maria rips off an 'avalanche of roofs' in Dominica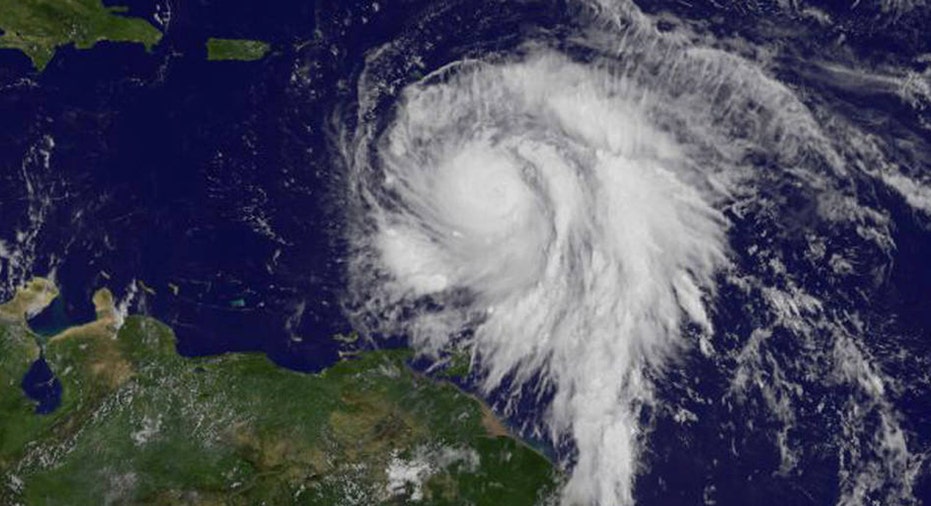 Hurricane Maria caused "mind boggling damage," ripping off roofs across the small island of Dominica before pushing on toward the U.S. Virgin Islands and Puerto Rico on Tuesday as the second top-strength storm to lash the Caribbean this month.
Maria regained rare Category 5 strength, the top end of the five-step Saffir-Simpson scale, as it churned about 150 miles (240 km) southeast of St. Croix in the U.S. Virgin Islands, U.S. forecasters said.
It was carrying maximum sustained winds of 160 miles per hour (260 km per hour), the U.S. National Hurricane Center (NHC) said, describing Maria as "potentially catastrophic."
The storm plowed through Dominica, a mountainous island nation of 72,000 people in the eastern Caribbean, late on Monday causing devastation that Prime Minister Roosevelt Skerrit described as "mind boggling."
"The winds have swept away the roofs of almost every person I have spoken to or otherwise made contact with," Skerrit said in a Facebook post, describing an avalanche of torn-away roofs across the country, including that of his own residence.
"My focus now is in rescuing the trapped and securing medical assistance for the injured," he said.
The storm made landfall on Dominica as a Category 5 hurricane with 155-mph (250-kph) winds, the NHC said.
Just to the south of Dominica, the French island of Martinique escaped Maria largely unscathed. A communications blackout with fellow French territory Guadeloupe meant it would be several more hours before damage there could be assessed, Jacques Witkowski, France's head of civil protection, told reporters in Paris.
The region was hit just days ago by Hurricane Irma, which ranked as one of the most powerful Atlantic storms on record. Irma devastated several small islands, including Barbuda and the U.S. Virgin Islands of St. Thomas and St. John, and caused heavy damage in Cuba and Florida, killing at least 84 people in the Caribbean and the U.S. mainland.
Maria was expected to remain an extremely dangerous category 4 or 5 hurricane until it passed near or over the Virgin Islands and Puerto Rico on Wednesday, the NHC said.
The governor of the U.S. Virgin Islands, Kenneth Mapp, said Maria would pass within 10 miles (16 km) of the island of St. Croix, which escaped the brunt of Irma on Sept. 6. The island is home to about 55,000 year-round residents, roughly half of the entire territory's population.
At a news conference on Monday evening, Mapp warned of drenching rains. He predicted that most islanders would be without electricity for weeks, and "some folks will not get power in months." A curfew would be imposed starting at 10 a.m. local time on Tuesday, he said.
SHELTER IN A BATHTUB
Mapp urged St. Croix residents to take cover in one of three emergency shelters on the island. For those choosing to stay in their homes during the storm, he said, they might consider climbing into a second-floor bathtub and pulling a mattress over them to stay safe in the event they lose their roofs.
Forecasts predict Maria will be the worst storm to hit St. Croix since Hugo, a Category 4 storm, in 1989.
The territory's two other main islands, St. Thomas and St. John, which lie to the north of St. Croix, sustained widespread and heavy damage from Irma.
Puerto Rico, a U.S. territory with about 3.4 million inhabitants, avoided a direct hit two weeks ago from Irma as that storm skirted north, although it still saw damage.
Puerto Rico's governor, Ricardo Rossello, urged residents on Twitter to brace forMaria's arrival, saying, "It is time to seek refuge with a family member, friend or head to a state shelter."
Residents rushed to buy plywood, water and other supplies.
If Maria retains its current strength, it would be the most powerful hurricane to hit Puerto Rico in 85 years, since a Category 4 storm swept the territory in 1932,Hurricane Center spokesman Dennis Feltgen said.
The last major hurricane to strike Puerto Rico directly was Georges, which hit as a Category 3 storm in 1998, he said.
In Saint Martin, where nearly a third of all buildings on the Dutch half of the island were destroyed by Irma, the airport and harbor were closed ahead of Maria's approach.
"Saint Martin is the big concern because a lot of homes lost their roofs. They are vulnerable to a lot of rain, which will only make the situation worse," said Paul Middelberg, a spokesman for the Dutch navy.
Maria was expected to whip up storm surges - seawater driven ashore by wind - of up to 9 feet (2.7 m) above normal tide levels, the NHC said. Parts of Puerto Rico could see up to 25 inches (64 cm) of rain, it said.
Maria is the 13th named Atlantic storm of the year, the seventh hurricane so far this season and the fourth major hurricane - defined as Category 3 or higher - following Harvey, Irma and Jose, the NHC said. Those numbers are all above average for a typical season, which runs from June 1 to Nov. 30.
(Additional reporting by Richard Lough in Paris, Anthony Deutsch in Amsterdam, Robert Edison Sandiford in Bridgetown, Barbados; Harriet McLeod in Charleston, South Carolina and Brendan O'Brien in Milwaukee; Writing by Frank Jack Daniel and Michael O'Boyle; Editing by Catherine Evans and Frances Kerry)