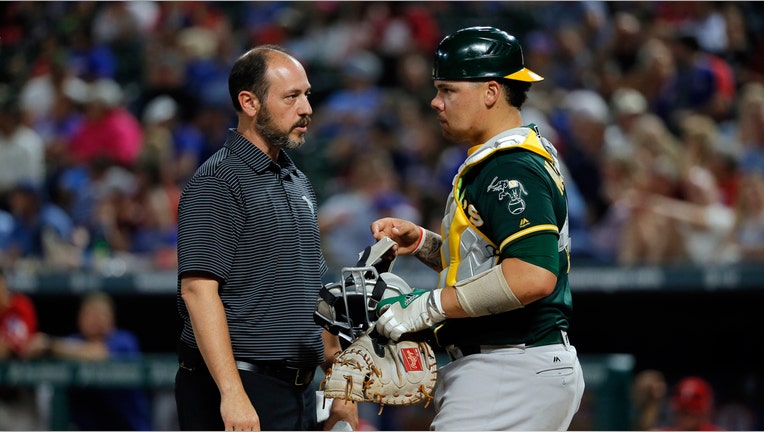 Delivery service Postmates on Wednesday said it has banned Oakland Athletics catcher Bruce Maxwell from using its platform after he was arrested for allegedly pointing a gun at a female delivery driver's head.
"We recently learned that a Postmates courier was threatened by a customer in Scottsdale this past weekend. Although we're still investigating the incident, the report is deeply concerning and we've reached out to provide assistance and support to the courier involved and have removed the customer from our platform," Postmates said in a statement to FOX Business.
Maxwell, 26, was arrested on Saturday after police officers in Scottsdale, Arizona responded to a report of a person with a gun. The A's catcher showed signs of intoxication and purportedly made anti-police statements during his arrest, the Mercury-News reported.
Maxwell was the only Major League Baseball player to take a knee during the national anthem this season to protest social and racial injustice. His protest occurred alongside an unprecedented wave of similar demonstrations in the NFL.
"We were disappointed to learn of the allegations," the A's said in a statement. "We take this situation and ongoing investigation seriously. We are gathering information from the proper authorities and do not have further comment at this time."
Maxwell was charged with aggravated assault with a deadly weapon and disorderly conduct. He denied pointing a gun at the driver's head and said he hadn't expected the driver's arrival because he had canceled the Postmates food delivery, the Mercury-News reported, citing court documents. TMZ Sports was first to report on Maxwell's arrest and Postmates' decision to ban him.
"No one should ever feel unsafe when using our service, and we will work with the police to cooperate fully with this investigation," Postmates said.