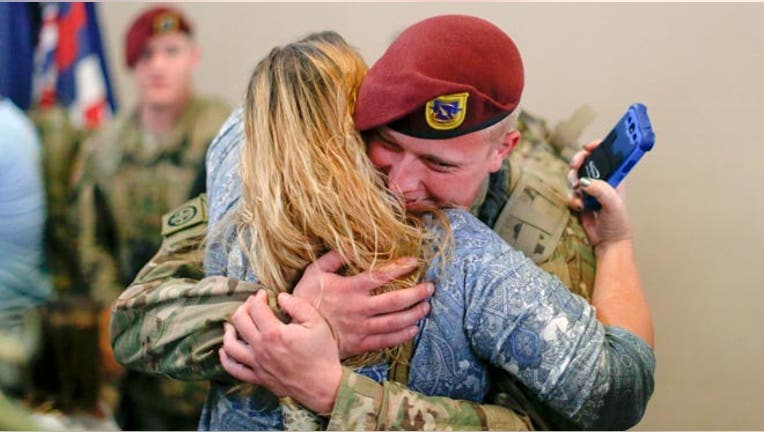 Here are three career programs that help veterans returning from service re-adjust to the "real world," with educational development and occupational placement.
JPMorgan Chase "100,000 Jobs Mission"
In 2011, eleven companies, with JPMorgan Chase (NYSE:JPM) taking the lead, teamed up to launch the "100,000 Jobs Mission," with a goal of hiring 100,000 veterans by 2020. In just four years  (through the first quarter of 2015), the coalition has ballooned to 198 companies and shattered their initial goal, having now hired 241,833 veterans.
The group has upped their goal to 300,000 recently, but according to Anthony Odierno, a retired U.S. Army Captain, and now executive director of military and veterans affairs at JPMorgan Chase, "it's really about a lot more than just the numbers…It's really about the power of this private sector coalition that we've built. We come together several times a year to talk…[and] to really focus on building meaningful employment programs."
Each company involved has its own individual sourcing and recruitment efforts to find veterans, but one of the primary vehicles of the program is JobsMission.com, where the coalition has posted "best practices" for each other and also where service members can connect with these companies that are committed to hiring veterans.
JPMorgan Chase, has been among the top ten employers on the Military Times "Best for Vets Employers" list from 2012-2015, and features programs like: Pathfinder, a new mentoring program; Military 101—a training program to educate hiring managers and recruiters about the unique skills veterans possess; and Body Armor to Business Suits—a training program that teaches recently hired veteran employees about corporate culture.
"It's really about hiring talent. Those getting out of the service have a lot of talent, and this is an extra pool of candidates that our managers are able to hire from," says Odierno.
The other original founders were: AT&T (NYSE:T); Broadridge Financial Solutions, Inc.; Cisco Systems Inc.; Cushman & Wakefield Inc.; EMC Corporation (NYSE:EMC); Iron Mountain Incorporated; Modis; NCR Corporation; Universal Health Services, Inc. and Verizon Communications Inc. (NYSE:VZ).
Penn Mutual Center for Veteran Affairs (PMCVA) at The American College
The American College of Financial Services, located in Bryn Mawr, PA, is the nation's largest non-profit educational institution devoted to financial services. In 2011, it partnered with Penn Mutual Life Insurance, who made a $2.5 million donation to create the Center for Veterans Affairs at the college, establishing a support center for veterans reentering the workforce.
"Throughout our history, Penn Mutual has welcomed home our veterans, and many veterans found a home with Penn Mutual. This $2.5 million gift and scholarship fund is a way to thank members of the armed services and help them smoothly transition back into the workplace," Eileen McDonnell, president and CEO of Penn Mutual, stated at the initiation of the program.
The mission of the Center is to provide "educational support and career opportunities in the financial services industry." It offers mentoring, education and training to service members trying to get into the finance industry, as well as a scholarship fund — which just announced its 100th recipient — for full tuition at The American College eligible to active duty veterans and their spouses.
There is a particular interest in veterans, according to Tom Harris, executive vice president, distribution at Penn Mutual Life Insurance Company, because the average age of someone coming off active duty is about 30 years old, and that is a sweet spot in finding future qualified employees.
"You've got folks that have a culture of service, a can-do attitude, they're used to working in teams, they're used to a high level of attention to detail, they appreciate different cultures and backgrounds. So you've got somebody that has life experiences that directly apply to the kind of people that tend to be successful in our industry," says Harris.
Wall Street Warfighters Foundation
Founded in 2008, and based in Philadelphia, the Wall Street Warfighters Foundation has trained and placed over 50 participants into the financial services industry.
This nonprofit educational program partners with Wall Street firms such as Goldman Sachs (NYSE:GS), JPMorgan Chase, Federal Reserve Bank of New York, the New York Stock Exchange, Lincoln Financial Network, Citigroup, Vanguard, NASDAQ OMX Group and the Chicago Board Options Exchange to give disabled veterans the training necessary to land a career in finance.
Disabled veterans accepted into the program go through a six month course that includes classwork, field work and overall career development skills and training. They also receive one-on-one mentoring from experts in the industry, on-the-job experience and career guidance from leaders in finance.
The foundation tries to get its participants an apprenticeship or internship after training, with the ultimate goal of a job offer in the financial field of their choosing.