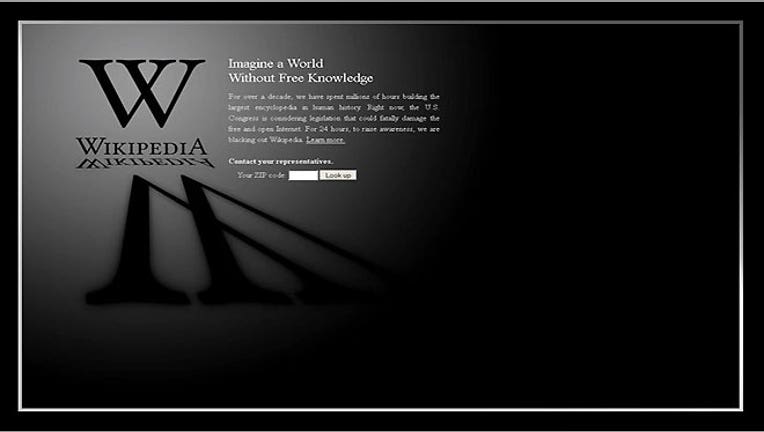 The Internet is conducting a protest of sorts today in opposition to two pieces of anti-piracy legislation making their way through Congress.
Wikipedia, one of the most popular sites on the World Wide Web, is the titular ringleader of the online demonstration, shutting down access to its countless encyclopedia-like entries for 24 hours to raise awareness of its opposition to the Stop Online Piracy Act (SOPA) and the Protect IP ACT (PIPA).
Wikipedia and other popular Web destinations, including classified ads site Craigslist and link sharing site Reddit, argue that the proposed laws would prohibit the free transfer of ideas on the Internet – and damage their business models in the process.
Google (NASDAQ:GOOG) hasn't shut down its site, but the iconic Google logo on its entry page, usually adorned with a different graphic each day -- so-called Google Doodles -- is blacked out in solidarity to the cause.
SOPA, the House of Representative's version, and PIPA, its Senate counterpart, target foreign websites that intentionally steal copyrighted material and intellectual property for their own profits. The bills are strongly backed by the U.S. film and recording industries.
Legislation already enacted -- the Digital Millenium Copyright Act -- protects intellectual property and provides for that content to be removed from sites when its use is unauthorized. SOPA and PIPA are different in that they would allow the government to punish sites that publish the unauthorized content.
Opponents say the bills would amount to a form of censorship because many U.S. sites would have to eliminate content for fear that music, articles or films might be stolen by a foreign site. Under SOPA and PIPA, the U.S. site might then be held accountable for that theft, opponents say.
While Internet content giants such as Google and Facebook can afford to cover the potential legal costs of fighting such battles, many fledgling Web sites cannot.
"These bills give the federal government unprecedented power to censor Internet content and will stifle the free flow of information and ideas," Congressman Justin Amash, R-Mich., said in a statement.
Amash, who has blacked out his own Web site as part of the protest, said SOPA would allow the federal government to "blacklist" websites that carry any copyrighted material stolen by foreign sites.
In addition, he said the bills threaten the burgeoning Internet-based economy by allowing the government to prevent Internet service providers, payment processing companies such as credit card firms, and search engines from doing business with sites deemed in violation of the anti-piracy laws.
Congressman Darrell Issa, R-Calif, praised the online protests in a statement, saying, "The Protect IP Act and SOPA are threats to the openness, freedom, and innovation of the Internet.  I applaud the Internet community, including the thousands of blogs and websites that have decided to go dark today, for participating in our democracy and opening up the debate on legislation to the public."
Meanwhile, supporters say Internet piracy of copyrighted material is the real threat to the U.S. economy.
Former Senator Chris Dodd, now chairman and CEO of the Motion Picture Association of America, called the online protests a "gimmick." In a statement, Dodd said, "It is an irresponsible response and a disservice to people who rely on them for information and use their services."
The Global Intellectual Property Center, established as an arm of the U.S. Chamber of Commerce, says Internet piracy by "rogue" foreign websites threatens the 19 million U.S. jobs directly tied to the creation and distribution of copyrighted material and intellectual property.
Timothy H. Lee, with the Center for International Freedom, which supports the legislation, said, "Here's something on which reasonable people agree:  Internet piracy by foreign rogue websites constitutes a malignant, persistent and costly menace to America's economy and intellectual property.
"Sadly, however, opponents of Congressional legislation to address that menace have waged a campaign extensively contaminated by myth, misstatement and outright dishonesty," Lee added.
News Corp., (NASDAQ:NWSA), the parent company of FOXBusiness.com, is a member of the Copyright Alliance, an industry group that backs the legislation.