Photo Finish at Daytona Creates Buzz for Denny Hamlin's Sponsors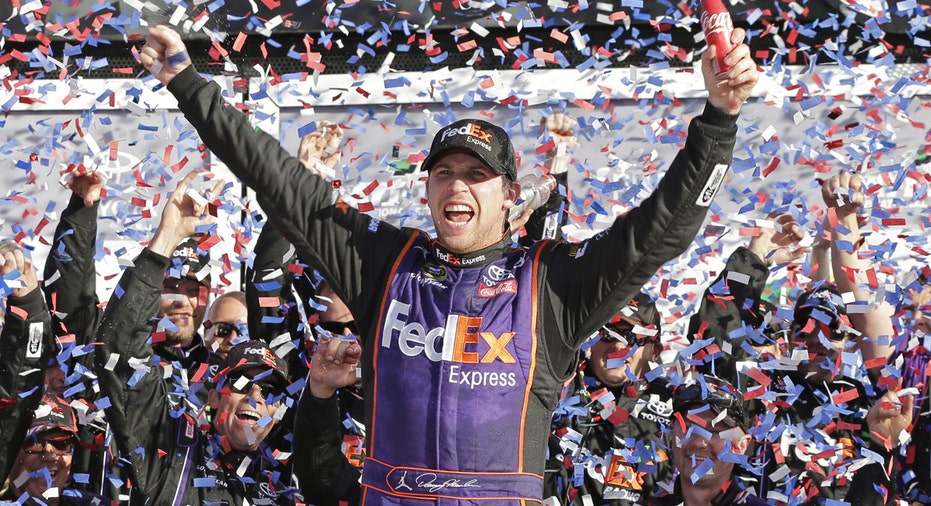 Denny Hamlin's photo-finish victory at the Daytona 500 is generating millions of dollars in advertising value for his sponsors.
FedEx (NYSE:FDX), the primary sponsor of Hamlin's No. 11 Toyota (NYSE:TM) Camry, enjoyed $27.3 million worth of media exposure through Monday morning, according to an analysis by Apex Marketing Group. Meanwhile, shares of FedEx were up as much as 5%.
Apex Marketing Group valued Toyota's exposure on TV, radio, online and print at $10.8 million just from its ties to the Hamlin team. With drivers in second- and third-place as well, Toyota's overall gain from the Daytona 500 is even higher.
Fans viewing the Daytona 500 likely spotted Nike's (NYSE:NKE) "jumpman" logo on Hamlin's firesuit, and the Jordan Brand's exposure was estimated to be worth $4.86 million. Hamlin was the first NASCAR driver to sign a sponsorship deal with the Jordan Brand, a partnership between Nike and Michael Jordan.
Coca-Cola (NYSE:KO) had a slightly smaller haul of $3.95 million.
Eric Smallwood, managing partner of Apex Marketing Group, told FOXBusiness.com that sponsors are getting higher-than-normal value from the Daytona 500 thanks to the dramatic finish.
"When we did the analysis, we saw a good bit of exposure for FedEx because they are showing the finish-line shot," Smallwood said.
Matt Kenseth was leading the pack going to start the final lap, but as Hamlin came surging on the outside, Kenseth made a split-second decision to attempt a block. That gave Hamlin the opening to slide down and pass Kenseth, creating a neck-and-neck battle with Martin Truex Jr. for first place. Hamlin crossed the finish line just inches ahead of Truex Jr.
Hamlin's victory was the first Daytona 500 trophy for Toyota, which also won its first-ever Sprint Cup championship last season with Kyle Busch behind the wheel.